Dheepa Ramanujam
Dramatist, Tamil Nadu, India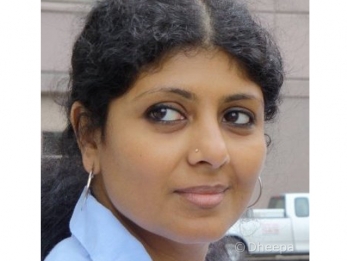 Biography
Dheepa Ramanujam, the founder and artistic director of Krea, started her career in the media industry as a TV host. She has acted in many popular Television-serials, including Premi by renowned director K.Balachander,. Around that time, Dheepa was introduced to the Stage by Bombay Gnanam of Mahalakshmi Ladies group

After moving to US she took courses on Direction, and film making. She founded Krea, with an intention of producing quality plays with a mix of Indian tradition and western techniques.
Dheepa has directed 10 full length plays and multiple shows across the United States and also in India. Her last work was a futuristic science fiction, "Chillu" written by the popular playwright Era Murukan and produced by Thenandal Films. Chillu was staged in Chennai and also in USA
Dheepa has also directed a few short films and worked as Script Supervisor in Achamundu Achamundu, a Tamil feature completely shot in NJ. She also helped with the US portion of the shoot of "Kadhai" directed by TV fame Abishek.

Dheepa has directed a documentary series on temples in Madurai for Vijay TV. In addition, Dheepa has produced a documentary for an educational institute - both in Tamil and English, which was well received by educationists and students from all over Tamil Nadu.
Dheepa is currently acting in Tamil films, doing character roles. Her last film Pichaikaran, directed by Sasi was a blockbuster. She has also acted in Rajini Murugan, Pasanga 2, Idhu Namma Aalu and did cameo appearance in Uttama Villain and Arunachalam.
Dheepa shuttles between Chennai and Fremont, California. Her husband Ramanujam writes for Krea. He penned Seeds and Flowers, Iru lives Oru Story, Kadavulin Kangal and all the short films directed by Dheepa. Their daughter Akshaya would like to follow the footsteps of her parents. In fact she acted as younger version of Dheepa in Sruti Bhedham. She is currently working on her book now.
Shows & Major Performances
Shows & Major Performances
Chillu - Futuristic Science Fiction in Tamil
Written by Era Murukan
Produced by Thenandal Films
Directed by Dheepa Ramanujam

Contact:
Dheepa Ramanujam
Email : dramanujam@gmail.com
KREA www.kreacreations.com

About
Sabhash
- Everything about classical music, dance, drama and a platform for inclusive entertainment
Sabhash.com is the one-stop destination for the latest news and information on the performing arts of India - classical music and dance, theatre, bhajans, discourses, folk performances, and other lesser known art forms. Institutions that revolve around the performing arts have exploded in numbers, and thanks to the Internet which has made information easily accessible, the number of rasikas has grown too. Corporate patronage has played a big part in increasing the world-wide reach of the Indian arts. Sabhash wishes to be a platform for inclusive growth giving an equal opportunity and recognition to not only the main performer but also the artistes who accompany them on stage, and the people who work backstage and play the role of unsung heroes.