Nandini Muthuswamy
Violinists, Tamil Nadu, India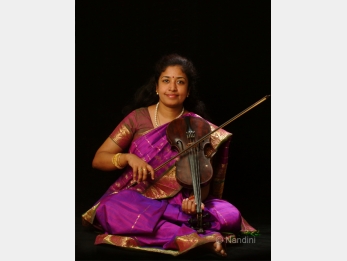 Biography
Renowned Violinist, Nandini Muthuswamy is hailed as an exceptional musician of the present generation. Widely regarded as a Maestro & Virtuoso, she hails from an illustrious family of musicians. Being a 4th generation musician, her Guru – Siśya paramparā or musical lineage traces back to the Trinity - Saint Tyāgarāja, Śri Muttusvāmi Dikśitar, Śri Śyāma Śāstri and Śri Bālusvāmi Dikśitar, who was responsible for introducing the Violin into the firmament of South Indian Classical Music.

Nandini, whose prodigious talent was evident from an early age, began her initial training in South Indian Classical Music from the age of 3 from her Guru & Grandfather – "Sangīta Chakravarthi" Sri V. Lakshminarayana Iyer and from her Guru & Mother "Sangīta Kalā Sarasvati" Smt. Subbulakshmi Muthuswamy. She was also fortunate to receive musical training from her Guru "Sangīta Pitāmaha" Sri Semmangudi Srinivasa Iyer. Her musicianship was further honed under the able guidance of her Guru & Uncle "Kalaimāmani" Sri L. Vaidyanathan. She has also been greatly inspired by her uncles Violin Maestros, Dr. L. Subramaniam & Dr. L. Shankar.

Accalaimed as a prodigy, Nandini Muthuswamy began her concert career at the age of 10 and has blossomed into one of the finest and most sought after musicians of the present day. Along with her sister Dr. M. Lalitha, she forms a part of the much acclaimed Duo – The Violin Sisters, who have enthralled audiences worldwide with their mellifluous music.

With a career extending over two decades, Nandini is regarded as a highly imaginative virtuoso Violinist whose violin playing is characterised by impeccable bowing and dexterous fingering. She is well known for the purity of notes – Sruti Suddham and command overlayam or rhythm. Gifted with a sweet and rich tone, the music that cascades from her Violin is known to be sublime. Sampradaya Suddham or Classicism steeped in Tradition is the hallmark of her Violin playing. She has specialized in playing varnam-s in different grades of tempo and in playing Kalpana Svara-s in many grades of speed, which is a prominent and unique feature of her style of violin playing. Her innate artistry, technical virtuosity combined with Bhava or musical emotionalism has endowed her music with fine aesthetic sensibilities. There is a rare spirituality about her music which soaked in Bhakti Bhava has endowed her music with a transcedental quality. With her fine musicianship and rare insight into the art, she has defined new limits for her musical artistry. Regarded as a trendsetter of refined Violin playing, she has evolved a style of her own and is widely respected for her artistry.
Shows & Major Performances
Performance in Major Music Festivals:

Applauded by connoisseurs & laymen alike, for her original style of violin playing, Nandini Muthuswamyhas been featured in numerous music festivals and concerts across the globe. As an empanelled artiste of the ICCR, she has represented India in several music festivals abroad. She along with her sister Dr. M. Lalitha became the first Indian musicians to perform in the Free State Province, South Africa and their concert was a historical event. Nandini Muthuswamy has also had the rare honour of being the First South Indian Musician to perform in the British Parliament. Some of the major festivals and venues, where she has performed include the Sadlers Wells Theatre, Royal Academy of Arts, BGLT, Rise Festival, Music Academy, Sirifort auditorium, Chowdiah Memorial Hall, Rang Bhavan, Bharatiya Vidya Bhavan, Glas Palais, Opera House, Julia Morgan Theatre, Soorya Festival, Sprit of Unity Concerts, Millenium Concert Festival, DITI etc. As a cultural ambassador of an opulent musical tradition, she spreads the message of Global Harmony and peace, through Music. Nandini Muthuswamy has performed extensively in several countries in all the 5 continents of the world. She has performed in India, Nepal, Singapore, Malaysia, Australia, New Zealand, South Africa, Mauritius, UK, USA, Norway, France , Germany, Luxembourg and the Middle-East.

Performance of other Musical Genres:

As a multi-faceted musician, Nandini Muthuswamy'sforays into other musical genres have received critical acclaim. She is adept in different World Music genres and Western Classical Music. Besides being a Violin Soloist and a Duo with her sister Dr. M. Lalitha, she presents Trans Global Fusion Concerts also. She is also a Carnatic Vocalist. She has collaborated with some of the finest musicians, such as Ronu Mazumdar, Quatre Bonne String Orchestra, Fazal Qureshi, Tiruvalaputhur Kaliyamurthy, 3 Tenor Boys, Pirpauke Finnish Fusion Band, Carl Rathus, Tirupankur Muthukumaraswamy, Mannargudi Vasudevan and others in her Fusion and Jugalbandi explorations. She also became the first Female Conductor of the Bosch Bela String Orchestra, South Africa. Nandini is also a composer par excellence and has composed Fusion Compositions portraying the various shades of global music.

With her sublime music, Nandini Muthuswamy has carved a niche for herself in the world of music. Her performances have been widely applauded by connoisseurs and critics. She has been featured in several global Radio & TV networks. Recently she was featured by the BBC's World Routes.

Academic Achievements:

On the academics front, Nandini is a brilliant academician and holds triple Master's Degrees in Indian Music, Ethnomusicology and Information Science. She is also a recipient of several prizes, medals and ranks for her excellence in academics. In her never ending pursuit of excellence her research into music has further widened her musical horizons. Besides performances, she has also presented Lectures and workshops in several prestigious universities and organisations. She is also a Music Educator and conducts an Indian Music Program at the Summer School of SOAS, University of London. She has also served as an adjudicator and examiner for Music Festivals and examinations. She is also a multi-linguist and is conversant with English, Tamil, Sanskrit, French and German.

Nandini, regards her music as a Tapas - as an internal spiritual voyage of Music. With her firm adherence the values of classicism and dedication to the finer values of music she represents the finest of the musicians in her genre, in her quest for musical excellence.
Nandini's contribution to the world of music has earned her several awards, accolades, prizes & titles. She was awarded the title of "Kalaimamani" - the highest honour of the State Government of Tamil Nadu, India in recognition of her services to the cause of Music. She is the youngest female violinist to be honoured with this Title.
Contact:
Website http://www.nandini.org.uk/
Awards & Recognitions
Kalaimamani
The highest honour of the State Government of Tamil Nadu, India in recognition of her services to the cause of Music
Gold Medal
GOLD MEDAL awarded by His Holiness Shri Sankaracharya Swamigal of Kanci Kamakoti Peetham for securing the First Place in the State Violin Competition
Sai Gana Mani
Title of SAI GANA MANI awarded by the Sai Spiritual Centre, Chennai
Yuva Kala Bharati
Title of YUVA KALA BHARATI awarded by the Bharat Kalachar, Chennai
Innisai Jnana Kala Manigal
Title if INNISAI JNANA KALA MANIGAL awarded by Sri Kalaikambal Kamadeswarar Devasthanam
Most Talented Artistes Of 1991
Honoured as the MOST TALENTED ARTISTES OF 1991, by Mohanam
Tambura Prize for the Best Concert
Awarded the TAMBURA PRIZE for the BEST CONCERT of the Music Season, by the Indian Fine Arts Society, Chennai
Nada Vinodhini
Title of NADA VINODINI awarded by the Sri Ranjani Trust, Chennai
Rajamanikam Pillai Centenary Award
RAJAMANIKAM PILLAI CENTENARY AWARD for EXCELLENCE IN VIOLIN PLAYING by the Sri Ragam Fine Arts
Bharatha Violin Vadya Thilakangal
Title of BHARATHA VIOLIN VADYA THILAKANGAL conferred by H.H. Sathguru Sri Santhananda Swamigal
Best Senior Violinist Award
BEST SENIOR VIOLINIST AWARD from the Music Academy, Madras
Best Senior Violinist Award
BEST SENIOR VIOLINIST AWARD from the Indian Fine Arts Society, Chennai
Bhuvana Sangeetha Pravahini
Title of BHUVANA SANGEETHA PRAVAHINI by the Chennai Om Sri Skandasramam in recognition of the valuable services rendered to the cause of Music
Shri Vidya Tapasvi
Title of SHRI VIDYA TAPASVI by Yuvakeerthana Trust & Tapas Academy
Asthana Vidvan
ASTHANA VIDVAN of Pudukottai Sri Bhuvaneshvari Peetham
Tantri Nada Mani
Title of TANTRI NADA MANI by H.H. Sri Jayendra Sarasvathi Sankaracharya Swamigal of Kanchi Kamakoti Pitham
TNJRF Award
TNJRF Award for Outstanding Female Researcher, by the Govt. of Tamil Nadu, India
CWIT Award
CWIT AWARD for Performing Arts, UK

About
Sabhash
- Everything about classical music, dance, drama and a platform for inclusive entertainment
Sabhash.com is the one-stop destination for the latest news and information on the performing arts of India - classical music and dance, theatre, bhajans, discourses, folk performances, and other lesser known art forms. Institutions that revolve around the performing arts have exploded in numbers, and thanks to the Internet which has made information easily accessible, the number of rasikas has grown too. Corporate patronage has played a big part in increasing the world-wide reach of the Indian arts. Sabhash wishes to be a platform for inclusive growth giving an equal opportunity and recognition to not only the main performer but also the artistes who accompany them on stage, and the people who work backstage and play the role of unsung heroes.