Sundar
Drama Artiste, Tamil Nadu, India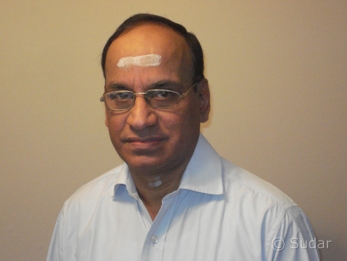 Biography
Sundar was initiated into acting by his father Kalaimamani K.S.Nagarajan in the year 1958.
Sundar's first stage appearance was in the Drama Thuppariyum Saambu.
Sundar has acted in 50 stage plays written by famous writers like Dr.Indira Parthasarathy, Devan, Marina, Saavi, Manian, Anuradha Ramanan, Kalikidasan, Poornam Viswanathan and Sujatha. (List enclosed).
He established himself as a good character actor and donned challenging roles with Poornam Viswanathan, Koothabiran, S.R.Verraraghavan, Manakkal Mani, Gemini Mahalingam, Shoba, Chandru and Karur Rangaraj.
Sundar himself is a writer and he has written and directed 13 stage plays for Kala Nilayam and one for Amirtham Gopal's Geethanjali and one for Kudanthai Mali.
Shows & Major Performances
He has acted in more than 2000 stage shows of the above plays.
The plays written by Sundar have won several awards as a Best writer, Best Director, Best Actor for him besides awards for Kalanilayam artistes Chandru, Srimathi and Karur Rangaraj.
While 8 of his plays have been broadcast by All India Radio, two were telecast in Chennai Doordarshan.
Sundar worked for Canara Bank and took VRS as a Senior Manager in the year 2001. He worked for a software company later for 9 years and is currently working for Medihauxe International, a leading wholesale stockist for Oncology products.
Sundar had the support and guidance of his father Kalaimamani K.S.Nagarajan and Kalaimamani Poornam Viswanathan.

About
Sabhash
- Everything about classical music, dance, drama and a platform for inclusive entertainment
Sabhash.com is the one-stop destination for the latest news and information on the performing arts of India - classical music and dance, theatre, bhajans, discourses, folk performances, and other lesser known art forms. Institutions that revolve around the performing arts have exploded in numbers, and thanks to the Internet which has made information easily accessible, the number of rasikas has grown too. Corporate patronage has played a big part in increasing the world-wide reach of the Indian arts. Sabhash wishes to be a platform for inclusive growth giving an equal opportunity and recognition to not only the main performer but also the artistes who accompany them on stage, and the people who work backstage and play the role of unsung heroes.