Kalanilayam K.S.Nagarajan
Drama Artiste, Tamil Nadu, India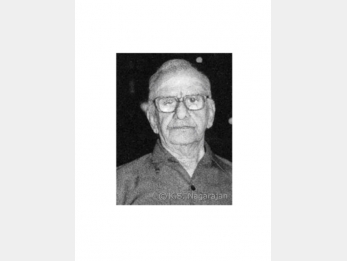 Biography
The Triplicane Fine Arts Club (TFAC) the First Ever Amateur Drama troupe in Madras, was founded in 1946 by Kalaimamani K.S.Nagarajan and friends and it was later rechristened as "Kala Nilayam" in 1968. Kala Nilayam Nagarajan has produced plays written by Devan, Chandilyan, Vidwan Lakshmanan, Saavi, Marina, Kalkidasan, Anuradha Ramanan, Poornam Viswanathan and Sujatha. Since 1996, Kala Nilayam has been producing plays written by K.S.N.Sundar.
S.R.Veeraraghavan, Major Sundararajan, Poornam Viswanathan, Gemini Mahalingam, Manakkal Mani, Koothabiran were some of the popular artistes of Kala Nilayam who acted in the plays produced and directed by K.S.Nagarajan.
Kala Nilayam's forte, is slice-of-life family dramas. Washingtonil Thirumanam, by Savi. Thani Kudithanam, Oorvambu, Kaalkattu, Sky Lab Sammandhi, Vadapalaniyil Valmiki by Marina, Idaya Malar by Manian, Himsaigal by Anuradha Ramanan are some of the popular plays produced and directed by K.S.Nagarajan.
When an institution grows individuals also grow and their personal ambition to hoist their own flags to earn fame widens. Poornam Viswanathan and Marina started their own out fit in the year 1979. Undeterred by the exit of a popular artiste and a popular writer, Nagarajan continued with his journey and crossed several glorious milestones. Almost every troupe in Chennai City has at least one person who has either acted or participated in the production of Kala Nilayam's plays.
Shows & Major Performances
Chandru, K.S.N.Sundar and Karur Rangaraj are some of the members who are with K.S.Nagarajan for more than four decades. K.S.N.Sundar (Nagarajan's son) himself is a writer and K.S.Nagarajan has produced 12 (Twelve) plays written by him.
K.S.Nagarajan firmly believes that Institution is greater than individual and for an artiste there is no age for retirement. True to his conviction, even at the age of 94, he goes on producing quality plays and contacting sabhas for staging his shows.
He has been felicitated and honored with several titles.
He was honored by Devan Trust managed by Charukesi.
No. of plays directed and produced by K.S.Nagarajan - 70
No. of shows the above plays were performed - More than 5000.
K.S.Nagarajan firmly believes that "age" is only a number and is not at all a constraint for him to continue his journey and produce quality plays, He never misses to witness the plays produced by other troupes and he can be seen in al the felicitation functions organized by the cultural organizations felicitating other troupes' artistes, writers etc.
Two of today's artistes Sundar and Chandru were initiated to stage and groomed by K.S.Nagarajan.
Awards & Recognitions
Iyakkunar Sigaram - 1974
By Kachaleeswara Gana Sabha
Nataka Ratna - 1974
By Kala Mandir of Coimbatore
Kala Seva Sironmani - 1991
By Balaji Fine Arts, Chennai
Kalaimamani - 1992
By Tamil Nadu Iyal Isai Nataka Mandram
Nataka Kala Sironmani - 1998
By Nungambakkam Cultural Academy
Kalasevasarathy - 2003
By Parthasarathy Swami Sabha
Kalasevabharathy - 2003
By Bharat Kalachar
Nataka Kala Nipuna - 2004
By Mylapore fine Arts Club
Nataka Padmam - 2004
By Brahma Gana Sabha
Nataka Ratna - 2006
By Nataka Academy
Nataka Kalasagara - 2006
By Kalasagaram Hyderabad
Vani Kala Sudhakara - 2006
By Thyaga Brahama Gana Sabha
Kala Seva Ratna - 2009
By R.R.Sabha Mylapore
Suguna Vilasa Nataka Selvar - 2009
By Suguna Vilasa Nataka Sabha
Life Time Achieve Award - 2011
By Nungambakkam Cultural Academy
Life Time Achievement Award - 2012
By Hamsadvani
Life Time Achievement Award - 2012
By Karthik Fine Arts, Mylapore

About
Sabhash
- Everything about classical music, dance, drama and a platform for inclusive entertainment
Sabhash.com is the one-stop destination for the latest news and information on the performing arts of India - classical music and dance, theatre, bhajans, discourses, folk performances, and other lesser known art forms. Institutions that revolve around the performing arts have exploded in numbers, and thanks to the Internet which has made information easily accessible, the number of rasikas has grown too. Corporate patronage has played a big part in increasing the world-wide reach of the Indian arts. Sabhash wishes to be a platform for inclusive growth giving an equal opportunity and recognition to not only the main performer but also the artistes who accompany them on stage, and the people who work backstage and play the role of unsung heroes.