Ajay Nambudiri
Carnatic Vocalist, Tamil Nadu, India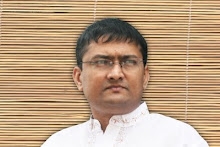 Biography
Ajay Nambudiri disciple of Sri Neyveli SanthanaGopalan one of the leading lights of Contemorary carnatic music. Ajay training under Neyveli Santhana Gopalan was virtually been a kind of Gurukula Vaasa and has aided him to imbibe the distintive Neyveli Bani in all its classical and aesthetic dimensions . He is an M.A. and M.Phill in music from the faculty of Fine Arts (University of Delhi).
Shows & Major Performances
He have been performing since 1991 in several prestigious sabhas,temples and cultural organisations all over India and abroad. A dedicated Music school in the name of Viswa Kala Peetam , is in its growing heights under his efforts,guided and supported by his gruji Neyveli R Santhana Gopalan .The centre mainly aims at encouraging young talents in the music field. He take music lessons through online also ,he have students in USA and UK.

Contact:
# 1060/68th Street. 11th Sector
West K K Nagar.
Chennai-600078
Mobile: +91.94440.22102
email : ajai_nambudiri@yahoo.com
Awards & Recognitions
The National Talent Scholarship Award
The National Talent Scholarship Award from HRD Ministry Govt of India
Asthana Vidwan of Kanchi
Asthana Vidwan of Kanchi

About
Sabhash
- Everything about classical music, dance, drama and a platform for inclusive entertainment
Sabhash.com is the one-stop destination for the latest news and information on the performing arts of India - classical music and dance, theatre, bhajans, discourses, folk performances, and other lesser known art forms. Institutions that revolve around the performing arts have exploded in numbers, and thanks to the Internet which has made information easily accessible, the number of rasikas has grown too. Corporate patronage has played a big part in increasing the world-wide reach of the Indian arts. Sabhash wishes to be a platform for inclusive growth giving an equal opportunity and recognition to not only the main performer but also the artistes who accompany them on stage, and the people who work backstage and play the role of unsung heroes.