Calcutta V.N.Shankar
Carnatic Vocalist, Tamil Nadu, India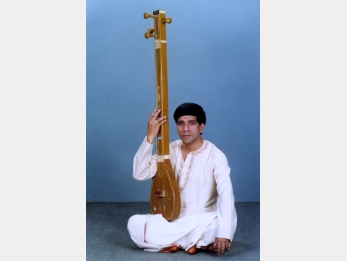 Biography
Vishnampet Natarajan Shankar popularly known as Calcutta V.N.Shankar, with a Masters degree in Commerce and Business Administration is a young and upcoming Carnatic Vocal Musician who with an enthusiastic smile on his face, is all set for a concert at any time.
Vishnampet lies 60 kms towards South of Tiruvarur, where the great musical Trinity was born. Hailing from a family keenly interested in music, he learnt his preliminaries from Shri. Sankara Bagavathar, Shri. A.Anantharaman and Shri.V.V.Ramakrishnan of Calcutta. Later he equipped himself under Sangitha Kalanidhi Shri.D.K.Jayaraman and Shri.O.S.Thiagarajan.
He also had the opportunity of learning under Sangeetha Bhushanam Shri.O.V.Subramanyam, Prof T. R. Subramaniam and Oothookkadu Shri.Muthukrishan Iyer. Presently he is receiving advanced training under the able guidance of Padma Bhushan and Sangeetha Kala Acharya Vidwan Shri.P.S.Narayanaswamy and Kalaimamani Shri Anayampatti Ganesan.
His Structure of Music:
Though it is a great privilege for him to be associated with the Semmangudi School of Music, he has imbibed his own style of singing. Being blessed with a soft and melodious voice, his unique way of rendering Raga Alapana and smooth rendering of Krithis, Niravals and Swaras are remarkable. Above all, his perfect sruthi and excellent control over Laya is a great asset to his melodic voice thereby heightening the overall effect of the performance.
His Status:
Since childhood he has participated in several music competitions and won prizes and appreciation of one and all. The tremendous talent, promise and potential shown from the age of 8 years has been carefully nurtured and stood him in good stead all these years culminating into a musician for the future. He has given many concerts in and outside Chennai.
He is a 'B' High grade artiste of All India Radio, Chennai. He has also participated in the private TV channel programmes like Raj TV and Vijay TV. He has also released an audio cassette under the banner of "Kalavardhani" which is being listened and appreciated by all. He has accompanied his gurus in most of their music concerts and also given solo performances in and outside Chennai under the auspices of various prestigious Sabhas and esteemed institutions.
Apart from performing pure classical form of music, his ability to sing light/light classical music, ghazals & bhajans adds to the versatility of his music expositions. Further the knowledge of Hindi, Bengali, Sanskrit & Tamil which contributes in the rendering of compositions with perfect pause and proper pronunciation adds feather to his cap.
He has also got the distinction of leading the group rendering of Pancharatna Krithis of Saint Thyagaraja on many occasions. He has also participated many times in the Tiruvaiyyaru Festival held every year to pay homage to Saint Thyagaraja. He continues to give performances which are of high quality and consistency, applauded and acknowledged by the audience and appreciated by connoisseurs of music with good and encouraging remarks on the Review columns of prestigious dailies.
He has performed extensively in India and in the US on various occasions and all his performances had been well received by the connoisseurs of music and rasikas alike. Thus he has carved a special place in the hearts of music lovers making them addicted to listen to his music repeatedly.
Shows & Major Performances
Concerts Abroad:
Has performed in the United States in 2004. The concerts were well appreciated by one and all with rave reviews in the internet. The concerts were well attended and organized by the local community in each State. The concerts were given at Atlanta, Raleigh, Washington and Nashville.
Music Therapy Classes:
Has been doing extensive research in Indian Music ( predominantly South Indian Classical Music called the Carnatic Music) through lectures, lec dems and performances. Has been conducting successful music therapy classes as part of the "Stress Management " curriculum in NECAN (National Academy of Excise, Customs and Narcotics – A Govt of India organization) with tremendous impact. Was invited to deliver lectures on Music as a stress management tool in NECAN headquarters at Faridabad, India. Also experiencing the nuances of Indian Music as a successful Music Therapist with continued study, research and programs at various levels.
Thematic Presentations & Nama Sankirtanam:
Has been rendering thematic presentations individually as well as with his Guru Shri P S Narayanaswamy and Shri V L Sudarshan, an eminent artiste and lecturer in Annamalai University, Chidambaram, Tamil Nadu. Also associated with another accomplished and eminent artiste Dr Ganesh, senior disciple of Late Shri Maharajapuram Santhanam in several nama sankirtanam programs in Chennai and all over the country.
Future Plans:
He has plans to perform and propagate Carnatic Music within the country and abroad.
His talent is bound to take him far and wide in his pursuit for musical perfection and excellence.
Contact:
No. 50/D (New No. 39/D) Gautam Colony
R K Shanmugam Road
K K Nagar
CHENNAI 600 078

Phone: +9144.2366.0399
+91.94444.78410
Email: calshank@gmail.com/calshank@yahoo.com
Awards & Recognitions
Aasthana Vidwan
He has been awarded the title of Aasthana Vidwan of Sri Kanchi Kamakoti Peetam, Kanchipuram, by Sri Jayendra Saraswathi himself on the occasion of 26th year of Devasthana Navarathri Cultural Festival, 100th year of Paramacharya Sri Chandrasekarendra Saraswathi Maha Swamiji's ascending as the Kanchi Mutt Head and 72nd Jayanthi Festival of Sri Jayendra Saraswathi Swami.
The Mutt to felicitate
He had been awarded by the Mutt to felicitate him for his contribution to the world of Music dedicating himself entirely to Carnatic Music.
Dasa Kalamani
He has been awarded with the title of "Dasa Kalamani" by Sri Puranadaradasar Baktha Samajam, Chennai for his dedicated services in the spread of Carnatic music and for his proficiency thereof.
Tabla Tatachari Award – 2012
The honour and title of Tabla Tatachari Award – 2012 has been conferred on him by Swagatam by VVT ( the worthy heir to Tabla Tatachari's legacy) in deep appreciation of his contribution to Classical Music by none other than the legendary singer Dr Shri P B Sreenivos who is again the proud brother of Tabla Tatachari.

About
Sabhash
- Everything about classical music, dance, drama and a platform for inclusive entertainment
Sabhash.com is the one-stop destination for the latest news and information on the performing arts of India - classical music and dance, theatre, bhajans, discourses, folk performances, and other lesser known art forms. Institutions that revolve around the performing arts have exploded in numbers, and thanks to the Internet which has made information easily accessible, the number of rasikas has grown too. Corporate patronage has played a big part in increasing the world-wide reach of the Indian arts. Sabhash wishes to be a platform for inclusive growth giving an equal opportunity and recognition to not only the main performer but also the artistes who accompany them on stage, and the people who work backstage and play the role of unsung heroes.