Prarthana Sai Narasimhan
Carnatic Vocalist, Tamil Nadu, India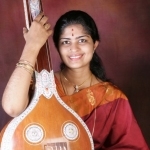 Biography
Born in the year 1983 in a music family at Suratkal Mangalore, Smt.Prarthana Sai Narasimhan had the good fortune of listening to great musicians of yesteryears.
Her father Sri.P.Nityananda Rao has been a Yaksha Gana Singer and her mother Smt.Krishnakumari a non-performing Carnatic Vocalist. They both rendered close guidance to Prarthana right through her formative years. That has provided Prarthana the right atmosphere to develop her skills in Carnatic Music.
Training:
Prarthana started basic lessons in Carnatic Music from her Mother. Later she moved to Chennai & started learning from Padmashri Dr. Smt. Mani Krishnaswami(1996 to 2002). Her father dreamt about her daughter to perform on big stages & his dream came true when she started winning lot of competitions at Chennai. With the blessings of her Guru, she had the golden opportunity of having advanced training in Music under the tutelage of "Sangeetha Kala Acharya" Sri. Chingleput Ranganathan from 2000. She has an unique advantage of pursuing both Musiri Pani & the Alathur Pani.
Shows & Major Performances
Reviews in Dailies & Magazines – A view:
Neat interpretation - S. V. Krishnamurthi (The Hindu, Friday Review)
Her music remains forever in the heart of rasikas - A. Ishwarayya
Her melodious voice is appealing – G. T. Narayana Rao, Mysore
Aesthetic Karaharapriya – G. Swaminathan, (The Hindu, Friday Review)
Rooted in sampradaya – S.V.Krishnamurthi (The Hindu, Friday Review)
She is attracting audience in the traditional way without any gimmicks -
Mysore V.Subramanya
Chiseled to perfection - S. V. Krishnamurthi (The Hindu, Friday Review)
Neat presentation of kritis in the traditional way - V. Aravinda Hebbar (Udayavani)
Achievements:
Performed more than 600 concerts throughout India
Performed at the prestigious Cleveland Thiagaraja Utsavam at Cleveland USA in 2009
She is one of the trustees of Mani Krishnaswamy Academy Mangalore, started in her Gurus name, mainly to encourage young upcoming artists in the field of Carnatic Music
Served as Music lecturer at the Prestigious Music Academy's Teachers College of Music for two years
She has Conducted music workshops for Dr. Mani Krishnaswami Academy, Bharatiya Vidya Bhavan(mangalore) and Sangeetha Parishath(mangalore)
One of her wonderful achievements is that, she has released an album at Mangalore titled, 'SWARASUKHA' which contains basic lessons on Carnatic Music. A very well received album from the Music Learners and Music Lovers.
Recently she performed a unique ten concert series at different parts of Mangalore "Nadanubandha"
Personal Details:
She is married to Sri.Sai Narasimhan Ranganathan, who is a Flautist, Singer, Music Composer & a Mimicry Artist. He is the 2nd Son of the Veteran Singer "Sangeetha Acharya" ( Late) Sri. Chingleput Ranganathan.
Contact:
Karthik Flats, I Floor, New No.27/6, Nallappan Street,
Mylapore, Chennai – 600 004
Mob: +91.98400.31836
Mail: musicprarthana@gmail.com
Awards & Recognitions
B-High Graded Artist
B-High Graded Artist of the All India Radio and she performs regularly at All India Radio (AIR)
Yuva Kala Mani
awarded the title Yuva Kala Mani by Bharatiya Vidhya Bhavan, Mangalore & Mani Krishnaswamy Academy in 2011

About
Sabhash
- Everything about classical music, dance, drama and a platform for inclusive entertainment
Sabhash.com is the one-stop destination for the latest news and information on the performing arts of India - classical music and dance, theatre, bhajans, discourses, folk performances, and other lesser known art forms. Institutions that revolve around the performing arts have exploded in numbers, and thanks to the Internet which has made information easily accessible, the number of rasikas has grown too. Corporate patronage has played a big part in increasing the world-wide reach of the Indian arts. Sabhash wishes to be a platform for inclusive growth giving an equal opportunity and recognition to not only the main performer but also the artistes who accompany them on stage, and the people who work backstage and play the role of unsung heroes.