T.V.Ramanujacharlu
Violinists, Tamil Nadu, India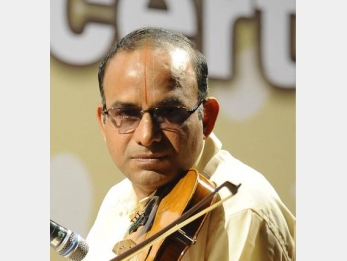 Biography
T.V.Ramanujacharlu, a Top Garde Violin Artsit, hails from a family of Traditional Music. He evinced greater interest in Carnatic Music even as a child and has his initial training in music from his father Shri T.K.Ramanujacharyulu, a flutist.
He started learning violin under his maternal uncle Shri N.Ch.Krishnamacharyulu, a renowned Violinst, Composer and Musicologist of Vijayawada, Andhra Pradesh. It was under the tutelage of Shri N.Ch.Krishnamacharyulu, in th Gurukula System for 14 years, his music attained great mastery in the intricacies, nuances and fineness of Carnatic Music. He is a Graduate of the Andhra University and also a Violin Diploma Holder of the same University.
T.V.Ramnujacharlu has an exquisite Gayaki Style of rendering ragas and Swaraprasthara, characterised by the best traditional classicism. His bowing technique is par excellence.
Shows & Major Performances
He has given many solo performances and accompanied many Top Ranking Vocalists and Instrumentalists. He has accompanied in National Programmes and Akashvani Sangeet Sammelanam Concerts also in 1997, he gave a Solo Concert in the Akashvani Sangeet Sammelan, at Bombay.
He has been regularly playing solo as well as accompaniment in all the leading Sabhas all over India. He has played Violin in many cassettes and CDs for various leading artists. He has composed tunes for many Devotional Songs like Divya Prabhandha Paasurams and also Light Music.
His concerts are an Aural feast. In 1994, he undertook a tour to United States of America as an accompanist.
He has trained many students in Carnatic Music. Shri T.V.Ramnujacharlu is now on the Staff of All India Radio, Tiruchirappalli.
Awards & Recognitions
First Prize - Music Competiton
In 1979, he won the First Prize in the All Indai Radio Music Competiton.
Senior Violinist Award
He has got the "Senior Violinist Award" of the Chennai Music Academy, for the year 1997-98.

About
Sabhash
- Everything about classical music, dance, drama and a platform for inclusive entertainment
Sabhash.com is the one-stop destination for the latest news and information on the performing arts of India - classical music and dance, theatre, bhajans, discourses, folk performances, and other lesser known art forms. Institutions that revolve around the performing arts have exploded in numbers, and thanks to the Internet which has made information easily accessible, the number of rasikas has grown too. Corporate patronage has played a big part in increasing the world-wide reach of the Indian arts. Sabhash wishes to be a platform for inclusive growth giving an equal opportunity and recognition to not only the main performer but also the artistes who accompany them on stage, and the people who work backstage and play the role of unsung heroes.