Mutnuri Srinivasa Narasimha Murthy
Violinists, Andhra Pradesh, India
Date of Birth : 05 - Aug - 1966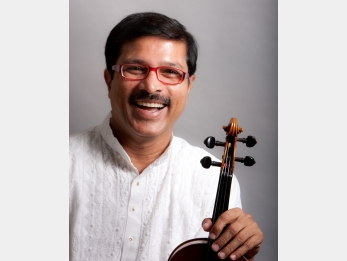 Biography
Hailing from a music family, M. S. N. Murthy started performing at an early age of 10. He was exempted in age & selected as a casual artiste by All India Radio at 14.
He has been winning high degree of appreciation from listeners for his purity of style, fine aesthetic sense and command over the instrument. His parents M.V. Subbarayudu and M. Jalajakshi (Veteran Vocalist) and guru Sriman Nallanchakravarthula Krishnamacharyulu and wife Dr Pantula Rama (Eminent Musician). He did his B.E. (Electronics & Communications Engineering) and Diploma in music.
Qualifications:
'TOP' Grade in Violin
'A' Grade in Vocal
'A' Grade in Viola
Status:
Served All India Radio for 20 years as Staff Artist(Violin) and opted for voluntary retirement.
Empanelled Artiste of Indian Council for Cultural Relations (ICCR)
Shows & Major Performances
Performances:
Solo performances at various places.
Accompanied many a veteran vidwan like Smt. M.S.Subbulakshmi, Dr. M.Balamuralikrishna, Sri Nedunuri Krishna Murthy, Dr.S.Ramanathan, Sri Maharajapuram Santanam, Sri M.S.Bala Subrahmanya Sarma, Sri Nookala China Satyanarayana, Sri T.R.Subramanyam, Sri B.V.Raman & Sri Laxman, Madurai Sri T.N.Seshagopalan, Sri T.V.Sankaranarayanan, Trichur Sri V.Ramachandran, Dr.M.L.Vasantha Kumari, Smt Mani Krishna Swamy, Kum Srirangam Gopala Ratnam, Smt R.Vedavalli, Bombay Sisters, Smt Arundhati Sarcar, Dr.N.Ramani, Sikkil sisters, Dr.Prapancham Seetaram, Sri N.Ravikiran, Sri U.Srinivas etc.
AIR's Sangeet Sammelan concerts (Solo & Accompaniment).
AIR's National Programmes of Music
Doordarshan's National Programmes of Music (Solo & Accompaniment).
North-South Jugalbandi concerts for National Integration arranged by All India Radio.
Many Invited Audience Concerts of All India Radio.
Conducted Classical Sangeeta Sikshana over AIR, many times.
Conducted Vadya Goshti over AIR.

Tours Abroad:
USA & Canada: Accompanied Sri Nedunuri Krishna Murthy
USA & Canada: Accompanied Madurai Sri T.N.Seshagopalan
Australia: Accompanied Sri Nedunuri Krishna Murthy
Singapore: Accompanied Dr.Pantula Rama
Thailand: Violin Solo & Accompanied Dr.Pantula Rama - 2010 & 2011
USA: Cleveland Tyagaraja Festival & other places - Spring- 2010, Fall 2010

Felicitations: Ugadi Puraskaram by Vedic Seva Trust – Visakhapatnam,2003
Felicitation by Sankara Matham – Visakhapatnam
Felicitation by Rayavarapu Jagannadha Rao memorial Trust – Kakinada
Felicitation by Visakha Music Academy – Visakhapatnam.
Felicitation by disciples.

Solo Albums: "Healing Magic" for Reiki Practice

Concert albums: Accompanied Sri Nedunuri Krishna Murthy
Accompanied Smt Arundhati Sarcar,
Dr Smt Pantula Rama, Smt. Manda Sudharani
Special Capabilities: Renowned for Composing & Performing intricate Pallavis and exhibiting rare & exceptional talent in spontaneous calculations while accompanying.
Instrumental in bringing out two books in print, Thyagaraja Geyartha Kunchika, Annamayya Padartha Prakasika written by his Guru. (Sriman. N. Ch. Krishnamacharyulu)
Students:
(India and Abroad): Training many students both in Violin & Vocal, some of whom have attained professional caliber.
Also trained some students from abroad in Carnatic Music.

Other Fields:
Traditional Reiki Master in the Usui system of Natural Healing.
Co-ordinated music programs for fund raising towards Kargil affected and Tsunami victims, which drew wide support from the local music fraternity.
Organizing Carnatic Music Sabha 'Chamber of Music-Vizag' at Visakhapatnam.

Contact:
49-4-2, Lalitha Nagar, Visakhapatnam - 530016
Ph: +91891.2769.9999, +91.98408.94747
email: msnviolin@gmail.com

About
Sabhash
- Everything about classical music, dance, drama and a platform for inclusive entertainment
Sabhash.com is the one-stop destination for the latest news and information on the performing arts of India - classical music and dance, theatre, bhajans, discourses, folk performances, and other lesser known art forms. Institutions that revolve around the performing arts have exploded in numbers, and thanks to the Internet which has made information easily accessible, the number of rasikas has grown too. Corporate patronage has played a big part in increasing the world-wide reach of the Indian arts. Sabhash wishes to be a platform for inclusive growth giving an equal opportunity and recognition to not only the main performer but also the artistes who accompany them on stage, and the people who work backstage and play the role of unsung heroes.