A Talented Young Dancer - by V.V.Ramani
13 December, 2012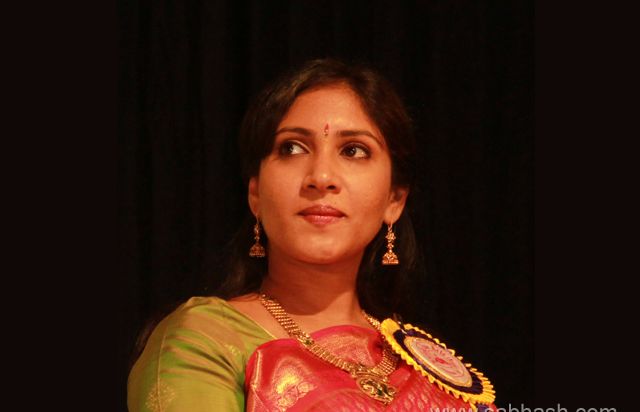 Dr. Jyotsna Jagannathan, a talented young dancer balancing her time between medicine & dance has in a short span of time made a name for herself in the field of Bharatanatyam. In recognition of her talent, she was conferred upon the title of "Nadanamamani" by Karthik Fine Arts, which carried a cash award of Rs.100,000/- An interview with the dancer follows:
What was your reaction when you heard the news of the award conferred on you ?

The initial response is euphoric and once the idea settles, receiving recognition is always an honoring as much as it is an extremely humbling experience. This time I had a slight hint of disappointment only because I would not be in the position to perform for the occasion but in retrospect I'm very grateful as I have something so special to really look forward to for the next season.

Considering you are rather young, do you think awards sit too heavily on young shoulders ,thereby putting a lot of pressure?

I think more than pressure, awards and titles come with a huge responsibility. A responsibility to live up to the expectations of all the people who have had faith in you and more, to live up to the standards that you chose to set for yourself and with time that bar gets raised higher and higher.

A little about your childhood learning and experiences?

I went to East Africa when I was three years old. Music and dance play a very important role to the people of Africa and so I was exposed to a lot of culture except that it wasn't Indian or classical. I had very little opportunity to experience Indian dance but there are a couple performances that left an indelible mark in my memory. One was that of Smt. Rama Vaidyanathan who came to Kenya. I was awe struck. Thinking about it now I dont remember what exactly about the performance made me feel the way that I did- but the connection was made. A few years later the ICCR brought a group production of Dr. Hema Govindarajan to Kenya. The production was based on the strength of epic women and again I related to that so strongly. In 1997 Dr. Hema Govindarajan moved to Kenya as her husband was transferred through work. I knew that I wanted to learn dance from her. I started training under her immediately. The two most grueling years and the most important years as well. Everything changed.

What made you decide it was Dance for you?

Honestly, I have never actually made a conscious decision about dance. I am grateful for the journey and more than anything I believe that in my case it has been a play of destiny throughout. I came to India to pursue a career in medicine but chose Chennai so I could be closer to Bharatanatyam - geographically if not in any other way. Two years into the course I decided to use some of my leisure time for dance. Little did I know that I would want to spend all my time on it!

How many Gurus have played a role in shaping you and any specific lessons that may have possibly inspired you?

I have been most influenced by my first teacher Dr. Hema Govindarajan. While I only studied the basics of dance through her, I learnt a way of life during the time we spent together. She changed me completely. From teenage NRI brat whose priorities revolved around fashion and friends she inspired me to search for meaning and for that higher purpose in life. My experience with Smt, Jayanthi Subramanian taught me patience and perseverance. Through her example I know that nothing is more humbling that the art. She was a very encouraging teacher and gave me the confidence to embrace dance as such a huge part of my life. I share a very unique relationship with Shri. A. Lakshman. In the most simple of ways he can convey the most important lessons. He has shared so much with me and has taught me the craft the way I know it today and continues the journey with me as I discover the art. Smt. Bragha Bassel is a friend as much as she is a teacher. She understands me for who I am and shares her art unconditionally - a quality I hope to imbibe from her.. There are so many artists that I have watched over the years and have been moved, touched and inspired by in so many tiny ways.

Music is an inseparable part of Dance. Your take on your understanding of music and your background?

It is over the last five years that I have been able to devote my undivided time and attention to dance and have understood the holistic nature of the art. I am aware of so many more things now. Starting to learn dance at 16 and trying to reach the level of proficiency that my contemporaries who have been learning since they were 5 or 6 has been extremely challenging more so as I was doing it simultaneously with getting a degree in medicine. My little exposure to music is a huge disability and I feel it more by the day and also as try to choreograph. I am now a student of the Brhaddhvani and am taking their course on music for dancers which I hope will enrich the journey ahead.

Where do you see yourself ten years from now?

Looking back with contentment, enjoying every moment of the present and looking ahead with hope.

About
Sabhash
- Everything about classical music, dance, drama and a platform for inclusive entertainment
Sabhash.com is the one-stop destination for the latest news and information on the performing arts of India - classical music and dance, theatre, bhajans, discourses, folk performances, and other lesser known art forms. Institutions that revolve around the performing arts have exploded in numbers, and thanks to the Internet which has made information easily accessible, the number of rasikas has grown too. Corporate patronage has played a big part in increasing the world-wide reach of the Indian arts. Sabhash wishes to be a platform for inclusive growth giving an equal opportunity and recognition to not only the main performer but also the artistes who accompany them on stage, and the people who work backstage and play the role of unsung heroes.