EPOCH OF EPIC WOMEN - Hema Ramani and V.V. Ramani
18 December, 2012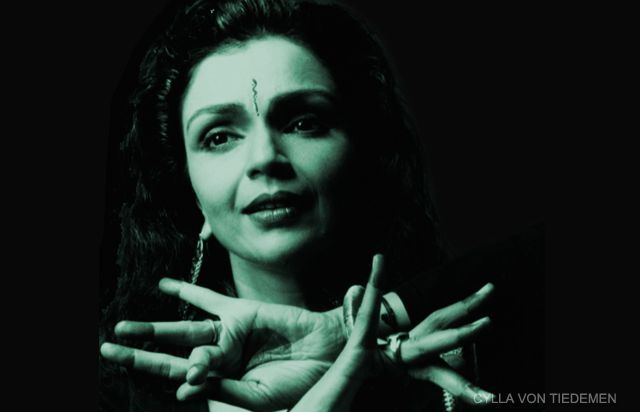 Year after year, the rasikas wait with bated breath for the season to begin – not just for performances, but also for the thought - provoking seminars, discussions and lecture-demonstrations by eminent artistes. For many of us who have attended wonderful sessions convened by Grand masters, the expectations that we have are high only because they have taken us on a journey teaching us what a good rasika should expect! And so, if we wait for better and more serious academically and intellectually inspiring conferences, the predecessors have only themselves to blame! When people complain about dwindling audiences today, I must in all honesty admit that it is not the rasika's fault! Against this background, accolades must certainly be given to Anita Ratnam for the epic effort taken to convene a conference of this stature.
On 21st Dec 2012, the East Mada Street in Mylapore will reverberate with the percussion sounds of Adi Shakti troupe from Pondicherry, heralding not only the Margazhi Thingal, but the Epic confluence of epic women. Kartik Fine Arts in association with Arangam Trust presents a four day Natya Darshan Conference /Performance conclave in myriad dimensions at Bharatiya Vidya Bhavan, Chennai.
Anita has the uncanny knack of being unpredictable, teasing us with the element of surprise always. And interestingly, the epic women she is focussing on are iconic taken from myth, history, literature, politics, activism and arts moving beyond geographical and cultural boundaries.....It is a total recall of all that she has studied, observed, absorbed and assimilated over the years of her formal education as well as her dance career. The thought of the epic women did not spring forth suddenly ... it was thought of, conceived and planned over a span of 12 months. To the question, Why epic women, she says - "Why not, considering we have an epic woman ruling our state!"
What is the excitement about this conference? How is it different from others? How is it going to keep the sabha-hopping audience rooted to their chairs and asking for more?
Our tete-a-tete with Anita proved to be the most potently packed conversation session, moving over an array of subjects-organization, choice of panellists, ideating process, delegating, holding interest of audiences, basic infra-structure facilities and so on
IDEATING ... the process begins
The success of any festival depends as much on basic infra structural facilities, as much as it does on performances and big names."My stay and travels abroad has broadened my approach to my understanding of the basic infra structural facilities that should be provided to an artiste. I was able to go ahead because Mr. Sabaretnam provided 'carte blanche' freedom for the seminar" says Ratnam.
Most modern welfare states boast of providing "cradle to grave" facilities and cultural organizations should think of providing "rest to stage facilities". Economists often use the phrase "other things being constant" to explain an economic law. In the cultural scene too, you can cry hoarse about so many things that are lacking. Few dare to "be the change they want to see". Anita has worked her way around the various "constants", adding and providing at least short-term relief facilities to her co-artistes and delegates of the conference. Every aspect of an artiste's needs have been looked into with great detail (the rest room, green room, security, hospitality, stage management, rehearsal space – in short every legitimate requirement of an artiste).
From the basics to the crux...
"I have always been interested in parallel mythology and I have often found that our epic characters have the ability to re-invent themselves to suit even contemporary times. I thus moved from the known to the unknown-Every woman in India identifies herself with Sita at some point in her life.So we have Sita and I have the darker women like Shurpanaka of the Ramayan or Lady Macbeth from Shakespeare. My cross cultural explorations have inspired me to include Medea of the Greek mythology or indeed to present the epic courage of Aung San Suu Kyi." She has included divas from the cultural scene of a bygone era-Bala Saraswathy, Rukmini Devi, Chandralekha and Indrani Rehman. "There is no dearth of artistic wealth in India. But I had to choose my panellists who were articulate too." Anita has chosen panellists covering a wide spectrum of knowledge-academics, artists, poets, historians and so on. While she has chosen even young panellists, she has taken care to see to it that they have pursued their career on a serious note-intellectually and artistically – so it is a heady mix of a wonderful confluence of youth and experience. One important aspect is that the conference is being attended by University students (who have registered for their doctorate degrees), who will at the end of the conference be ready to submit a paper of academic value and which become part of the archival records.
"My experience in the field of Television in the U.S taught me many important things-how to hold the attention of the audience, which would be limited. So I had to pack the conference with academically intellectual talks interspersed with performances and panel discussions. The audience is diverse - not the University scholars who would sit through long and serious lectures/papers, nor are they the ones who attended THE OTHER FESTIVAL." So each panellist has a time span of 25 minutes to keep it crisp and brief, potent yet not heavy.
A conference with all these ingredients would naturally require the perfect chef. Donning the hat along with ever so many feathers, Dr. Anita Ratnam gets on to the professional mode and swings into action- Students from various disciplines specializing on Event management have enrolled themselves to intern with her. Internship of this nature is radically different from the usual Guru-Shishya experience because this teaches every intricate facet of true artistic professionalism - Human Resource management of being taught hierarchy, understanding artistes and their egos; Event management aspects - time management, punctuality, dedication, commitment, delegation and working with constraints.. And what have you! Minute details of dress code for the interns have been looked into too.
Care has been taken not only in choosing the participating delegates of the conference, but also offering stimulating performances whetting the appetite of the rasika too - for too often have we had some artistes deciding on "what is enough for a particular type of audience". So in terms of performances too, artistes are coming forward to present world premieres of their latest works. Likewise, Cambridge Publishers has taken it forward by documenting each of the papers, which will be brought out as a journal. "Working on this seminar has been an enriching and exciting experience for me and my adrenal levels go higher. I have had constant discussions with my panellists over a span of time." We know that elaborate preparation of this kind is sure to make the conclave a success. Anita has kept her standards high in whatever she undertakes to do - her intention is to be able to provide world class treatment and leave an international imprint - with the constraints and facilities of a metro city - Chennai. Expanding on the truism of Athithi devo bhava, the focus is also on the rasika and the artiste returning home with a deep sense of satisfaction. She has worked tirelessly and constantly braving every shortcoming to turn the conference into a truly international conclave - the sangamam or confluence of the best ! Male artistes need not feel left out – if it is the iconic women this year, the coming year is all yours, dear men – heralding THE PURUSH !
For event details:
http://www.sabhash.com/dance/events/4034/epic-women---conference-performance-conclave.html

About
Sabhash
- Everything about classical music, dance, drama and a platform for inclusive entertainment
Sabhash.com is the one-stop destination for the latest news and information on the performing arts of India - classical music and dance, theatre, bhajans, discourses, folk performances, and other lesser known art forms. Institutions that revolve around the performing arts have exploded in numbers, and thanks to the Internet which has made information easily accessible, the number of rasikas has grown too. Corporate patronage has played a big part in increasing the world-wide reach of the Indian arts. Sabhash wishes to be a platform for inclusive growth giving an equal opportunity and recognition to not only the main performer but also the artistes who accompany them on stage, and the people who work backstage and play the role of unsung heroes.