Roja Kannan spreads her fragrance on Malaysian Children
30 November, 2013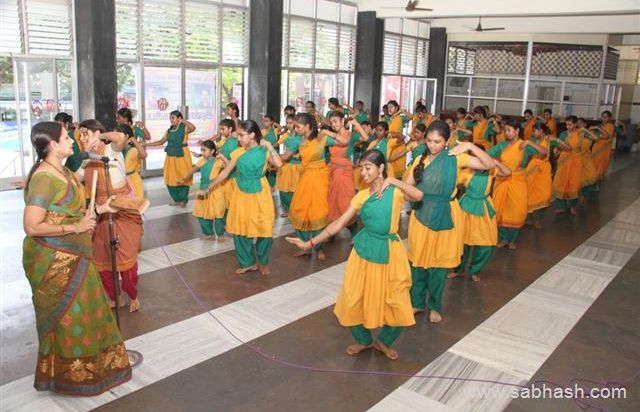 There were 40 children in their uniforms - that is, practising costumes, bouncing and swirling at the lobby of Narada Gana Sabha. Oh! True music engulfs you…But this is a music/dance festival too, that occurs every year. Dance offers a spectacle, whoever does it. And it is a visual experience. Very soon (or already!) the city will be brimming with music and dance in the coming days!
These 40 children….What are they doing here?
Bharathanatyam exponent Ms. Roja Kannan started answering….
All of them are Bharathanatyam students who have come down from Malaysia, accompanied by their Guru Nalini Rathakris. Nalini runs Sri Rathakrishnan Bharathanjali in Malaysia. All the children are third generation Indians who settled in Malaysia, and are in the age group 10 to 16. The thing is that all of them speak Tamil well and are steeped in the Hindu tradition.
Is it a kind of workshop they are attending?
Yes. It is a tightly packed seven-day workshop. I have taught them the background of Bharathanatyam, Natya Sastra, Abhinaya Dharpana, Nritta, and also given them glimpses of the great legends Rukmini Devi, E Krishna Iyer. Field trips had been organized to Kalakshetra, The Beach, Sri Kapali Temple and more. They were even taken to Guru Lakshmanan to take his blessings. The students will also be receiving a certificate from Bharatha Natyalaya (Roja Kannan's dance school) for having undergone this workshop.
What did they learn while they were here?
The main pieces the students learned from here were Mallari in Gambeeranattai and to dance for the Oothukkadu piece - Nada Murali Ganavilola in Behag. The children behave so well, are highly disciplined and very orderly in their chores. They say "Vanakkam Teacher" as soon as they arrive at the class. All this is part of their learning too. These habits have sinked into them. They dress up well, and value immensely the Bharathanatyam tradition, even at this age. What amazes me is the extent to which they are polite and obedient. They learn and grasp easily and reproduce well. They will perhaps, go as different human beings when they leave. Right now the students stay in a hotel and are taken around in a chartered bus. Guru, Nalini has done well in training them. The students will also be presenting a programme, Paatrasya Prana, on Dec 1, at R K Swamy Hall, Sundareswarar Stree, Mylapore, and then would wind up and leave.
Guru Nalini also talked to us:
How do you value this trip/workshop?
It is an awesome experience; words fail me to explain my feelings. We are so privileged to have been in the city, a Temple of Arts, meet and hear about legends in the field and to have had such a fine and caring guru in Ms. Roja Kannan. Really delightful! We have had a chance to pay our respects to Guru Lakshmanan when we were taken to his residence.
What inspired you to come here and bring them all here?
It just came to my mind, a trigger - to make them all pay a visit to the capital of Bharathanatyam, and make them learn more. God's Grace, it happened and we are extremely happy.
How did you land at Ms. Roja Kannan's classes?
We selected a bunch of gurus, contacted them on e-mail. Roja's responded with a detailed plan for a week which she had devised, showed her readiness and dedication. And we are fortunate that we came to her.
This reporter had a chance to see the Mallari number they performed, and could get a taste of the students' passion and commitment to perfection. The piece is the one choreographed by Ms Roja's Guru, Adyar Lakshmanan. Her senior student, Subha was sincerely assisting her in the endeavour.
Yes! You surely felt like "dancing with these daffodils"!
For more photos : http://www.sabhash.com/dance/events/6878/roja-kannan-spreads-her-fragrance-on-malaysian-children.html

About
Sabhash
- Everything about classical music, dance, drama and a platform for inclusive entertainment
Sabhash.com is the one-stop destination for the latest news and information on the performing arts of India - classical music and dance, theatre, bhajans, discourses, folk performances, and other lesser known art forms. Institutions that revolve around the performing arts have exploded in numbers, and thanks to the Internet which has made information easily accessible, the number of rasikas has grown too. Corporate patronage has played a big part in increasing the world-wide reach of the Indian arts. Sabhash wishes to be a platform for inclusive growth giving an equal opportunity and recognition to not only the main performer but also the artistes who accompany them on stage, and the people who work backstage and play the role of unsung heroes.