Sandhya Raju - A Profile
06 December, 2013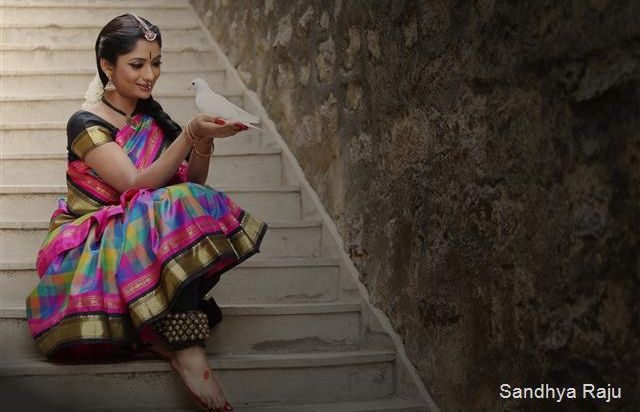 - by V.V. Ramani
It was just a family outing, an evening meant as entertainment for the children. But, the natya nadakam – Ksheera Sagara Madanam that the Raju family witnessed mesmerized one little girl, who continued to live in the world of devas and asuras much later even after they had returned home! Observing this interest in her daughter, Mrs. Niramala Raja took little Sandhya to the neighbouring Kuchupidi Arts Academy of Guru Vempatti Chinna Satyam. Sandhya learnt the basics of the art form under the guidance of Guru Chinna Satyam and his disciple, Kishore Mosalikanti.
The focus in the dance classes at the Academy was more on group training. From among the group, dancers who were more focussed and talented were chosen to be part of the varied natya nadakams, which was the school's speciality. This inspired the spirit of competitiveness among the dancers and each one of them wanted to outdo the other in a bid to be the 'chosen one' for the production. "The underlying fear of perhaps, having to lose out to someone else kept me on my toes, and made sure that I wouldn't miss out on a single class and even gave up on going on holidays !" says Sandhya. There was an unwritten hierarchy prevalent in the school, where in dancers were given roles according to the level they were in – for instance, a beginner would be given the role of a cow or a peacock, slowly graduating into groups, and it was only the best who got selected for a coveted lead role! And so, Sandhya worked hard, with a great deal of passion aspiring to be chosen for the main roles.
With a twinkle in her eye, she recalls that day, reliving that moment when Guru Chinna Satyam offered her the role of Krishna, in his production, ' Sakhi '. Says Sandhya, "Even as I was aspiring to do important roles, the chance to play Krishna was like a dream come true, the high point in my life, putting to rest all other aspirations of wanting to be designer or film maker!" Dance, she decided was to remain the mainstay of her life.
Having trained for seven years at the academy, she moved away to learn under the tutelage of Kishore, which whom she has a wonderful relationship who plays the roles as - friend, philosopher, guide and of course as a Guru. It was under him that she began learning many new items that helped her blossom as a solo dancer. As she was progressing further with equipping herself more on the dance frontier, a sudden twist came in the form of her announcement of marriage. The arangetram happened soon, and the move to Hyderabad kept her away from the world of dance for a while.
A new city, a domesticated life – this was her new scenario for some time. The occasional dance performances that she witnessed kindled the burning fire in her yet again. Heeding a friend's advice, she got back to dance by way of starting dance classes at Anuradha Reddy's space, Saptaparini. Seeing her dedication and devotion to dance, her husband proved to be instrumental in motivating her to start her own institution, which she called Nishrinkala dance Academy. "This was a life- changing experience for me. Teaching opened up new vistas and I opened my eyes to understand my art with a deeper insight, which heled me matureas an artist," confides Sandhya. Beginning with just a handful of students, the school has grown in stature, housing a large number of students today. She also inducts young talented children from poor family backgrounds, not only by teaching them free of cost, but also by lending hand of support to them by providing them job opportunities in her own company. This encouraged them not only to continue with the art of their heart's desire, but also taught them to stand on their own feet. She readily acknowledges the fact that it has been possible for her to achieve all these by dint of having been born with a silver spoon! Besides dancing, she has played a small role as a dancer in the S.P. Basubramanian and K. Vishwanath movie - Devasthanam and Sharada Ramanathan's documentary Natyanubhava. Though she has travelled widely to showcase her talent, the thought of performing in the cultural capital, Chennai is what she holds dear to her heart. She continues to dance, content with having understood the importance of enjoying the present moment - NOW!
(Sandhya Raju performed for Kartik Fine Arts at Narada Gana Sabha on 5th Dec 2013).

About
Sabhash
- Everything about classical music, dance, drama and a platform for inclusive entertainment
Sabhash.com is the one-stop destination for the latest news and information on the performing arts of India - classical music and dance, theatre, bhajans, discourses, folk performances, and other lesser known art forms. Institutions that revolve around the performing arts have exploded in numbers, and thanks to the Internet which has made information easily accessible, the number of rasikas has grown too. Corporate patronage has played a big part in increasing the world-wide reach of the Indian arts. Sabhash wishes to be a platform for inclusive growth giving an equal opportunity and recognition to not only the main performer but also the artistes who accompany them on stage, and the people who work backstage and play the role of unsung heroes.