SPOTLIGHT ON SINGAPORE: Conferencing with Nirmala Seshadri
01 November, 2014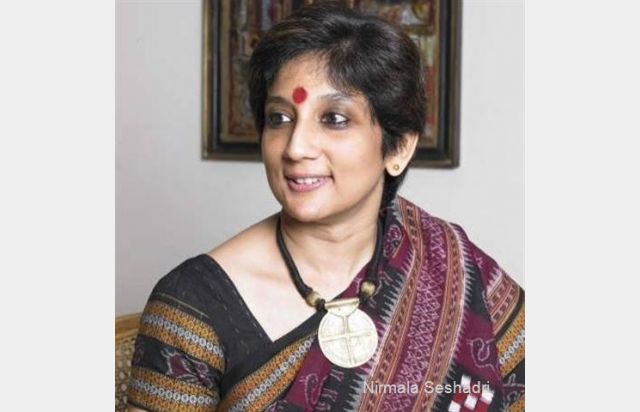 -Hema Iyer Ramani
Nirmala Seshadri is a Singapore-born Indian, trained in Classical Bharatanatyam. Like most Indian children who are introduced into learning the arts, Nirmala also found herself being pushed into learning it (dance), and somewhere along the line, she realized that her understanding of the art blossomed alongside with her growing up. So while there was unquestioning adherence to the idiom initially, she found that as she grew older, her art also underwent transformation. Just as she began to question various issues in her everyday life, the urge to look deeper than what was obvious seemed very important. Her art therefore underwent all changes at various stages in her life, and as she learnt new lessons, she effortlessly and unconsciously incorporated those into her training. She sought to interpret dance based on what she was experiencing at that point of time in her life-so it was to follow the flow, and be in the moment, savouring its presence in the present.
Her desire to always move beyond the 'obvious' was what prompted her to complete her Masters degree in London (where her thesis was on 'Shifting Representations of the Nayika in Bharatanatyam'), but she conducted her research on the Singapore scene alongside her Masters degree. Understanding the importance of creating a space for artistic practice and academic scholarship to meet, Nirmala, as artistic director of N Dance & Yoga, conceived of an International Conference, the first of its kind in Singapore. Supporting the idea whole heartedly and organizing it along with her is her former Guru, Santha Bhaskar (Founder and Artistic Director, Nrithyalaya Aesthetics Society).
The following conversation is the outcome of an interesting interview that I had with the dancer, Nirmala Seshadri, highlighting the importance of the forthcoming-First International Conference on the Emergence, Development and Future Directions of Bharatanatyam in Singapore and Malaysia, to be held in Singapore (Dec 6th and 7th 2014).
How did the idea of having a conference germinate?
Just to give you a background, Bharatanatyam is believed to have entered the Singapore scene in the 1950s and the development of the dance form in this setting has been tied in with Singapore's own social, economic and political development. The traversing of Bharatanatyam transnationally into the Singapore framework weaves notions of culture, memory, preservation, identity, reproduction and change. Over the years, it has become important to me to acknowledge and begin to understand the complexities that surround the practice of the form - issues of diaspora, cultural heritage, caste and class, the impact of politics and cultural policies, globalisation and the challenges of intra and intercultural dialogue with regards Bharatanatyam practice here. In 2012, I sat down with Mrs. Santha Bhaskar (a pioneer in the field of Bharatanatyam in Singapore) to discuss a research project on the emergence and development of the dance form in Singapore. Mrs. Bhaskar, who is incidentally also my first Guru of Bharatanatyam, was very excited and supportive of the idea and together we drafted a proposal to the Singapore National Arts Council who came forward to fund the project. In the proposal, we had also mooted the idea of an international conference as part of the project. Soon after that, I left for London to pursue my postgraduate studies in Dance Anthropology. I have to say that the programme equipped me with valuable tools for research and ethnographic fieldwork. It also provided me with the opportunity to attend conferences and present research papers. During my time in London, I carried out my Singapore field research by interviewing members of the dance community via email and Skype. I continued the research and interviews upon my return to Singapore after completing my studies. I became even more convinced of the importance of bringing the various players in the field together along with dance scholars from Singapore, Malaysia and the international scene. This would generate valuable research material and help take the project forward. The idea of the conference stemmed fundamentally from the need to understand what it means to be a Bharatanatyam practitioner in this time and location, to create a platform for scholars, researchers, artists and observers to come together to dialogue and examine a dance form that has etched itself in the socio-cultural landscape of Singapore and Malaysia.
How did you embark on the planning process....how did you ideate upon the theme,
The overarching theme "The Emergence, Development and Future Directions of Bharatanatyam in Singapore and Malaysia" had already been conceived at the time of proposing the research project to the National Arts Council. However, translating that into a conference was sort of like creating a new artistic work out of a concept. In order to facilitate the planning and execution of the event, we decided at the onset that it would be jointly organised by Nrityalaya Aesthetics Society and N Dance & Yoga (A Space for Research & Experimentation in Dance & Somatic Practices). Once we had the nitty gritties like date, venue and other details in place, it was time to look at how we were going to create a platform for artistic practice and academic scholarship to intersect. Since performance has been the main focus of the Bharatanatyam field in Singapore, I felt it might be a good idea to shift the emphasis for the conference and therefore decided to concentrate on keynote speeches, paper presentations, lecture demonstrations, video talks and roundtable sessions. I wanted for it to be a space that could include practitioners, dance scholars, cultural observers and the wider community - from spheres such as heritage, education, media, arts policy and programming. It was important to keep in mind the location of the dance form in multicultural Singapore, and to also examine it in relation to the practice of the form in neighbouring Malaysia. Mrs. Bhaskar provided valuable inputs especially in terms of the local and regional context. The subthemes of the various panels emerged through hours of discussion over the phone, Skype and email with Prof. Urmimala Sarkar (Theatre Studies Department, JNU), who has been a patient and supportive listener and adviser throughout the process. Out of all the brainstorming emerged a list of scholars and artists with whom I would have preliminary conversations. It became part of my routine for a few months - writing to these people, fixing up phone or Skype chats and having long discussions with them to explore ways of aligning their research interests with the overarching theme of the conference. Gradually, the panel themes emerged that covered areas such as history, heritage, identity, present-day teaching/practice/performance, choreographic exploration, education, inter/multiculturalism, negotiation of geographies and visibility, positioning and finally, the re-envisioning of the dance form in Singapore and Malaysia in the 21st century. It has been quite a creative process made possible with solid support from a dedicated core team that includes Pamela Leong (General Manager of N Dance & Yoga), education consultant Dr. Maha Sripathy, Aparna Nambiar (artist/researcher), and Loretta Song, the conference's technical manager.
Did you conceive of a conference at the outset, or it did it gradually take shape...and did you see yourself moving with the flow...that is evident in your dance and yoga?
As I mentioned earlier, we had included an international conference in our research proposal to the National Arts Council. At that time, I really saw it as a platform for disseminating our research material and so it was originally scheduled to happen at the final stage of the research project. However, in "moving with the flow", it was brought forward in terms of the schedule and took on a totally new meaning - that of generation of research material, rather than dissemination.
What was the criteria for choosing the panelists?
The selection of panelists took place in three phases. In the first phase we identified and invited scholars whose research focus was more or less in sync with issues pertaining to the Singapore and Malaysia contexts. To widen the net, we then sent out a call for abstracts. Here, proposals were reviewed by a selection panel that looked for conceptual clarity, quality of proposals and alignment of the content to the themes of the conference. By this time, a skeletal programme was in place and possible themes for roundtable sessions became clearer. This was when potential speakers to suit the topics were identified and invited - from the artistic, academic and wider community.
The conference certainly looks intellectually and academically packed. Besides the forced breaks, the conclave definitely breathes seriousness. How responsive do you think the Singapore audience will be to a conference of such a stature? So does that mean, you choose your audience as well?
This is the first time that a conference of this sort is being organised in Singapore and until now, Bharatanatyam has catered to a relatively niche audience. My sense is that while some Bharatanatyam practitioners may take time to warm up to the fact and functions of this conference, it is definitely evoking interest in academic circles and the wider artistic community.
I think we have to look at it as the first of more such conferences in the future. I wake up each morning and remind myself that Rome wasn't built in a day! We don't choose our audience as those who would like to attend have to register as delegates. What we are doing is to spread the word as far and wide as possible.
What is the objective of this conference?
This conference is embedded with multiple objectives. Firstly, to initiate a critical discourse (the first of its kind in Singapore) on the proposed topic. We hope it will introduce a link between artistic practice and academic scholarship in the region. The conference aims to provide a platform for commencing a discussion (in the context of this region) on the dance form's intersections with history, historiography, diaspora studies, gender studies, cultural studies, as well as issues of tradition and transition. Also, it is an opportunity to establish an inter-generational dialogue within a tradition that has metamorphosised into a live ongoing practice, thereby revisiting the connection between tradition and transition. Apart from contributing to our own research project on the topic, we see it as a means of generating research material that would be of value to artists and researchers in Singapore and the region. Ultimately, I hope that this conference serves to place Singapore and the region on the map of global dance scholarship.
Has support been forthcoming and spontaneous from sponsors?
The support from our sponsors - mainly the Singapore National Arts Council and NUS Centre For the Arts, has been very encouraging. It not only reaffirms the importance and relevance of this pioneering event, but is pivotal in transforming what began as an idea or concept on paper into a very tangible reality.
Well, thank you Nirmala. We wish your conference great success.

About
Sabhash
- Everything about classical music, dance, drama and a platform for inclusive entertainment
Sabhash.com is the one-stop destination for the latest news and information on the performing arts of India - classical music and dance, theatre, bhajans, discourses, folk performances, and other lesser known art forms. Institutions that revolve around the performing arts have exploded in numbers, and thanks to the Internet which has made information easily accessible, the number of rasikas has grown too. Corporate patronage has played a big part in increasing the world-wide reach of the Indian arts. Sabhash wishes to be a platform for inclusive growth giving an equal opportunity and recognition to not only the main performer but also the artistes who accompany them on stage, and the people who work backstage and play the role of unsung heroes.