Natyasangraham - an experience
15 February, 2013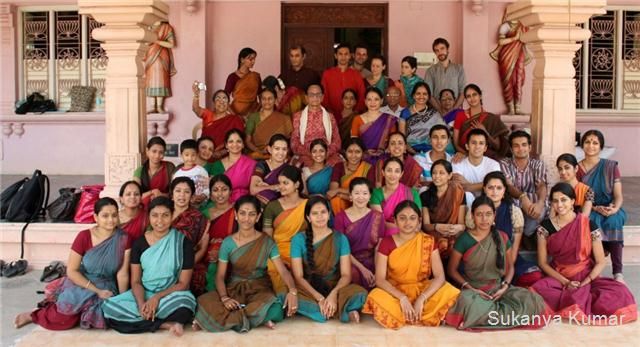 - Sukanya Kumar
The Thennangur camp, Natyasangraham is a three day treat to dancers. We talk dance, walk dance, breathe dance, sleep dance and wake up to more dancing.
This camp is conceived and conducted by Natyarangam, the dance wing of Narada Gana Sabha, annually at Tennangur, a temple town about 100 kms from Chennai.
The core committee consists of Sujatha Vijayaraghavan, S. Janaki, Major Balasubramanian & Kalpagam, K.S Subramanian, Charukesi and Kannan. Prof. C.V Chandrasekar is the convenor.
Their unified effort with R. Krishnaswamy at the helm provides this unique opportunity to the dance fraternity.
When asked what one learns from the workshop, we are at a loss for words. Firstly, the Thennangur experience is not technically a 'workshop' but a platform for the community to learn and share in unison. We don't learn an item, a jathi, or a padam, but what we learn is to appreciate the art as a whole and understand that it is an ocean to explore. The differences of age, baani and opinions are forgotten in this process of unrestricted sharing and what is drawn is the pure experience of art at its finest.
"The emphasis is on kindling the sensitivity in each dancer - towards equipping oneself with good technique, developing an eye for beauty and aesthetics, understanding the nuances of poetry and movement, realising the interrelationship between dance and other arts, and the need to approach the dance form from a holistic point of view", says S. Janaki.
Stalwarts like Narisimhachari and Lakshmi Narasimhachari, C V Chandrashekar, Prof. V P Dhananjayan, Shanta Dhananjayan, Malavika Sarukkai, Prof. S. Raghuraman, Dr. Sudha Seshayan, Ranjani and Gayathri, O S Arun, Aruna Sairam, Jyotsana Narayanan to name a few, grace the camp with their presence and valuable inputs. The camp sessions are broadly divided into angika, vachika, aharya and satvika. The day begins with yoga, moves on to dancing interspersed with delicious satvik food to rejuvenate the participants.
About 30 dancers/dance teachers unite in the name of 'Radhe Krishna' at this small hamlet to participate in the `nritya seva' for the Lord, performing during the Dolotsavam, Garuda Sevai and Kalyana Utsavam.
"The interactive sessions and impromptu performances are very helpful in kindling creative energy", says Aarthi, a young participant
We experience a sense of piety and humility when we watch the resplendent Lord on His Garuda mount sway to melody and rhythm – indeed a divine dance.
"When one gets a lot in life, one wonders if one deserves it", says Priya Dixit, a participant
As for me, I certainly look forward to this camp every year: the bus ride, the performances, the lush green fields, the hospitable local folk, the homework, friends, teachers, village children, the temple spire of Lord Panduranga and Rukmini. They all have something profound to whisper in return for simple devotion to the Art that is larger than life!
For more pics : http://www.sabhash.com/dance/events/4260/natyasangraham-2013.html

About
Sabhash
- Everything about classical music, dance, drama and a platform for inclusive entertainment
Sabhash.com is the one-stop destination for the latest news and information on the performing arts of India - classical music and dance, theatre, bhajans, discourses, folk performances, and other lesser known art forms. Institutions that revolve around the performing arts have exploded in numbers, and thanks to the Internet which has made information easily accessible, the number of rasikas has grown too. Corporate patronage has played a big part in increasing the world-wide reach of the Indian arts. Sabhash wishes to be a platform for inclusive growth giving an equal opportunity and recognition to not only the main performer but also the artistes who accompany them on stage, and the people who work backstage and play the role of unsung heroes.