Sabhash celebrates Women's Day
08 March, 2013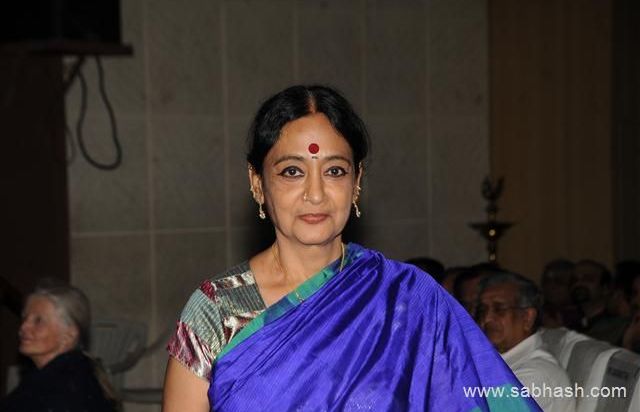 On Women's Day, Sabhash brings to you a feature of Prof Sudharani Raghupathy, the great woman achiever, who was decorated with the coveted Natya Kala Acharya award by the Music Academy during the past season, depicted in a picture portrayed by the writing of V.V. Ramani and Hema Ramani.
She is a woman of substance, a contemporary woman, who is a perfect blend of the Traditional and the Modern.

Read on, experience the joy shared by the writers!
********************************************************************************************************
A Regal Dancer By V.V. Ramani and Hema Ramani

Once there came to the court of the Prince of Birkasha, a dancer and her musicians. And she was admitted to the court. And she danced to the music of the flute, the lute, and the zither.
She danced the dance of flames and fire, and the dance of swords and spears; she danced the dance of stars and the dance of space, and then she danced the dance of flowers in the wind.
When she had finished, she approached the prince and bowed her body before him. The prince bade her to come nearer, and said unto her, "Beautiful woman, daughter of grace and delight, whence comes your art? And how is it that you command all the elements in your rhythm and your rhymes?"
And the dancer came near and bowed her body again and said, "Gracious majesty, I know not the answer to your questioning. Only this I know: The philosopher's soul dwells within his head, the poet's soul dwells within his heart, the singer's soul dwells about his throat, but the soul of the dancer abides in all her body. " -Khalil Gibran (The Wanderer).
A vision draped in black and gold bearing a regal countenance stepped on to the Music Academy stage to receive the Natya Kala Acharya award , and it seemed as if a painting of a bygone era had come alive. On stage and off, the quality that grabs the attention of the viewer is this regal bearing coupled with her soft spoken and benevolent nature. There is an aura that surrounds her and you understand Gibran even as you see this dancer.
Sixty seven years have whizzed past in her dance career, wherei , she has had the privilege of dancing in the UN General Assembly, where the only other artistes who have performed are M.S.Subbulakshmi and Vyjayanthimala. Dancing before the Premier of any state is prestigious, but dancing at the special requests of three Prime ministers- Pt. Jawaharlal Nehru, Indira Gandhi, and later , Rajiv Gandhi, is indeed a very rare privilege. She is a recipient of several awards, including the much coveted Padma Shri . All these accolades are for a dancer, whose first step towards dancing began in a home where the word "Dance" was taboo! The dancer we are referring to is Prof. Sudharani Raghupathy, the doyen of Bharatanatyam , nurturing the great Kittappa Pillai tradition.
" Vilayum payir mulaiyile theriyum" is an axiom that suits her perfectly. Her aunts, Leela and Saraswathy were instrumental in seeing through her initial phase of dance. I can almost hear in the background , Boney M's " Ribbons of Blue", as Sudha narrates as to how it was enough for someone to gift her with lovely ribbons as a treat to her performance of dance. She was still a child when she won prizes after she performed at the anniversary of Stree Sangha. She continued to learn dance with fervour with various teachers , and also trained under U.S.Krishna Rao and finally under the great Guru of the traditional Tanjore style, Shri. Kittappa Pillai.
As her studies progressed along with her dance, Sudha was invited to a seminar called "The Unbroken Dialogue", attended by Presidents of various universities in U. S. A , at New Delhi in 1962. Quillian of Randolph Macon College was very keen that Sudha should visit the U.S for further studies on a scholarship. Two years later, she joined the college, being the first Indian to do so. She widened her horizon by enrolling herself in ballet classes in the Martha Graham style of dance ,and learning directly from disciples of Graham, Prof.Eleanor Struppa and master classes by Helen Mcgehee.The Graham technique is one where she based her movements on contraction and release of back along with breathing excercises, influenced as she was by the yogic practices of India. This exposure to the ballet technique taught her to look at the body with an intellectual approach. The two diverse techniques- one, the firm foot-stomping of Bharatanatyam, and two, the soft movements on the toes ,of ballet, gave Sudha the firm foundation to explore her full potential and dance with abandonment.The upliptha adavu became more polished and, she learnt to land lightly on her toes. Noted critic , Subbudu had also mentioned about this adavu that Sudha had polished and adapted.Her ballet training and her deep understanding of Western Classical Music was so evident in the Vivaldi segment in K.S. R. Aniruddha's, magnum opus, Mammudha.
Similarly, she was fortunate to imbibe the best from Guru Kittappa Pillai, of the Tanjore style known for its pristine purity. She was so well trained by him that not only did she learn urupadigal(repertoire`), but also learnt nattuvangam, jathis, choreography and abhinaya. Mylapore Gowriamma, whose methodology of teaching abhinaya was just by singing and dancing, left it to the imagination of the student to assimilate as much they could and include it in their lesson, and amma was responsible for honing the skills of Sudha's abhinaya. She also honed her skills in music learning from T. Chowdiah and Devakotai Narayana Iyengar.
After moving to Madras, it was at the instigation of Sundaraja Iyengar, the legal adviser to the family and the Secretary of Music Academy then, that she started performing again. He also introduced her to Vidwan Madurai N. Krishnan, who continued to hold a major influence and was a source of immense support in her artistic journey.He was instrumental in the birth of Sri Bharatalaya,one of the premier institutions for dance. He was a musical genius who helped her by way of composing music for her dance productions and also composed many new varnams and thillanas.To make easily understandable to young disciples, who were too young to be initiated into Shringara, Vidwan composed many bhakti shringara pieces, of which the varnam, " Maaye mayen sodariye", is popular on the dance stage even to this day.
Her versatility is evident in her contribution to the understanding of the geometry of Nataraja, which draws inspiration from Leonardo Da Vinci's Vitruvian man. She is passionate about the visual arts, and understands contemporary art too, appreciating the aesthetics in all things around her. She is also a voracious reader and her interests range from fiction to philosophy.
Sudharani has constantly stretched the frontiers of her art. "Krishnam Vande Jagat guru", which she choreographed, was one of the earliest productions, where dancers from different schools came together to perform. Premiered under the IDA banner, it travelled across many cities in U.S.A, winning accolades. She also took the initiative to reach and develop a wider audience base for dance by presenting a dance appreciation series in Doordarshan.
Her desire to share her vast knowledge resulted in her bringing out the theory of Natyam in the immensely popular, precious ,little handy volumes ,titled "Laghu Bharatham" during their silver jubilee celebrations. An open minded person, extremely generous in sharing her art and encouraging fellow artistes with a deep respect that the art deserves is Sudharani's greatest attribute. It is this that gives her inner peaces, which truly radiates on her face. The dignity and the decorum with which she carries herself easily explains the regality of her bearing. "Beauty is life when life unveils her holy face. But you are life and you are the veil. Beauty is eternity gazing at itself in a mirror. But you are eternity and you are the mirror" (Kahlil Gibran).

About
Sabhash
- Everything about classical music, dance, drama and a platform for inclusive entertainment
Sabhash.com is the one-stop destination for the latest news and information on the performing arts of India - classical music and dance, theatre, bhajans, discourses, folk performances, and other lesser known art forms. Institutions that revolve around the performing arts have exploded in numbers, and thanks to the Internet which has made information easily accessible, the number of rasikas has grown too. Corporate patronage has played a big part in increasing the world-wide reach of the Indian arts. Sabhash wishes to be a platform for inclusive growth giving an equal opportunity and recognition to not only the main performer but also the artistes who accompany them on stage, and the people who work backstage and play the role of unsung heroes.