Nritya Samrachana
31 December, 2013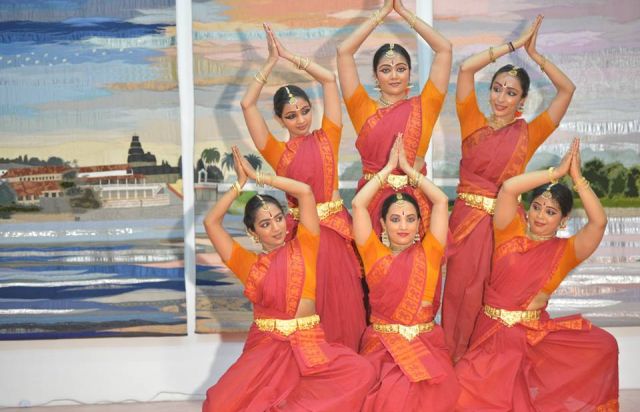 -Sukanya Kumar
The name said it all! Nritya Samrachana, the three day lecture demonstration series hosted by Sruti magazine and Apsara Arts Singapore at the Tattvaloka auditorium, Tenampet was a wonderful opportunity for dancers to interact and gain insights from stalwarts of the field.
Prof. Sudharani Raghupathy very aptly explained the importance of such initiatives, in her inaugural address. "Though a lot of information is now available online, it can never be equated with the experience of learning from great Gurus and Legends on a first hand basis."
V P Dhananjayan and Shanta Dhananjayan in the first session of Day 1, dealt with 'Composing and Innovations on Margam', by demonstrating various pieces that can be effectively altered for being presented in solos, duets or groups. They spoke about on-stage interaction between artistes and the importance of 'natya' being a path towards bhakti or devotion. Dhananjayan also shared his valuable experiences starting from his initial years in this field.
Nandini Ramani, the next presenter emphasized- in her lecture on 'Features of a Sampradaya Varnam'- the importance of adhering to tradition and how to present the margam in undiluted forms even today. It was a rare and precious opportunity to see her perform to old recordings of Balamma (Balasaraswathi Devi). It clearly brought forward the importance of traditional natya in araimandi (half-sitting) and the effectiveness of hiding the intricate mathematical kanakkus in plain sight!
The final session for the day was a combined presentation by Sujatha Vijayaraghavan and Dr. Gowri Ramnarayan. They covered the topic 'Importance of scripting for dance', where Sujatha Vijayaraghavan shared her first and probably the first ever thematic presentation done, drawing from theatre. She shared clips from her productions like 'Pibare Krishna Rasam', and her experience of visualizing 'Kada Kadayam'. She sang portions of the productions to explain the mood changes that music can create.
Dr. Gowri Ramnarayan traced back to the experience of creating and scripting 'Yashodhara' and detailed the roles of the people involved and how 'meaning' can be created using minimalistic effort.
The first day beautifully covered aspects of solo format, while the second day was about facets of group choreography. M V Narasimhachari and Vasanthalakshmi Narasimhachari for 'Rhythm Play in Choreography' presented calculations in nritta or pure dance and emphasized the importance of the suitability according to the pace, meaning and theme of the song. The final message was that calculations can be complicated but must seem effortless when presented. "Comfort of the body is most important", they said.
After algebraic calculations came B Bhanumathi's geometry in dance. She deployed her students from Bangalore to demonstrate the various permutations and combinations of positioning and spilt ups from different entries to exits, thereby covering the various 'Facets of group choreography'. She also said, "I always like to keep things simple but well coordinated, suitable to space available each time." She also depicted 'sahithya' or delineation of the lyrics in a group; an achievement considering that 'abhinaya' or expression is highly personalized.
"Sangeeta is the coming together of Geeta, Vaadya, Nrittam…Vocal, Instrument and Dance" said Dr. Padma Subrahmanyam as she opened the topic of 'Composing music for dance'. Touching upon historical aspects, excerpts from natyashastra, experiences from her research and the lyrical side of music, she presented select pieces like 'pravesha daru', 'uthara prathiuthara daru', 'karanas' and others from her works. She gracefully concluded by showcasing the importance of the knowledge across fields that both the orchestra members and the dancers must have. For this she presented the climax of the 'meera varnam' where all artists performed extempore! A delight to watch!
Prof C V Chandrasekar began with the sollukattus using the sushtaaksharas from natyashastra. He explained how the emotion, natural sounds, and the tenor of a piece can be used to draw inspiration in composing sollukattus, swarams and deciding the apt raagams and taalams.
The jog raagam with 2 'ga's for the crow, jathis for meghadhootam with sounds of lightning, and mantram like sollukattu for a bhakthi piece where thyagesha dances the 'ajappa natanam' with ups and downs in swaras and movements coinciding with the meaning of 'ajappa'-up and down; are some examples he used.
The final day commenced with 'Parashah'; "the group that has successfully let their ego 'I' go" as aptly said by S. Janaki of Sruti. They projected clippings from their first collaboration from Bharata Samudayam Vaazhgave. While sharing such visual presentations from their past works, Roja Kannan, Priya Murle and N Srikanth gave very useful advice for a successful team; letting go of ego, solid training for a good foundation, healthy competition and PR skills. "An artiste must have the ability to laugh at oneself" said Priya Murle.
Aravinth Kumarasamy from Apsara Arts Singapore shared his experience through various collaborative works from Nirmanika-about architecture, Aalam-banyan tree of Bharatanatyam, Heroines of raja Ravi Varma to his latest Angkor-The untold story. He elaborated the importance of the role played by the various crew members from the initial stages. He also touched upon how some productions require light, costume or set designer to play the part of a parallel choreographer. He described in detail with clippings, his latest project Angkor in collaboration with around 187 artist and crew members and a budget of SG$300,000 and man hours spanning over 6 months of preparation!
Ramli Ibrahim's penultimate presentation continued in the same topic with excerpts from 'Siddhartha', 'Into the centre', 'She ra', 'Rasa unmasked' and others from his works. He shared the Indian and Indonesian (Bali) cultural influences in his works that provide them with an Asian flavor.
The fitting finale to the three day event was a discussion of the role of media in dance or 'Media Social Responsibility'-MSR moderated by S. Janaki of Sruti.
"When it comes to Art, media doesn't look for expertise" said Leela Venkataraman. "When there is not enough space in print media, it is very difficult to sensitize audience", opined Dr. Sunil Kothari. While Veejay Sai said that "the very act of writing is documenting. Media is a force that keeps history in place". Vidya Saranyan spoke about the necessity to bring a body of work and make it catch audience attention.
Alarmel Valli opined that "Dance criticism is an art by itself. It is like translating with clarity, detail and integrity". Ashish Khokar stated that critics have to be independent.
"We must be able to trust the reviewer to learn from them. And while dancers should learn from the reviews, it is the reviewer's responsibility to impart correct learning", summed up Priyadarsini Govind, Director, Kalakshetra.
The panel discussion closed with a question: A member of the audience said, "Drawing from Maslov's hierarchy of needs, can one sustain in this field to even have the opportunity to strive towards 'auchithyam' or ethics? When physical needs are a struggle, how can self-actualization be one's goal?
This very informative, interesting and insightful series of lecture demonstrations provided an accessible platform of direct learning from living legends and also sparked up audience psyche about the various possibilities!
For more photos : http://www.sabhash.com/dance/events/7240/nritya-samrachana.html

About
Sabhash
- Everything about classical music, dance, drama and a platform for inclusive entertainment
Sabhash.com is the one-stop destination for the latest news and information on the performing arts of India - classical music and dance, theatre, bhajans, discourses, folk performances, and other lesser known art forms. Institutions that revolve around the performing arts have exploded in numbers, and thanks to the Internet which has made information easily accessible, the number of rasikas has grown too. Corporate patronage has played a big part in increasing the world-wide reach of the Indian arts. Sabhash wishes to be a platform for inclusive growth giving an equal opportunity and recognition to not only the main performer but also the artistes who accompany them on stage, and the people who work backstage and play the role of unsung heroes.