Deepika Potarazu - Kuchipudi
31 December, 2013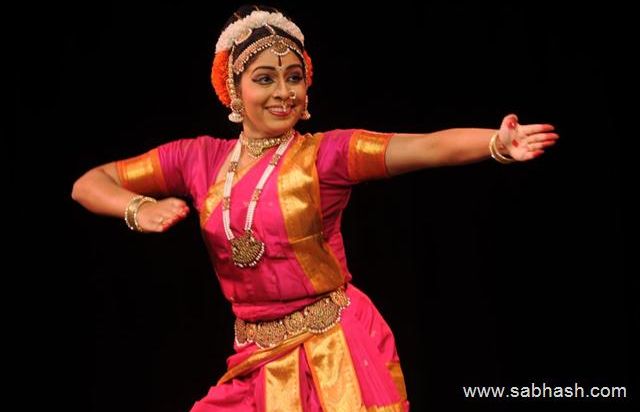 -Sukanya Kumar
Melodious music filled the auditorium from the strands of the veena as Deepika began her Kuchipudi presentation at the Bhavan's Tag Centre, Kilpauk on the final day of the dance festival hosted by Bharatiya Vidya Bhavan.
This disciple of Vempatti Chinna Satyam and Vempatti Ravi Shankar began her recital with a Ganesha Vandanam. The item though brief was interesting.
In Suma Sayika varnam, the longing of the nayika for union with Anantha Padmanabha Swami was conveyed from the point of view of the sakhi. Manmadha is harassing the heroine with his cupid arrows, she cannot bear it anymore. The sakhi describes her grief. The jatis were executed with ease and the emotive segments performed mostly in sitting posture were conveyed well. This varnam in Karnataka Kapi set to Tisra Eka taalam had both good footwork and facial expressions.
In Ituvanti Vade padam, Deepika took the role of a Samanya Nayika who asks her friend to go fetch Krishna to her. She needs information about Muvva Gopala, the cowherd who is dodging her. The padam, composition of Kshetraiyya in Raagam Kalyani, Misra Chapu talam was choreographed by Vempatti Chinna Satyam.
The tillana presented was again a composition of Swati Tirunaal, the last line of the lyrical segment was written by Dr. M Balamurali Krishna.
Orchestra comprising of Vempatti Ravi Shankar assisted by wife Priyanka Ravi Shankar on the nattuvangam, D S V Sastry on the vocal, Ganesh on the mridangam, Melakaveri Tyagarajan on the violin, Subramanya Sarma on the veena and Sudhakar on flute added life to the performance.
In all, the dance was full of energy and enjoyment.
For more photos : http://www.sabhash.com/dance/events/7230/bhavans-naatya-utsav-2013.html

About
Sabhash
- Everything about classical music, dance, drama and a platform for inclusive entertainment
Sabhash.com is the one-stop destination for the latest news and information on the performing arts of India - classical music and dance, theatre, bhajans, discourses, folk performances, and other lesser known art forms. Institutions that revolve around the performing arts have exploded in numbers, and thanks to the Internet which has made information easily accessible, the number of rasikas has grown too. Corporate patronage has played a big part in increasing the world-wide reach of the Indian arts. Sabhash wishes to be a platform for inclusive growth giving an equal opportunity and recognition to not only the main performer but also the artistes who accompany them on stage, and the people who work backstage and play the role of unsung heroes.