Sandeepa Palit - Odissi
31 December, 2013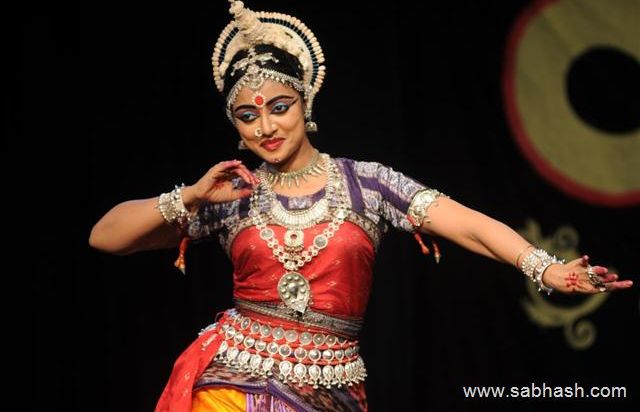 -Sukanya Kumar
The curtain opened to a backdrop of Lord Jagannatha the presiding deity of Orissa. An artiste with a pakhawaj drum entered and played for the God and worshipped the Lord with flowers and fanfare. He sang and played the percussion simultaneously with ease.
The artiste acknowledged her Gurus Kelucharan Mahapatra and Kalanidhi Narayan before commencing her recital.
The invocatory number was a prayer to Jagannatha Swami followed by Manikka Veena, a devi stuthi, eulogizing Goddess Saraswati.
The drummer entered again and his singing "Jaya Yashoda Nanda Dulare and rhythm on the side gave a feeling of live orchestra though the entire show was on recorded music. The dancer gives the drummer some offering on a bamboo tray. The stage and audience space filled with the fragrance of the dhoop which he lighted. The next number centred around vatsalya bhava, the mother cuddling and consoling the baby. She tries many tricks, even frightens the baby but the little one takes his own time to settle down for the night. Mother is tired and sleepy but finally succeeds in putting the child to sleep.
In "Path Chadi He Vanmaali," the dancer brings out the feelings of Radha. Krishna crosses and blocks her way but she pleads as she wants to pluck flowers. She promises to meet him on her return trip.
The drummer enters once again singing Krishna Karuna Sindho, Deena Bandhu and gets alms from the dancer. Jayadeva's Ashtapathi came next followed by another Ashtapathi "Yahi Madhava Yahi Keshava". The heroine Radha is waiting adorned for Krishna but she accuses him of betraying her and seeking other women whose effects are seen on his person. Krishna is ready with explanation and excuses and tries to escape accusations.
The dancer's gorgeous costume in golden yellow and red with heavy silver jewelry typical of Odissi and head gear was an eye catcher.
For more photos : http://www.sabhash.com/dance/events/7231/bhavans-naatya-utsav-2013.html

About
Sabhash
- Everything about classical music, dance, drama and a platform for inclusive entertainment
Sabhash.com is the one-stop destination for the latest news and information on the performing arts of India - classical music and dance, theatre, bhajans, discourses, folk performances, and other lesser known art forms. Institutions that revolve around the performing arts have exploded in numbers, and thanks to the Internet which has made information easily accessible, the number of rasikas has grown too. Corporate patronage has played a big part in increasing the world-wide reach of the Indian arts. Sabhash wishes to be a platform for inclusive growth giving an equal opportunity and recognition to not only the main performer but also the artistes who accompany them on stage, and the people who work backstage and play the role of unsung heroes.