Srilanka shines
02 January, 2014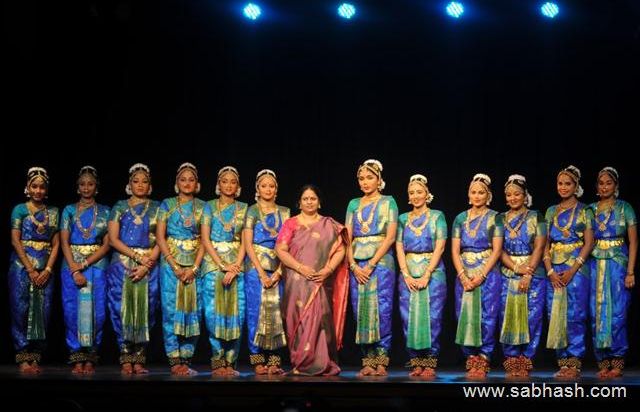 -Sukanya Kumar
They began with a brisk thirupugazh in praise of Lord Muruga followed by Tyagaraja's pancharatna keerthanam Sadinchane set in Varnam format.
Coordinated movements, concise jathis and catchy finishing poses enhanced the visual pleasure. Ten dancers posing as horses depicted the chariot driven by Krishna for Arjuna in the Kurukshetra war. The pose of Vishnu reclining on snake bed Adisesha was dramatically shown with the dancing girls moving in buoyant rhythm imitating the milk ocean (paarkadal).
Next was "Thunbam Nergayil", a beautiful composition of Bharatidasan. For the line "Aadi Katta maataya," they incorporated tillana sollukattu"; when thirukural was mentioned the actual couplet from Kural was added thus enhancing the content of the rendition.
In devi stuthi "Charukesi" the end episode of Mahishasuramardhini was appealing. Pranamam to Aiyappa was the famous Harivarasanam interspersed with chants. It painted the picture of devotees at Sabarimalai viewing the Makarajyoti.
Laya Kavidai in praise of Guru, a composition of Karaikudi Mani had intricately woven patterns in laya much akin to kavithuvam.
The abstract idea of divinity in dance was presented through "Vishwatma" the universal Brahmam. In the Kalinganardhana pose, five created water, another five Kalinga's head, and one dancer extending her leg behind which Krishna held as Kalinga's tail. In Govindashtakam segments various stages of Krishna and story of Prahlada was explained.
In Ramayana Tillana, deviating from the usual mei adavus and korvais, the tillana was more like a story unraveling episodes from Ramayana with the sahityam in praise of Hanuman who brings the Sanjeeva mountain to revive Lakshmana. The tillana concluded with Rama Pattabhishekam with king and consort Sita, brothers, decked canopy et al.
The medley of mangalams evoked the blessings of every possible deity.
The dozen dancers were full of energy decked in different shades of blue. They danced every bit and each of them was put to full use in imaginative formations and poses.
The teacher Vasugy Jegatheeswaran of Natya Kala Mandir from Sri Lanka deserves full credit for the thought and training.
For more photos : http://www.sabhash.com/dance/events/7220/bhavans-naatya-utsav-2013.html

About
Sabhash
- Everything about classical music, dance, drama and a platform for inclusive entertainment
Sabhash.com is the one-stop destination for the latest news and information on the performing arts of India - classical music and dance, theatre, bhajans, discourses, folk performances, and other lesser known art forms. Institutions that revolve around the performing arts have exploded in numbers, and thanks to the Internet which has made information easily accessible, the number of rasikas has grown too. Corporate patronage has played a big part in increasing the world-wide reach of the Indian arts. Sabhash wishes to be a platform for inclusive growth giving an equal opportunity and recognition to not only the main performer but also the artistes who accompany them on stage, and the people who work backstage and play the role of unsung heroes.