Shiva Skandam
02 January, 2014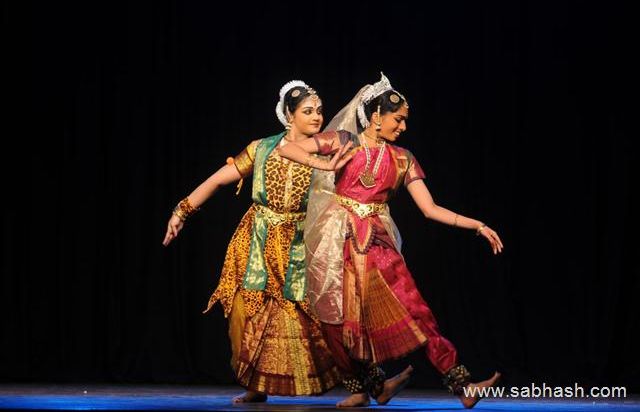 -Sukanya Kumar
It was a riot of colors, dancers of different age groups clad in traditional hues of maroon, green and sandalwood costumes danced in well rehearsed unison.
Shri Krupa Dance Company from USA led by Vishal Ramani presented dance ballet Shiva Skandam, an adaptation of Kumara Sambhavam in Tamil at the Tag Centre in the dance festival showcased by Bharatiya Vidya Bhavan on December 24.
The opening number with eight dancers moving in formations in well coordinated movements, complete even in high speed, set the pace for the ballet to follow.
The teacher choreographer moved about the stage as a dancing sutradhar carrying through the narration, as Shiva is engrossed in penance on the "ezhil konjum imaya malai"
Shiva's tapas needs to be broken so he would look at Parvati. In the process Manmatha is burned down to ashes and Rati bemoans her loss and is consoled. Parvati pursues her penance on panchagni. Shiva appears before her in disguise and she is unable to uncover the game. Finally they are united in marriage and the way is made for the birth of Kumara, Lord Muruga who vanquishes Soorapadman.
The end piece tillana celebrates the victory of the Lord.
There was clarity in story line and the energy and joy that every participating dancer experienced was palpable and transmitted to the audience.
Vishal Ramani expressed her gratitude to Bharatiya Vidya Bhavan for connecting her to the cultural centre, Chennai. She introduced Ashok Subramaniam for the wonderful words in chaste Tamil, the lyrics of the ballet which she said he composed in a jiffy. She also credited the musicians and the dancers who completed their academic and professional assignments to be part of the ensemble. "The humble journey of Shri Krupa Dance Company began in San Hose and mushroomed to Bay Area grooming about 300 students," she said. "It is always a pleasure to dance for Chennai audience particularly when the presentation is in beautiful Tamil. We out there yearn for all this," she concluded.
For more photos : http://www.sabhash.com/dance/events/7227/bhavans-naatya-utsav-2013.html

About
Sabhash
- Everything about classical music, dance, drama and a platform for inclusive entertainment
Sabhash.com is the one-stop destination for the latest news and information on the performing arts of India - classical music and dance, theatre, bhajans, discourses, folk performances, and other lesser known art forms. Institutions that revolve around the performing arts have exploded in numbers, and thanks to the Internet which has made information easily accessible, the number of rasikas has grown too. Corporate patronage has played a big part in increasing the world-wide reach of the Indian arts. Sabhash wishes to be a platform for inclusive growth giving an equal opportunity and recognition to not only the main performer but also the artistes who accompany them on stage, and the people who work backstage and play the role of unsung heroes.