NKC - Silence
03 January, 2014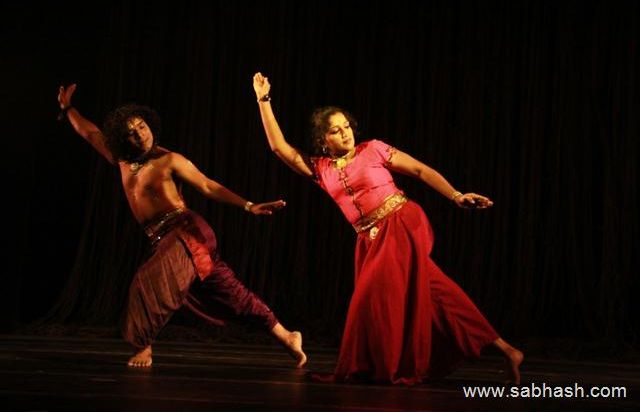 -Sukanya Kumar
As the conference opened, convener Priyadarsini Govind introduced Astad Deboo, the artiste "to whom rhythm has travelled inward to silence."
Astad Deboo demonstrated this inward experience. "How I interpret rhythm has changed for me. For over last four years I have been interpreting rhythm in silence," he said. He related personal experiences in a brief outline, how he chanced upon learning Kathak and Mohini Attam and later went on to learn contemporary dance. "Throughout I would study the techniques to add to my vocabulary. All my works are better demonstrated than spoken about," he said.
He opened his demonstration with an excerpt from "Interpreting Tagore" He danced within the radius of a single spotlight which showed great control of movement.
"Whenever one collaborates, you take in and transmit styles. Always be ready to take away the security blanket to explore the alien," he advocated.
He presented few clippings of his group works, out of which 'Contraposition' his work with the students of Clarke School for Deaf stood out.
In conclusion he danced to complete silence and the hush in the auditorium added to the quietude.
Priyadarsini Govind said that senior artistes in such forums confer invaluable repository of knowledge. It is an opportunity for learning and access to theory and dynamics. The process is rejuvenating and humbling. "I want our kids to learn, to respect art forms, artistes and the art around us. It is our responsibility to indicate, inform and pass on in true faith and honesty the beauty of our art forms," she said.
She introduced M V Narasimhachari and Vasanthalakshmi Narasimhachari, artistes of great caliber, "cultural ambassadors who shall explore Rhythm and Rasa."
M V Narasimhachari said "calm delight, rapture and aesthetic bliss is the very essence of rasa." The Vallinam and Mellinam or intonation of the tala brings out the rasa.
The couple showed clippings from their previous work, like Natya Veda, Nava Rasa, Kalingathu Parani from Landscape of emotions, Kotravai and Kolabali from Narasimha Avatara and Mohini Basmasura, the Snake and mangoose story, Palki Seva Prabandam. Vasantalkshmi added inputs about using various talas and influence of the story, the situation, the space etc in choreography.
In the concluding session Sri Samudra Natanam – "The Cosmic Dance of Shiva" was presented by Samudra Performing Arts. Post the introduction the performance began with the sound of conch and for the forty minutes that followed not a soul stirred in the audience. They remained glued to their seats till the very end.
"We wanted a medium free of boundaries and restrictions, yet with traditional roots. We created this form of dance drawing inspiration from Yoga, Kalaripayattu and classical art forms. We do not call ourselves contemporary rather the word creative dance suits us more," said Madhu and Sanjeev, founding directors of the dance company.
"We wanted to bring out every emotion of Shiva and allow audience to choose what they want to perceive. We have used verses from rudram, slokas on Shiva with instruments associated with him," they said.
The sets using backdrop of ropes depicting the Jata of Shiva, the mood lights added to a cosmic effect.
For more photos : http://www.sabhash.com/dance/events/archive

About
Sabhash
- Everything about classical music, dance, drama and a platform for inclusive entertainment
Sabhash.com is the one-stop destination for the latest news and information on the performing arts of India - classical music and dance, theatre, bhajans, discourses, folk performances, and other lesser known art forms. Institutions that revolve around the performing arts have exploded in numbers, and thanks to the Internet which has made information easily accessible, the number of rasikas has grown too. Corporate patronage has played a big part in increasing the world-wide reach of the Indian arts. Sabhash wishes to be a platform for inclusive growth giving an equal opportunity and recognition to not only the main performer but also the artistes who accompany them on stage, and the people who work backstage and play the role of unsung heroes.