NKC - Rhythm in the context of the popular
03 January, 2014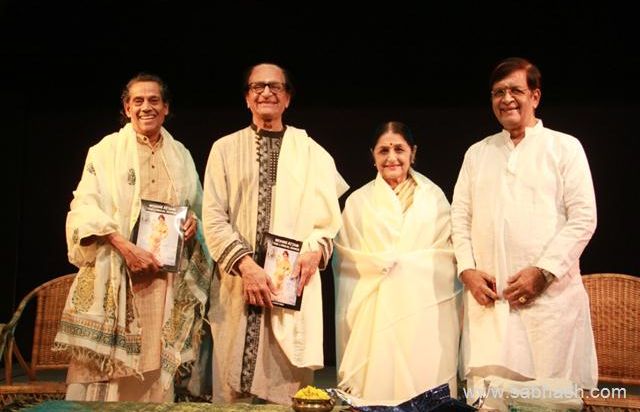 -Sukanya Kumar
The concluding day of Natya Kala Conference at Sri Krishna Gana Sabha (KGS) began with a book release by Padmashri Dr. Kanak Rele, the first copy was received by M V Narasimhachari. "Our connection with Dr Rele goes back to 1977 when she was awarded Nrityachoodamani by my father Yagnaraman who has seen her grow on this very stage," said Y Prabhu, Secretary of KGS. "I am so happy that this book release is happening at this sthala."
Prof C V Chandrasekhar said "I have three minutes and it is not enough to speak even three words about my behen. She is the brain behind Nalanda, the greatest contribution to understand the kinetics of movement of Karanas incorporated in Mohini Attam style. It is the only institution that has given special notations and solidly contributed to the style."
"There is nothing in nature or thought that cannot be used for artistic creation," Prof C V Chandrasekhar read out Dr Rele's opinion from the book which is now part of the syllabus for Kerala Kalamandalam.
"It has been a beautiful homecoming. I thank Kerala for accepting me. I intruded in their territory because of my love and respect for this art form," said Dr Rele.
The next session was Rhythms and Vibrations in Jathis by G. Vijayaraghavan. He was introduced by Priyadarsini Govind as "a favourite accompanist for artistes and a much sought after composer."
"Our five senses are familiar to vibrations. Pure energy vibrates to form atoms which in turn vibrate to form molecules. So the entire cosmos has rhythm," said Vijayaraghavan.
"Veda srutis with karvais, solkuttu vallinam, mallinam have positive vibrations. The same can be produced through rhythm in any music and dance."
With the help of four dancers he presented solkattu jathis, mandira jathis, jathis from samam to idam, trikala jathis in various combinations of nadais.
"Rhythm within us depends on our personal characteristics, mannerisms and moods."
He advised dancers to only use dance solkattus and refrain from decorating it with farans of mridanga solkattu as the dancer cannot do justice to them.
Different Approaches to Rhythmic Patterns in Collaborative music by Aditya Prakash came next. "The goal was to break down the walls dividing jazz and Indian classical music. For any collaboration, one must have a strong foundation in at least one style serving as centre point of reference. Exposure to other styles is also necessary," he said. He spoke about how the same rhythm is interpreted differently in different music forms.
He along with Akshay Anantapadmanabhan on Kanjira demonstrated the effects of stressing downbeat, doubling of rhythms, emphasizing the intermediate beats, syncopation. All these add to the excitement and anticipation juxtaposing tension and release.
"Talam is a layer of rhythm, the kanakkus over the talam makes the music polyrhythmic, a very important aspect of Indian classical music," said Aditya Prakash.
"Talam brings us together and ties us," added Akshay Anantapadmanabhan.
"Rhythm and Vibes from the Silver Screen" by Vineeth and troupe was the concluding session.
"In 1930s Indian classical dance was an integral part of cinema which was also blessed with great dancers," said Vineeth. He showed old clippings of Padmini from Tillana Mohanambaal, Mannavan Vandanadi; sequences from Malayalam films of North Malabar, compositions of Salil Chowdhary, M S Vishwanathan, Ravindra Jain and K J Yesudas. These had scope for dance choreography well exploited in the demo by him and his troupe.
"In those days the charis, nritta hastas and karanas were in perfect sync with the orchestra. The masters of dance had also to be masters of the celluloid," he added.
"This being the centenary year of cinema, I am happy that Priya and KGS have recognized the silver screen," said Dr Padma Subramanyam. "It is an intellectual exercise and Priya must have worked very hard, morning here evening at Kalakshetra snatching some quick lunch during her travel," she added.
"NKC was a lot of effort and she has successfully adorned two hats, as director of Kalakshetra and convener of NKC and am happy with the overall turn out of the event," said Prabhu.
Priyadarsini Govind, the convener of the 33rd Natya Kala Conference thanked Y Prabhu, Secretary of KGS for his continued support despite all odds and the entire team for their efficiency and untiring work.
For more photos : http://www.sabhash.com/dance/events/archive

About
Sabhash
- Everything about classical music, dance, drama and a platform for inclusive entertainment
Sabhash.com is the one-stop destination for the latest news and information on the performing arts of India - classical music and dance, theatre, bhajans, discourses, folk performances, and other lesser known art forms. Institutions that revolve around the performing arts have exploded in numbers, and thanks to the Internet which has made information easily accessible, the number of rasikas has grown too. Corporate patronage has played a big part in increasing the world-wide reach of the Indian arts. Sabhash wishes to be a platform for inclusive growth giving an equal opportunity and recognition to not only the main performer but also the artistes who accompany them on stage, and the people who work backstage and play the role of unsung heroes.