Young Apoorva captivates at Vani Mahal
08 January, 2014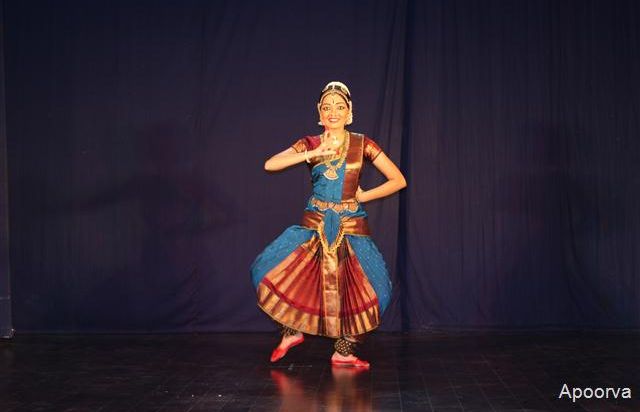 Apoorva who had done her Arangetram in April 2012, captivated the audience when she gave a dance recital on 5th January, 2014 at Vani Mahal. The items presented were Andal Kauthuvam a composition of Sri GangaiMutthu Natuvanar and a Navarasa Varnam 'Angayarkanni' which was a composition of Violin Maestro Late Sri Lalgudi Jayaraman. These were followed by a Krishna Padam 'MaiyyaMorri' and a Thillana in Kalyanavasantham.
The rhythmic variations were well-combined and well-oriented with nritta and were handled to a nicety by this artiste. Bhava reigned supreme in all her pieces - Mayya Morri in particular - which were presented with ineffable grace. The melody part was taken care with a sense of perfection by the accompanists - Vocal (Swamimalai Suresh), Violin (Kalaiarasan), Mridangam (Mayuram Shankar) and Nattuvangam (Tiruselvan). Their calculations during the many rounds were matched by the performer at every beat. The music went hand in hand everywhere with the Natyam. Apoorva's countenance was able to expresses emotions vividly as evidenced in the Navarasa Varnam piece. The varying Jathi patterns had foot work that was recognizable for their quality in their execution. If the performance was successful it must have been the joining of Apoorva's industrious approach and the fine training imparted by Ms. Urmila. The sublime qualities of abhinaya permeated the performance and the overall approach was both evocative and were intent on capturing the appropriate emotions.
Apoorva was introduced to the timeless dance form of Bharatanatyam at a young age of seven, under the guidance of her renowned Guru Smt. Urmila Satyanarayana. She has had the privilege of performing in almost all the productions of Natya Sankalpaa, Urmila's Dance School, including the Narada Natya Vizha, Mamallapuram Dance Festival, a dance program in Palakkad and for ABHAY, Chennai. At Natya Sankalpaa she has secured the first place in the practical examinations in the years 2009 to 2011.
aarvalan (aarvalan@yahoo.com)
For more photos : http://www.sabhash.com/dance/events/7282/young-apoorva-captivates-at-vani-mahal.html

About
Sabhash
- Everything about classical music, dance, drama and a platform for inclusive entertainment
Sabhash.com is the one-stop destination for the latest news and information on the performing arts of India - classical music and dance, theatre, bhajans, discourses, folk performances, and other lesser known art forms. Institutions that revolve around the performing arts have exploded in numbers, and thanks to the Internet which has made information easily accessible, the number of rasikas has grown too. Corporate patronage has played a big part in increasing the world-wide reach of the Indian arts. Sabhash wishes to be a platform for inclusive growth giving an equal opportunity and recognition to not only the main performer but also the artistes who accompany them on stage, and the people who work backstage and play the role of unsung heroes.