Fire And Ash
27 November, 2014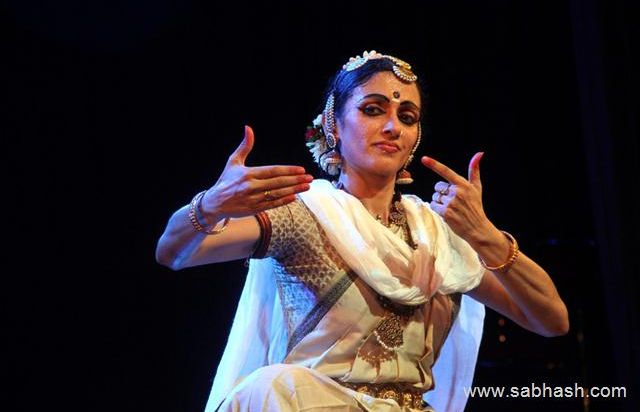 - V.V.Ramani
Justus Repertory recently presented the programme aptly titled Fire and Ash under the auspices of Kartik Fine Arts. The show featured three main artists – Gowri Ramnarayan, (who was in charge of concept, script, direction, choreographic music and set design), Anjana Anand (Bharatanatyam dancer/choreographer) and Savita Narasimhan (who not only provided vocal support, but also created few digital artworks as part of the stage setting).
The brochure philosophizes the nature of the concept even as it establishes the rationale behind using the title Fire and Ash. Says Gowri : "Fire and Ash symbolize the urgent needs of our ties - the destruction of negative forces, and the rejuvenation of positive energies." The programme was a fine blend of music, dance and theatre, which highlighted the aspects and nature of Shiva. The compositions used for music were from a wide range of Indian poets in various languages, ranging from Kalidasa to Appar, Akka Mahadevi, Shahaji Raja, Tagore and Muthu Thandavar.
Gowri as narrator linked all the pieces to weave into a composite fabric.Music and dance interlocked themselves through the effortless singing of Savita Narasimhan and through the vibrancy of Anjana Anand's dance. Songs like "theruvil varano", Soordas bhajan, and Tagore's Bengali composition were rendered melodically by the singer using popular Carnaticand Hindustani ragas. Anjana's abhinaya skills were evident in her representation of Parvathy's sringara, Soordas' bhajan and her competence in nritta was showcased in the song Anbe Shivam.
The set design had all the elements of the theme which was evident through the use of props like damaru, red fabrics, trishulam, and so on. It was indeed an evening which was a fine blend of music, dance, visual arts and theatre, packaged aesthetically to appeal to a cross section of people.
For more photos : http://www.sabhash.com/dance/events/7919/fire-and-ash.html

About
Sabhash
- Everything about classical music, dance, drama and a platform for inclusive entertainment
Sabhash.com is the one-stop destination for the latest news and information on the performing arts of India - classical music and dance, theatre, bhajans, discourses, folk performances, and other lesser known art forms. Institutions that revolve around the performing arts have exploded in numbers, and thanks to the Internet which has made information easily accessible, the number of rasikas has grown too. Corporate patronage has played a big part in increasing the world-wide reach of the Indian arts. Sabhash wishes to be a platform for inclusive growth giving an equal opportunity and recognition to not only the main performer but also the artistes who accompany them on stage, and the people who work backstage and play the role of unsung heroes.