THE NATYA DARSHAN : Lotuses Blossom-The Creative Process - Day 2 Morning
21 December, 2014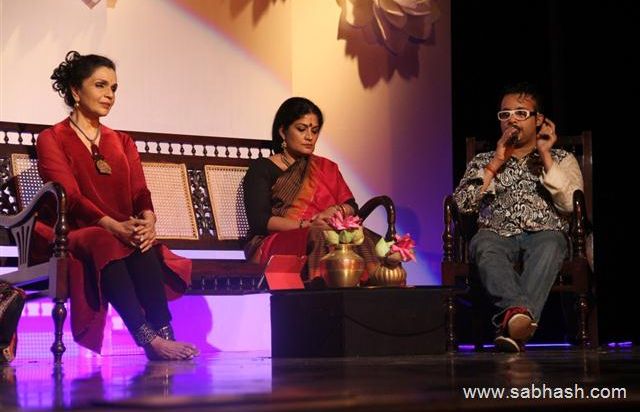 - Sukanya Kumar
The day opened with the convener Padmashri Malavika Sarukkai recapturing the previous day's events.
"In the evening session the lotus petals went wide accepting plurality. Be alert to observe creative process and wonder at it. Creativity is about unseen movements. Intangible gentle unfolding process, akin to a flower blooming," she said."Keep to essence, discipline of knowing whento edit is vital," she advocated.
Screening of archived movie clips of legends like Balasaraswathy, Uday Shankar, Lachchu Maharaj, Maya Rao, Kelucharan Mohapatra, Sanjukta Panigrahi, Vazhuvoor Ramaiyya Pillai, Vazhuvoor Samraj, Guru DandayuthaPani Pillai and Radha Burnier, Guru Mahalingam Pillai dancing and Rukmini Devi Arundale was a beautiful, multi- hued bouquet.
Professor C V Chandrashekar's lecture demonstration which followed next was about Panchamahabhutam, a journey into the idea and philosophy of the five primordial elements. Extracted from NatyaSastra and Mahabharata, the whole production was intelligently and interestingly choreographed. The professor opened the session with a Dhyanaslokam from Avigyana Shakuntalam by Mahakavi Kalidas; his presentation was a lesson in Angashudham for the viewers.
"I was inspired by the Chandas of Tirupugazh and have deployed 21 matratala and 15 matratala, all odd numbers for the dance movements.
Upacharas included offering of flowers, Dhoop to represent Vayu, Deepa, fire showing different types of lamps and Prithvi using Chandan and so on.
"I have watched two strong men using huge log of sandal wood grinding the paste at Nathdwara temple and I have used the image in this segment," said Professor C V C.
Color for each element relating the common man's association and Vastusastra dictum of different lines in stones while consecrating them in temples was effectively showcased to highlight the elements.
Life is air and using yellow cloth and diagonal lines, air was seen blowing on the stage."The pollen as it travels giving a yellow chromecolor. I have visualized the smoke permeating the space."
Jal or water using blue cloth and horizontal lines, Agni using red and gold cloth and vertical movements and further Virahaagni that afflicts humans, Akaash in clear white and Earth using brown cloth in square formations. "I have used Bhowmyacharis which nowadays are out of vogue," said the Professor.
Neutral, neat and elegant costumes, minimal aharya, simple adavus, synchronized jatis and immaculate footwork set the demonstrations in a class apart.
Vikram Sampath spoke fluently and flawlessly about Gauhar Jaan, fascinating woman, the first dancing girl of India and a voice from the past, the saga of a regal life reduced to poverty. The lecture was interspersed with audio visual excerpts of Gauhar Jaan.
He said that he scanned the length and breadth of India and gathered bits scattered in the dustbin of history, sadly gone unnoticed. "The biographer needs to analyze dispassionately," opined Sampath.
Coming from a varied lineage of Hindu grandmother and British grandfather, Gauhar converted to Islam when her mother did so after separating from her father. Established in the court of Wajid Ali Shah she learnt from the likes of Bindadeen Maharaj and travelled to learn music and dance and became the toast of the town. She was the first woman in India to record on gramophone in 1902.
"Three minutes of recording with 15 seconds to announce the name" was the system then. Six hundred records in 15 different languages was a record by itself.
Continuing the ethos of North India, Gauri SharmaTripathi, daughter and disciple of Guru Padma Sharma showcased her creativity. "My training was by observation, I imbibed a lot of Haveli sangeet and articulated it beyond," she said.
The panel discussion that followed had Dr. Anita Ratnam, Dr.Geeta Chandran and Gauri Sharma Tripathi moderated by Harikrishnan, co-curator of the Natya Darshan symposium.
"My geography is my history. My city is Chennai. I live here. I create in this context. Creativity is a privilege," she said. In her forty years of dance and international travel she had faced joys and failures.
"The world today has become increasingly interdependent. I have gathered many friends and journeyed together in the past twenty years."
"We speak of lotus while there is a class of women who sell the flower. I want to express the viscous slippery mass under the lotus," she added.
She twisted and turned and hummed the old Tamil song Malarndum Malarada and further mouthed English words like circles, spiral, round etc. ever spinning in improvised movements to convey her inner thought. Answering Hiten from UK, Dr. Anita said that her impromptu piece also celebrated her pregnancy with daughter when her body felt fabulous and the child was in the dark space of silence with only the umbilical cord connection.
Dr. Geeta Chandran paid homage to her unsung Guru Swarnamma and presented Moguduchi padam. "I feel touched when the dance community gets together. We should create the powerful lobby that we lack. Dance is changing fast, we should see what can be added to tradition, contextualize," she stated.
"Make a large skill basket and edit it to make it aesthetic. As you grow dance grows with you," advocated Dr. Geeta. According to her Delhi is a huge canvass with diverse audience.
Gauri SharmaTripathi spoke of deploying theatrically charged spaces in the UK context. "Most exciting space is out in the open."
"For my mother it was total surrender to her Guru, in this generation students pose questions that need to be addressed," she said. "As a girl I would follow the critical reviews that I got in Times of India and improved my skills," she added.
Sweat, blood and tears go into any creation, opined Harikrishnan.
Malavika Sarukkai concluded the session talking of creativity which is isolated in pockets "It is not about ego but about the art. Today dance needs not sponsors but philanthropists."
Aparna who is from Delhi attending the conference said that she felt a sense of completion. The sessions were enlightening and enriching. "The hangover that is difficult to articulate." She spoke for all those present.
For more photos : http://www.sabhash.com/dance/events/10074/the-natya-darshan---day-2.html

About
Sabhash
- Everything about classical music, dance, drama and a platform for inclusive entertainment
Sabhash.com is the one-stop destination for the latest news and information on the performing arts of India - classical music and dance, theatre, bhajans, discourses, folk performances, and other lesser known art forms. Institutions that revolve around the performing arts have exploded in numbers, and thanks to the Internet which has made information easily accessible, the number of rasikas has grown too. Corporate patronage has played a big part in increasing the world-wide reach of the Indian arts. Sabhash wishes to be a platform for inclusive growth giving an equal opportunity and recognition to not only the main performer but also the artistes who accompany them on stage, and the people who work backstage and play the role of unsung heroes.