Life-time achievement award conferred on Shobana
14 December, 2015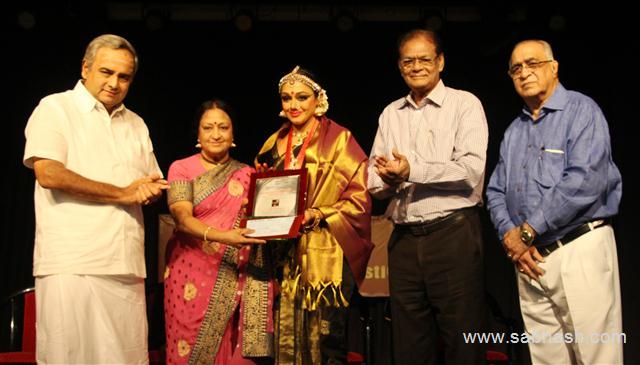 Bhavan's Natya Utsav, 2015 was inaugurated at Bhavan's TAG Auditorium located inside Rajaji Vidyashram, Kilpauk on 12th December, 2015 evening. The lighting of the Kuthuvilakku by eminent dignitaries to the accompaniment of mangala isai followed by an invocation marked the solemn beginning of this festival of dance. Dance programmes are to be held here from this date to 26th of December to fulfil the artistic needs of rasikas who reside in these and adjoining areas of Chennai.
Delivering his Presidential address, Sri L Sabaretnam, Chairman Bhavan's Chennai Kendra welcomed the gathering and said that he had great pleasure in inaugurating this festival. He said that he was grateful to Ms Padma Subrahmanyam for having agreed to be the guest of honour and give away the award that was being given today. The award was given to Bharathanatyam exponent, Padmashri awardee Urvashi Ms Shobana. This Sri P Obul Reddy and Smt P Gnanambal Award, was instituted by Sri P Vijayakumar Reddy and Dr Preetha Reddy and was being given to Ms Shobana for her life-time achievement in Bharatanatyam, he said. He recalled that Bhavan's Cultural Festival which was started as a one week long event in the past years has been expanded to a longer period on account of its popularity and support received from the artistes and rasikas. The cultural festival is already on and running successfully at Mylapore in spite of the heavy rains and floods in many parts of the city. We have taken this opportunity to pray to God to protect Chennai from the onslaught of rain. Though Chennai is yet to fully recover from this calamity we have decided to organize this festival as artistes by their performances will be submitting themselves to God and seek His blessings for the well being of mankind. He also made a request to the audience to come in large numbers and pray together with the artistes.
Dr.Padma Subrahmanyam who gave away the award congratulated the Bhavan for holding this festival in spite of the many controversies being raised about the pros and cons of continuing with the usual Isai Natya Vizha. Our ancients have always stressed on the efficacy of good music and dance; they became part of worship in our Temples. Modern Temples are our Sabhas. Good music and dance can bring back life to normalcy. Of the awardee, Padma said that Shobana richly deserves it to be hers as she is known for her extraordinary skills. She remembered that Shobana was the niece of the great Travancore sisters, Lalitha, Padmini and Ragini and has truly inherited the traits from them.
In her acceptance speech, Shobana said that she considered herself lucky to have been blessed by Padma Akka. She thanked the bastion of classical music and dance, the Bhavans for having chosen her for this award. She said that ever since she remembered she has been into dancing and was therefore happy that the award has come to her. On this occasion she remembered with reverence her Guru, Smt. Chitra Visveswaran and her parents.
Sri Murali of Sri Krishna sweets said that Bhavans cultural events that are in full swing organized under the leadership of Sabaretnam were creating an all-round impact and felt happy to participate in this function.
Director, Bhavans Chennai Kendra, Sri Ramasamy, made his usual dynamic presence felt as he introduced the speakers and was master of ceremonies for the event.
The award ceremony was followed by a scintillating dance performance by Shobana.
aarvalan (aarvalan@yahoo.com)
For more photos : http://www.sabhash.com/dance/events/archive

About
Sabhash
- Everything about classical music, dance, drama and a platform for inclusive entertainment
Sabhash.com is the one-stop destination for the latest news and information on the performing arts of India - classical music and dance, theatre, bhajans, discourses, folk performances, and other lesser known art forms. Institutions that revolve around the performing arts have exploded in numbers, and thanks to the Internet which has made information easily accessible, the number of rasikas has grown too. Corporate patronage has played a big part in increasing the world-wide reach of the Indian arts. Sabhash wishes to be a platform for inclusive growth giving an equal opportunity and recognition to not only the main performer but also the artistes who accompany them on stage, and the people who work backstage and play the role of unsung heroes.