Sashtiabda Poorthi of Sri Krishna Gana Sabha
26 December, 2015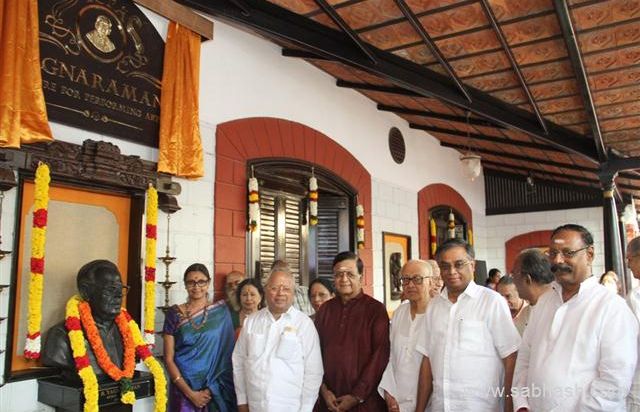 - Sukanya Kumar
The venue wore a brand new look with newly varnished cane chairs and cushions added for seating comfort. Many luminaries from the performing art field had gathered in sizable numbers in the afternoon of 20 December, 2015 for the inauguration of the 60th Annual Festival of Sri Krishna Gana Sabha.
Chief Guest Priyadarsini Govind, Director Kalakshetra unveiled the plaque and declared open the Yagnaraman Center for Performing Arts (YCPA).
Dr. Nalli Kuppuswami Chetty, President welcomed the audience and honoured the Chief Guest.
Y Prabhu, Secretary of the Sabha exalted Late Yagnaraman for bringing arts, especially dance forms from every part of the country and hosting them at this prestigious venue. He recalled instances where Late Yagnaraman had encouraged the career growth of R Sridhar. "We are three blood brothers, but in bond we are four including Sridhar", said Y Prabhu. He was full of praise for the continuous sponsorships from Shriram Groups and this year a huge personal monetary contribution by R Sridhar.
In turn Sridhar expressed immense satisfaction for having updated the sound system with state of the art technology from Bose. He quoted instances of his intimate association with Yagnaraman who was a pioneer in promoting fine arts with a discerning eye for spotting talent.
Priyadarsini Govind in her articulate speech reiterated the view that art is healing and for a lot of people, artistes and technicians the Margazhi season is the primary source of income. "Being artistes, we must be tolerant towards individual opinions", she said. To perform or not to perform is a personal choice. She said that all artistes, particularly dancers are grateful to Late Yagnaraman for giving them performing opportunities and for his innovative initiatives like the Natya Kala Conference which to date remains a true learning experience. She added that Y Prabhu is a true son of his father.
Priyadarsini Govind presented the Nrithya Choodamani award to Dr. Neena Prasad, a multifaceted Mohiniattam, Kathakali, Kuchipudi, Bharatanatyam dancer and research scholar.
Dr. Nandini Ramani, renowned art critic praised the hard work of Dr. Neena recounting her career path. She remembered the rainy day when Neena as a young girl had invited her for a performance.
Vaidyanathan, Editor in chief of Dinamani had just returned from New Delhi after participating in a mammoth event in the parliament showcasing all the verses of the Thirukural set to music.
He conferred the Acharya Choodamani on Padmabhushan Saroja Vaidyanathan from New Delhi.
In her acceptance speech, Saroja Vaidyanathan expressed delight over receiving this exclusive award for a Guru; the joy surpassing the receipt of any other award.
As Dr. Nalli Kuppuswami Chetty had pointed out, "The season begins in true spirit when Sri Krishna Gana Sabha festival commences."
"I come every year to Chennai for the season from Mumbai and try to catch up as many concerts as possible at KGS," informs Janaki Ramakrishnan, President of Fine Arts Society, Chembur, Mumbai.
The naming of the entire complex as Yagnaraman Center for Performing Arts is a suitable tribute to this doyen who gave to the Sabha and fine arts, selfless service of a lifetime.

About
Sabhash
- Everything about classical music, dance, drama and a platform for inclusive entertainment
Sabhash.com is the one-stop destination for the latest news and information on the performing arts of India - classical music and dance, theatre, bhajans, discourses, folk performances, and other lesser known art forms. Institutions that revolve around the performing arts have exploded in numbers, and thanks to the Internet which has made information easily accessible, the number of rasikas has grown too. Corporate patronage has played a big part in increasing the world-wide reach of the Indian arts. Sabhash wishes to be a platform for inclusive growth giving an equal opportunity and recognition to not only the main performer but also the artistes who accompany them on stage, and the people who work backstage and play the role of unsung heroes.