EPIC WOMEN - Hema & V.V. Ramani
16 January, 2013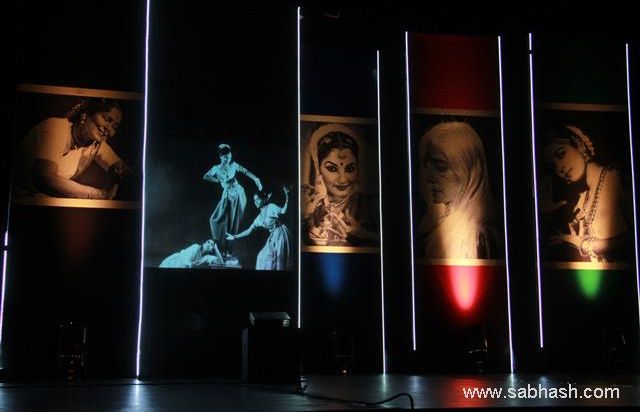 It was a Magnum opus! The four day Natya Darshan Conference performance conclave titled Epic Women presented by Karthik Fine Arts & Arangham Trust had a galaxy of over 30 eminent academicians, scholars & performers coming together to discuss varied topics and present new works in progress.
The mega event was flagged off with a fabulous Hari Katha by the multi faceted maverick Revathy Sankkaran titled "Manika Veena" on the epic woman "M.S. Subbalakshmi". With her trademark humour & repartee skills, she held the audience spell bound unfolding the Life of the Musical Genius. Her innate musical skill surfaced in her imitation of other legends like Musuri & Semmangudi and her rendition of the famous & not so famous songs of M.S. Amma took the viewers on a nostalgic trip down memory lane, making it a memorable tribute to the genius. Though I had seen a more elaborate Hari Katha on M.S. earlier by Revathy, watching it for the second time did not in any way diminish its charm.
The drummers of the Aadi Shakti group from Pondicherry heralded the morning session with their vibrant & energetic drumming. Following the inauguration by Mr. Sabaretnam & welcome address by Dr. Anita Ratnam. Prema Nandaumar presented a lucid talk in her keynote address. A scholarly talk by Dr. Swarnamalya Ganesh speaking on "Womanity – Selfhood & Tenacity as keynotes for Sangam Women" was followed by a short depiction of the young Sita in Mithila by 18yr old bharatanatyam dancer Sudharma Vaithiyanathan. The panel discussion for the day focussed on the Epic Woman & very iconic for Indians, the heroine of Ramayana – "Sita". The three panellists looked at Sita from different perspectives. Veenapani Chawla had a very scholarly approach; Dr. C.S. Lakshmi's (Ambai) was of a very poetic approach & Kapila Venu's deep insight of a performer.
Day 2 began with a peep into the dark women with a Mohinattam performance by Dr. Neena Prasad on Surpanaka – A passion disgraced. The eminent playwright Mahesh Dattani gave a talk on the "Women We Love to Hate". Sthree – Dom: An Immaculate Conception, a performance by Chitra Sundaram which was a comparative portrayal Arundathi, the wife of Sage Vashishta & Penelope, the wife of the Greek warrior of Odysseus. It was a visually stimulating performance with stunning poetic imagery. The Epic women who had made immense contribution in the arena of performing arts came in for discussion in the panel. Katherine Kunhiraman focussed on her personal journey with "Rukmini Devi & Kalakshetra". Nandini Ramani on the teaching methodologies of her guru "Balasaraswathi" in detail & a small performance by her to validate her talk. Padmini Chettur's presentation on "Chandralekha" was as iconic as the dancer. She brought Chandralekha – the dancer & her ideologies alive, & for those who were not familiar with her art, this talk was an eye opener. "Indrani Rahman" is a legendary name, but for many of us, who have not had the opportunity to see her dance, her daughter Sukhanya Rahman's film was a revelation of her mother's art. The brilliance of the dance was enhanced by the filming, a magnificent composition with the musicians in the forefront.

The final day began in true Marghazhi style with a fabulous musical experience by Anil Srinivasan on the piano & Viji Krishnan on the violin, which lingered on throughout the day. The Thirupavvai "Thoomani Madathu" played beautifully by the two of them, had a vocal expression by three young girls. The internationally reputed dancer - choreographer "Dr. Maya Rao" was conferred with the Lifetime Achievement Award for 2012 by Karthik Fine Arts. Mrinalini Sarabhai's work was explored by Andree Grau. Anusha Subramaniam presented an excerpt from her work in progress on Aung San Suu Kyi titled "Golden Peacock". Ammu Joseph on "Epic Women in Politics", Kalpana Ram on "The Power of Performance & Human Agency" & Dr. Kethu H. Katrak on "Magical Connections among Women with Epic Passions", were the other topics for the day. Every evening, there were performances, quite a few of them being world premieres of new works or works in progress.
Observations:
At the outset, we must confess, that the conference was definitely an ambitious project bringing forth a wide range of scholars, artists & performers. It was a wide panoramic incorporation of elements & while one could not fault the content, theme, the scholarship of the speakers, etc, there were few areas which needed to be looked into. While the overall packaging was beautifully presented, the panellists were packed into a small time frame which did not allow them to explore & discuss their given topic nor give scope for the moderator to intervene & draw a link for example between Lady Macbeth & an Epic Woman in politics, say Mrs. Indira Gandhi or to be able to answer's Radhika Ganesh's very interesting question of the Relevance of Sita in today's Context. Mahesh Dattani used the axiom "when in doubt be brief" & he was indeed brief!
One wished there was enough discussion & debate considering we had a wide spectrum of scholars from Sydney to Sri Rangam. The time was too brief to "dwell" on a topic. So it was a prelude or a preview to what could happen perhaps. Young dancers in Madras were conspicuous by their absence in a conference of this nature. Sad indeed!
For more pics : http://www.sabhash.com/gallery/photo

About
Sabhash
- Everything about classical music, dance, drama and a platform for inclusive entertainment
Sabhash.com is the one-stop destination for the latest news and information on the performing arts of India - classical music and dance, theatre, bhajans, discourses, folk performances, and other lesser known art forms. Institutions that revolve around the performing arts have exploded in numbers, and thanks to the Internet which has made information easily accessible, the number of rasikas has grown too. Corporate patronage has played a big part in increasing the world-wide reach of the Indian arts. Sabhash wishes to be a platform for inclusive growth giving an equal opportunity and recognition to not only the main performer but also the artistes who accompany them on stage, and the people who work backstage and play the role of unsung heroes.