Dance recital of Ms. Shrutilaya Ramesh for Kartik Fine Arts at Narada Gana Sabha
28 January, 2013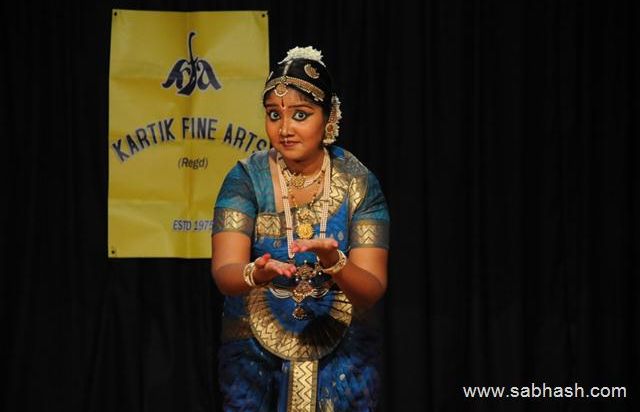 A review by Ganapathy Narayanan
----------------------------------------
Shrutilaya Ramesh, senior disciple of Smt. Roja Kannan gave a confident and mature dance recital under the auspices of Kartik Fine Arts on 21 Jan in the on-going Dance Fest.

She chose the traditional Margam style and started her recital with an invocation of Lord Shiva. It was an alarippu intertwined with verses from Thiruarutpa in Kanda Nadai.

She rendered the traditional Varnam, "Sakhiye" choreographed by Sr. Guru Shri Adyar K Lakshman in Anandhabhairavi. The long years of Shrutilaya's training (over 15 years) in Kalakshetra style was vivid in her classical portrayal of the love-lorn heroine. Her nritta and abhinaya skills were well demonstrated in the Varnam.

This was followed by the popular and melodious Oothukadu Venkata Kavi's "Alaipayudhe" in Kanada. The poet's imagination and verses, packed with poignant words and sung beautifully by Smt. Radha Badri was very aesthetically presented by Shrutilaya. Her imaginations flowed with complete involvement and were emotion packed. It was learnt that the dancer choreographed the song herself and improvised it further on stage to bring out her version of the Kavi's imagination. She was well applauded for her effort.

The mellifluous Thulasidas Bhajan, 'Sri Ramachandra..' was rendered next which elevated the recital to a spiritual level. The Bhakti Bhava was ably brought out by the dancer who enacted some important stories of Ramayana. She was seen personally enjoying the rendition. She concluded her recital with a thillana of Shri K. Hariprasad in the ragam Kamas.

The dancer was eminently guided by her Guru Smt. Roja Kannan on the nattuvangam.
Clear & melodious singing by Smt. Radha Bhadri, brisk percussion of Shri Nellai D Kannan on the mridangam and fluent bowing of Rijesh on the violin made the Orchestra Team strong with which the dancer synchronised well in her presentation.

Shrutilaya used the opportunity very well and came up with a compact and scintillating performance which was well received by an appreciative and large audience. An Engineering student of Anna University now, she has demonstrated her avid interest and talent for pursuing Bharatnatyam as a profession.

About
Sabhash
- Everything about classical music, dance, drama and a platform for inclusive entertainment
Sabhash.com is the one-stop destination for the latest news and information on the performing arts of India - classical music and dance, theatre, bhajans, discourses, folk performances, and other lesser known art forms. Institutions that revolve around the performing arts have exploded in numbers, and thanks to the Internet which has made information easily accessible, the number of rasikas has grown too. Corporate patronage has played a big part in increasing the world-wide reach of the Indian arts. Sabhash wishes to be a platform for inclusive growth giving an equal opportunity and recognition to not only the main performer but also the artistes who accompany them on stage, and the people who work backstage and play the role of unsung heroes.