Yagnyaraman Fest at KGS Bommalattam - Pulling Strings, Joyfully
04 July, 2013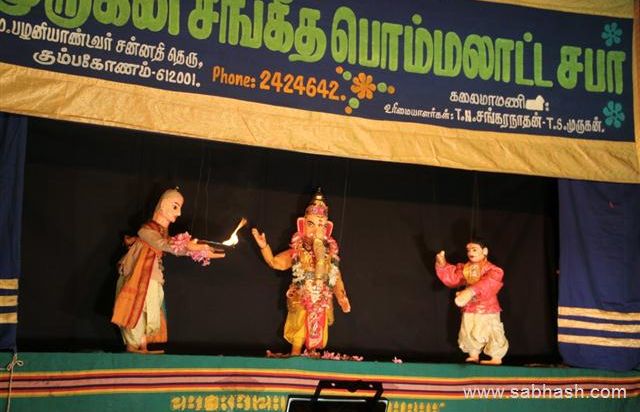 The day, 1st of July, happened to be the birth day of Sri Yagnya Raman, the founder of Krishna Gana Sabha (KGS) one of the oldest Sabhas in existence in Chennai. Bommalattam was staged at Dr. Nalli Gana Vihar (KGS).
A pre-programme episode requires special mention here.
There was hardly a handful of people at KGS when the Bommalaattam event was about to begin. It had been planned as part of the morning session. The idea, explained Sri Prabhu, its Secretary, was to have as audience school children who could come directly for an hour from their classes. It was all arranged but just did not materialize in spite of the best of intentions. One man acted with rare acumen in this situation. He picked up his cell phone contacted a nearby school used his good offices and goodwill, and extended an invitation to the children of that school, by speaking to the person in-charge. Yes. And within minutes the hall was flooded with tiny-tots. Sir, you really have the mind, one wanted to say. Nalli Kuppusami Chetty proved what a personality he was.
Now to the event………
It is well known that German Philosopher Goethe used the medium of Bommalaattam (puppet shows) to propagate his theories. Back home, the phenomenal work of scholar Sri Venkat Swaminathan has virtually become a reference treatise on this subject.
A colourful "dolls-at-the-helm-stellar" spectacle, an enactment that deploys figures of wood (Kalyana Murungai to be precise), Bommalaattam, is one of the most ancient forms of art that we can be proud of. The never-say-die father and son duo, Sri Sankaranathan and his son Murugan of the Sri Murugan Sangeetha Bommalaatta Sabha, Kumbakonam had come to Chennai to participate in the Yagnya Raman Fest, 2013.
As a preface to the event, Murugan traced the history of this string-and-puppet art thus: "Mention has been made of this art in Silappadhikaram, Thirukkural, by Pattinathar and also by Arunagirinathar. This has occupied the psyche of modern poets too". He went on to add many facts of interest about this fast-disappearing art.
The songs sung here would require to be portrayed in such a way that it reaches the audience and involves them. You ought to have internalized the entire story, inch by inch. Moreover if it is Naradar, he has to come alive to create an impact. Humour here and there would be welcome. There was genuine emotion and commitment, as Murugan uttered these words.
Kumbakonam is the birthplace of this art. Thanks to the Government of Tamil Nadu and this outfit, viz. Tamil Nadu Eyal Isai Nataka Manram, headed by Ms Chachu and Sri Deva for their enthusiastic support and for KGS for coming forward to provide a platform to this art form.
The Bommalaattam team must have been greatly influenced by the kind of audience they had. First the dolls garlanded Sri Nalli and Sri Prabhu and it was done to a perfect T, which drew the thunderous applause of the children. Next some songs on the Goddess (Amman) were also sung and danced by the dolls, and this was again chosen perhaps to identify with the those children who seemed to enjoy every bit of it.
It came as an educative and relevant episode when the doll dressed up as Naradar - Thambura et al, walked in. He indulges in mischief(kalagam) of its own kind. That is his custom. The end would invariably result in the conquering of evil. Naradar for his part and on this day, picks up a lazy boy who is fast asleep and beckons him to take to studies, instead of taking a whole set of buffaloes for grazing. The boy intentionally messes up the pronunciation of even elementary words. By the way, says the boy, "I have been in the 1st standard for a good nine years"…..Naradar tries his utmost, but then finally gives up and draws a "kalagam blank" for the day.
The rendering of the songs with "full-throated-ease" to the gentle accompaniment of the harmonium and drums that were even gentler - it was sheer was joy to one's ears.
aarvalan (aarvalan56@gmail.com)
For more pics :
http://www.sabhash.com/dance/events/4631/sri-krishna-gana-sabha---yagnaraman-july-fest-2013.html

About
Sabhash
- Everything about classical music, dance, drama and a platform for inclusive entertainment
Sabhash.com is the one-stop destination for the latest news and information on the performing arts of India - classical music and dance, theatre, bhajans, discourses, folk performances, and other lesser known art forms. Institutions that revolve around the performing arts have exploded in numbers, and thanks to the Internet which has made information easily accessible, the number of rasikas has grown too. Corporate patronage has played a big part in increasing the world-wide reach of the Indian arts. Sabhash wishes to be a platform for inclusive growth giving an equal opportunity and recognition to not only the main performer but also the artistes who accompany them on stage, and the people who work backstage and play the role of unsung heroes.