Hon'ble Chief Justice of India inaugurates Bhavan's Naatya Utsav 2013
16 December, 2013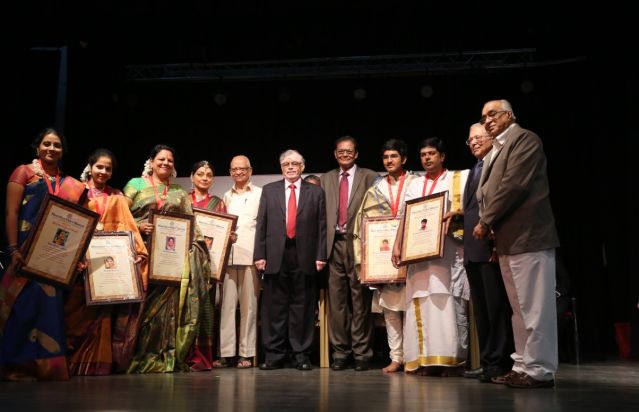 Bhavan's Naatya Utsav 2013 was inaugurated by the Hon'ble Chief Justice of India Sri P Sathasivam, at the Bhavan's TAG Auditorium at Kilpauk, Chennai. This Utsav had been got up by Bharatiya Vidya Bhavan's Chennai Kendra in association with Apollo Hospitals. Dance events are to be held here for a period of 12 days, from 14th December, 2013 to 25th of December, 2013.
"Sri P Obul Reddy and Smt. P Gnanamba Memorial Award for Life-Time Achievement" (Instituted by Sri P Vijayakumar Reddy and Dr. Preetha Reddy) was given to Bharathanatyam exponent and Padmasri Awardee, Ms Malavika Sarukkai.
Bhavan's Cultural Awards, 2013 were also presented to Dr. M Narmadha (Violin), Smt. K Gayathri (Carnatic Vocal), Sri S R G S Mohandoss (Nagaswaram), B Sucharithra (Harikatha) and Master K Sathyanarayanan (Keyboard).
The function began with Mangala Isai on the Nagaswaram by Sri S R G S Mohandoss (and party) and was followed by the Thamizh Thai Vaazhthu sung by Ms. Deepika. The event was Presided over by Sri L Sabaretnam, Chairman, Bhavan's Chennai Kendra.
Welcoming the gathering Sri N Ravi, Editor-in-Chief, The Hindu and Vice-Chairman, Bhavan's Chennai Kendra, traced the history of the Bhavan from the early years of Sri Kulapati Munshiji, its founder. He called Bhavan's venture as a moral movement that had the blessings of Mahatma Gandhi and Pandit Nehru. This movement had as its target the younger audiences, he added. He congratulated all the awardees and made specific mention about Ms Malavika Sarukkai who "gives us poetry in dance."
In his Presidential address, Sri L Sabaretnam, said that this was a Golden Day for Bhavan's, where it had the honour of having the present inauguration being done by the Chief Justice of India. He traced the history of Bhavan's TAG Auditorium and mentioned about the forces that had worked behind the construction of it. He also commended the activities and the many achievements the school (Bhavan's Rajaji Vidyashram) had made under the stewardship of Sri Ajit Kumar Jain, its Principal.
Felicitating the awardees Sri K Parasaran, Former Attorney General of India and Vice-Chairman, Bhavan's Chennai Kendra, made specific mention about the origin of Music and Dance and how Lord Shiva was the Supreme Dancer and Musician. He mentioned how all of Bhavan's achievements had the secular mark always contained in them. Appreciating and lauding each one of the awardees present, he made specific mention about the youngest of them, Master Sathyanarayanan, who had already given 1000 concerts and had a great future ahead of him. He felt proud that the Bhavan's was today associating with one of the four Protocols enshrined in our Constitution, the seat of the Chief Justice of India, represented by Hon'ble Chief Justice Sri P. Sathasivam.
The Chief Guest, Sri P Sathasivam, felt happy that he could be part of the art-activities at least towards the very end of his career and also narrated how he had some initial hesitation in attending this function when Sri Sabaretnam had approached him. He however had acceded to his request after applying some thought. He said he was delighted to be here and conveyed his heartfelt appreciation to the awardees. He further added that this event, the Naatya Utsav 2013 was an annual occurrence held to commemorate the Culture of India which dates back to 5000 years from today. He pointed out that a Nation without culture is like an orphan without anything.
He continued to say that India has a rich culture and heritage which cannot be summed up in a few words. This has a unique universal character, which is distinctly Indian. Of Tamil Nadu, Sri Sathasivam, said that it was a store house of heritage and one should hold one's head high to know that this State possesses 8 UNESCO heritage sites. Tamil Nadu is also unique in another aspect, that it combines many cultures of its many people. He appealed for Utsavs like these to be organized at the National Level. He also observed that culture evolved with time and was not stagnant. He wished this current event all success and also showered immense praise on the many minds and men who had put in their work in organizing this function in an impeccable manner.
In her acceptance speech Ms. Malavika Sarukkai addressing all the functionaries on the stage and members of the audience, felt honoured to achieve this award from the Chief Justice of India. She remembered her mother Ms. Saroja Kamakshi who was her guide, philosopher and friend on this occasion. "Her devoted support has made me a dancer" - she said with a sense of emotion. She said that she was also greatly indebted to her Gurus, Sri Rajarathanam Pillai and Ms. Kalanidhi Narayanan for enabling her in continuing her artistic journey. Receiving the award from Bhavans, which has acquired a prestigious name in furthering art-activities, is of immense significance, she added. She said she would take this opportunity to congratulate the other artistes who were on stage with her, for their contribution to the arts.
Dr. Narmadha, one of the awardees delivered an acceptance speech on behalf of her and other award-winners. She thanked the Bhavan's selection committee and Sri Sabaretnam for choosing them and also felt it was a great privilege for them to receive the awards from The Hon'ble Chief Justice of India.
Breaking protocol Sri Parasaran came once again on stage and suggested to all those who had gathered to rise from their seats and offer their appreciation to the awardees who were great achievers. The audience acceded and gave a standing ovation with a rare spontaneity.
Sri Ramaswamy, Director, Bhavan's Chennai Kendra, while proposing a vote of thanks expressed his gratitude to the guests of honour and all those who had put in their efforts to make this function a big success.
Your competent and unassuming compere was Mrs. Radhika Mohan, a senior teacher of Bhavan's Rajaji Vidhyashram.
A delightful colourful spectacle unfolded after the award function in the form of a dance performance by Ms Malavika Sarukkai. Perhaps, sensing the number of children in the audience she chose to portray the song "Enna Thavan Seidhanai" (Kapi, Papanasam Sivan). Here the poet wonders at the range of the penance (Thavam) that Yashodha had done, perforce, to acquire this exalted status - the status of tying up the immeasurable Lord Krishna to a stone mortar (the ural) for certain childhood pranks that he had exhibited. Expression, vivacity, poses of stature that meshed with the context bristled in this performance in which immense tala structures were "explored with the feet" by the artiste. This was one of the many pieces she had performed to an audience that had stayed put till the very end. A tribute to the artiste and the arts per se'!
aarvalan(aarvalan@yahoo.com)
For more photos : http://www.sabhash.com/dance/events/7193/bhavans-naatya-utsav-2013.html

About
Sabhash
- Everything about classical music, dance, drama and a platform for inclusive entertainment
Sabhash.com is the one-stop destination for the latest news and information on the performing arts of India - classical music and dance, theatre, bhajans, discourses, folk performances, and other lesser known art forms. Institutions that revolve around the performing arts have exploded in numbers, and thanks to the Internet which has made information easily accessible, the number of rasikas has grown too. Corporate patronage has played a big part in increasing the world-wide reach of the Indian arts. Sabhash wishes to be a platform for inclusive growth giving an equal opportunity and recognition to not only the main performer but also the artistes who accompany them on stage, and the people who work backstage and play the role of unsung heroes.