Purush has arrived
24 December, 2013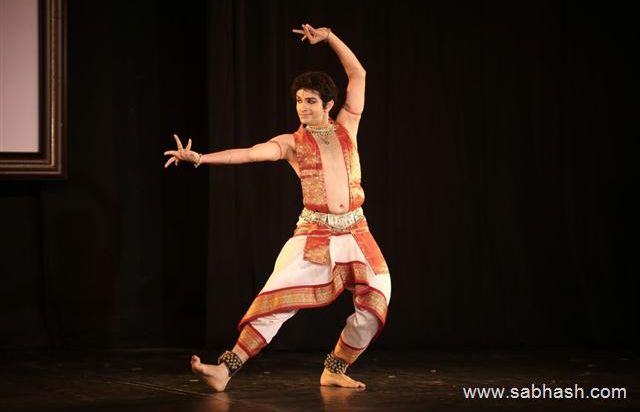 - Sukanya Kumar
The much talked about and awaited third chapter in a trilogy of Natya Darshan, the annual conference and performance conclave hosted by Karthik Fine Arts in association with Arangham Trust, in the words of Dr. Anita Ratnam "completed a circle" with 'Purush- The Global dancing male'.
Dr. Anita Ratnam the Convener, Curator and Director of the five day event said, "Purush is the third in a series of conferences. In 2011, we did a conference called Mad and Divine Women that focused on mystic women saints. In 2012, we did Epic Women, This year, I felt that we needed to pay tribute to the men who were the first to bring international focus to Indian dance — Ram, Gopal, Uday Shankar, and later Bhaskar Roy Chowdhary and Nala"
The pre-conference shows were held at Alliance Francaise on December 18th and 19th, 2013. Adishakti from Pondicherry presented 2 solo theatre productions. First one was on December 18th, with Vinay Kumar in 'The tenth head', directed by Veenapani Chawla. It is about the individual who doesn't want to be part of the norm and thus is misfit. The beautiful metaphor of the unbalanced 'tenth head' or Ravana was used!
The next day, they presented Nidravathwam with Nimmy Raphel about the idea of sleep portrayed using Kumbhakarna and Lakshmana's mythological mentions.
Post performance discussions were moderated by Dr. Anita Ratnam and Prof. Hari Krishnan (co-curator and academic advisor) respectively on the two days
The session in Bharatiya Vidya Bhavan commenced with Pavithra Bhat of Mumbai presenting a portion of Mallari followed by Patanjali's Shambhu Natanam Sloka. Following this, L Sabaretnam, Chairman of Karthik Fine arts inaugurated the event. "Natya Darshan has been received very well within the dancing community for many years since significant insights provided in the seminar have become a true learning experience for artistes", opines L Sabaretnam.
V Soundarya was awarded the prestigious 'Natya Chudar' award from Karthik Fine Arts by Dr. Preetha Reddy.
Dr. Anita Ratnam presented her welcome address that put forth her vision and reason for 'Purush'. As she has beautifully answered "Why Purush?" saying, "I feel this is not even a question that needs asking but a subject that needs exploring and discussing. We presume that the world of dance means that women dance and men choreograph or teach. In India, men were the gurus and women were the dancers. Even today it is men who command more power and financial resources in the dance world with larger grants and more elaborate productions than women who are a majority as performers."
Is gender implicit in dance or is it what the dancer brings to the performance? Or is it of no consequence altogether? These are questions 'Purush – The Global Dancing Male' 2013 will attempt to explore!
For more photos : http://www.sabhash.com/dance/events/7217/purush-has-arrived.html

About
Sabhash
- Everything about classical music, dance, drama and a platform for inclusive entertainment
Sabhash.com is the one-stop destination for the latest news and information on the performing arts of India - classical music and dance, theatre, bhajans, discourses, folk performances, and other lesser known art forms. Institutions that revolve around the performing arts have exploded in numbers, and thanks to the Internet which has made information easily accessible, the number of rasikas has grown too. Corporate patronage has played a big part in increasing the world-wide reach of the Indian arts. Sabhash wishes to be a platform for inclusive growth giving an equal opportunity and recognition to not only the main performer but also the artistes who accompany them on stage, and the people who work backstage and play the role of unsung heroes.