Purush - Felicitations
24 December, 2013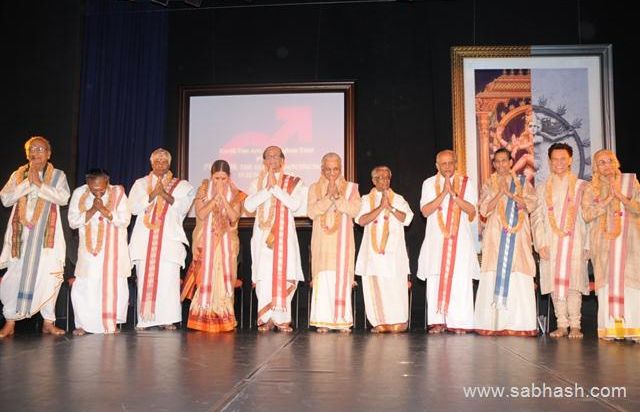 - Sukanya Kumar
So what makes a good dancer; gender, artistry or sexuality?
"Bharatanatyam is a global style where the central ethos is that of the Guru-Sishya parampara" said Dr. Anita Ratnam, Convener, Curator and Director of Purush on the second day of Natyadarshan hosted by Karthik Fine Arts at Bharatiya Vidya Bhavan Mylapore.
Following the first day of Purush when Leela Venkatraman, Dr. Devdutt Pattanaik, Dr. Anne David and Dr. Sandra Chatterjee covered Ram Gopal, Uday Shankar, natwar, natraj, orientalism…and made distinction between sexuality and gender the much awaited pace was set for.
It was a special day : the birth centenary of Late Kittappa Pillai, 11 great, living legends Udupi Laxminarayan, K Kalyanasundaram, Adyar K Lakshman, B Herambanathan, C V Chandrasekhar, V P Dhananjayan, C K Balagopalan, A Janardhanan, M V Narasimhachari, Ramli Ibrahim and Dr. Sunil Kothari (on his 80th birthday) were honored. It was a blessing to see them at the same platform, a truly rare opportunity for dancers and rasikas; A once in a life time special event!
A film 'Guru Darshanam' was specially screened collating various pictures and videos of the dance veterans being honored. Lakshmi Vishwanathan shared personal experiences and insights about each one of them in what she called "an impromptu unprepared, more like a fire side chat".
Moving away from the "Plaque or tinsel gold angavastram (shawl) practice" as Dr. Anita beautifully worded it; the felicitation was done with a khadi angavastram, a motif of 'chin mudra', representing years of wisdom, and sandalwood garlands. The team also extended their gratitude by honoring L Sabaretnam, "The Purush who makes everybody dance!"
'Male Moves' a film with from recorded excerpts from the Khokar Dance archives of Uday Shankar, Ram Gopal, Nala Najan, Bhaskar Roy Choudury, Pt. Birju Maharaj, Astad Deboo and others; the male dance history sequenced in decades was screened accompanied by narration by Ashish Khokar. "Dance doesn't end on stage. Dance used to define society, now society defines art," he summed up. He also criticized that media is no more interested in difficult hardcore documentation; instead food, fashion and finance have become the linchpin due to sponsors they attract. "Where does the male dancer stand today? Does he need to stand? Body is only the extremities; our core content of being is what matters. We must create opportunities for the multitude of dancers in this field today. Not just avenues but audiences!" he concluded.
Dr. Anita Ratnam then officially handed over the mantle to Malavika Sarukkai. "Anita has the skill to put things together, has brought a buzz to this festival and a sense of professionalism, hugely needed in the classical setup." Malavika said. "World is on steroids of consumerism and packaging. How do we hold course and keep faith in a jostling environment. We need to cultivate audiences all over again." she opined. Her search through the conference would be "What will happen to the 'Solo Dancer'?"
The panel discussion that followed 'Bharatanatyam and the male body: technique and questions of embodiment' was ably tackled by B Herambanathan & H Hariharan on Tanjore, Dr. BM Sundaram & K Shanmugha Sundaram on Vazhuvoor, Prof. C V Chandrasekhar & P Praveen Kumar on Kalakshetra. The various aspects of the different 'strands' or 'schools'; as a comprehensive term in comparison with terms like 'bani' or 'style'; were demonstrated with short traditional pieces. "We are all Nataraja's children" said B Herambanathan. "Alphabets of dance shouldn't change, but every dancer develops a personal style in due course of time" summed up Prof C V Chandrasekhar.
In the evening performance session, Navtej Johar and Sudeep Kumar from Delhi presented 'Dravya Kavya' – contemporary bharatanatyam based on the Ramayana serving as homage to India's dance pioneers Rukmini Devi Arundale and Chandralekha.
Ottanthullal, a traditional theatre art form was presented by Suresh Kaliyath delaminated the story 'Kalyanasougandhikam' from Mahabharata. Sinam Basu presented 'Kamadeva Narthan' and 'Dashavatar' in Manipuri style. Anuj Mishra presented 'Krishna vandana' and some special compositions of Lucknow Gharana of Kathak showcasing intricate footwork and 103 pirouettes. Pasumarthi Mruthyumjaya Sarma presented 'Shivashtakam' in Kuchipudi style with vibrant movements and picturesque poses.
A Lakshmanaswamy presented a traditional margam in Bharatanatyam beginning with a Pushpanjali and Alaripu. His presentation of the Varnam 'Sumasayaka' from the eyes of a Dootika (female messenger) was juxtaposed by a padam in kalyani ragam, 'Chittike Vesite'. He concluded with a dynamic tillana in ragam Mandari.
In parallel Purisai Thambiran Therukoothu Manram from Thiruvannamalai presented Draupadi Vasthiraparanam based on Mahabharata. This authentic traditional art form took place in the open ambience of Nageswara Rao Park attracting huge audience.
For more photos : http://www.sabhash.com/dance/events/7218/purush---felicitations.html

About
Sabhash
- Everything about classical music, dance, drama and a platform for inclusive entertainment
Sabhash.com is the one-stop destination for the latest news and information on the performing arts of India - classical music and dance, theatre, bhajans, discourses, folk performances, and other lesser known art forms. Institutions that revolve around the performing arts have exploded in numbers, and thanks to the Internet which has made information easily accessible, the number of rasikas has grown too. Corporate patronage has played a big part in increasing the world-wide reach of the Indian arts. Sabhash wishes to be a platform for inclusive growth giving an equal opportunity and recognition to not only the main performer but also the artistes who accompany them on stage, and the people who work backstage and play the role of unsung heroes.