Soaring High
28 December, 2013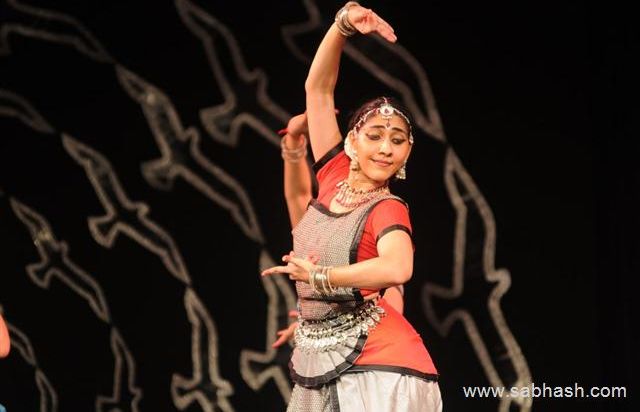 -Sukanya Kumar
They fluttered, felled and flew around, dancers representing seagulls and the centre character Jonathan Livingston Seagull played by Sumithra Subramaniam.
Jayanthi Subramaniam and her disciples of Kala Darsana presented "Jyotirgamaya" at the Tag Centre in the dance festival hosted by Bharatiya Vidya Bhavan on the eve of Christmas.
"This production was inspired by the Jonathan Livingston Seagull, famous novel by Richard Bach which I had read in my school days. It took me several years to realize my dream, give the theme a dance shape. The subject is relevant to all age group, professions male and female," said Jayanthi Subramaniam.
Discouraged and disgruntled by other sea gulls, Jonathan begins solitary climb on a cliff. He is helped by two other gulls and tutored in his efforts to achieve greater heights. The mentor was played by Jayanthi herself clad in silvery white.
To reach out and touch perfection! After which, Jonathan wants to return to the earth, give back what he got. Jonathan is not just bone and feathers; he is an idea, limited to nothing.
The segment with mridangam and tabla beats was well portrayed. The tillana was sedate and graceful, seamlessly smooth and soothing and not just scintillating beats and poses. The climax pose of gradation of flight stances was creatively convincing. The presentation ended with the chanting of Asatoma Sat Gamaya and Shanti Shanti.
The message was loud and clear, there is a real Jonathan within each one of us; all we need is to discover him. How many lives have we gone through before we realized that there is more to life than eating and fighting! A hundred lives of learning to touch heaven. Speed is not about flying 1000 miles per hour, number limits. It is being there with no limit: the pursuit of excellence. There is no place as heaven. Being perfect is heaven. Boredom, fear, anger and hatred all gone, you are ready to begin the most powerful flying up, knowing the meaning of love and kindness.
Simple yet elegant costume, sober gray highlighted by maroon segments with black border, gray with aquamarine segments, suitable silver jewelry designed by R Subramaniam and Geeta Sridhar. The black backdrop with seagull flock painted on it, designed by architect dancer Geeta Jayakar enhanced the visual effect.
Jayanthi thanked Raj Kumar Bharati for giving life to an abstract theme with his music and Prof C V Chandrasekhar for composing Jathis. She also acknowledged the help of the parents, disciples, particularly Ritwika Ghosh for helping in the folk scenes and her daughter for setting her jathis.
The brilliant music scored by Rajkumar Bharati and recorded by Sai Shravanam, winner of Oscar award for Life of Pi reverberated loud and clear with vibrant voice over. Excellent team of artistes like Nandini Anand and Rajkumar Bharati (Vocal), Vedakrishnan (Mridangam), Embar Kannan (Violin), Bhavani Prasad (Veena), Vishnu Vijay (Flute), Ganapathi (Tabla), Kishore (Sitar) and Govind Venkatation (Voice over) enhanced the show.
To give this abstract western novel concrete dance choreography set to Carnatic music; it is indeed a challenge well met!
For more photos : http://www.sabhash.com/dance/events/7226/bhavans-naatya-utsav-2013.html

About
Sabhash
- Everything about classical music, dance, drama and a platform for inclusive entertainment
Sabhash.com is the one-stop destination for the latest news and information on the performing arts of India - classical music and dance, theatre, bhajans, discourses, folk performances, and other lesser known art forms. Institutions that revolve around the performing arts have exploded in numbers, and thanks to the Internet which has made information easily accessible, the number of rasikas has grown too. Corporate patronage has played a big part in increasing the world-wide reach of the Indian arts. Sabhash wishes to be a platform for inclusive growth giving an equal opportunity and recognition to not only the main performer but also the artistes who accompany them on stage, and the people who work backstage and play the role of unsung heroes.