Namah Sivaya Vazhga
28 December, 2013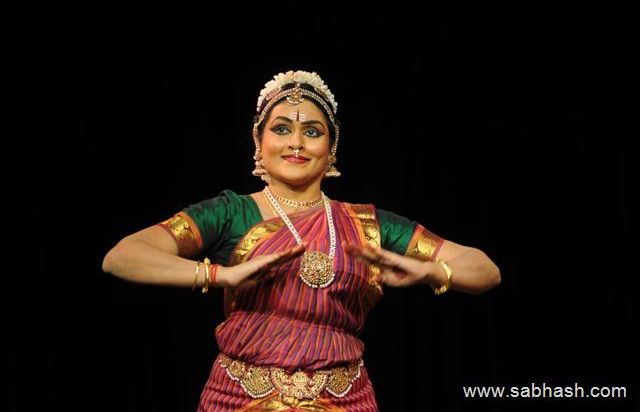 - Sukanya Kumar
Padmini Krishnamurthy from Muscat presented solo thematic bharatnatyam. The subject she had taken was Shiva. She opened with Namah Sivaya Vazhga, invocatory item with elements of Pushpanjali and Mallari interspersed with swarams.
The main piece of the recital had verses from the Thiruvasagam strewn together in a Varnam format. The verses from the Sivapuranam were used to depict stories of Manickavasagar, Nandanar, Chandikeshwarar and Karaikaal Ammaiyar.
A detailed explanation of the story was made before the commencement of the items in chaste Tamil by Vaidehi. Padmini performed every episode in detail with elaborate sancharis bringing out the very essence of Thiruvasagam. Swarams and Jathi combinations were used to paint the picture of the Ananda Tandava of Lord Shiva as Karaikaal Amaiyar sees it. Here Nandi tested the sruti or pitch of the mridangam before playing and also adjusted it! These along with few lokadharmis used in the presentation brought in some humor. She brought alive the entire celestial orchestra with their respective instruments to accompany Lord Shiva.
The recital was full of vigor and enthusiasm from beginning till end. The stories and depictions were easy to follow and comfortably reached the audience. It was a well conceived and choreographed presentation in absolute adherence to tradition. Being a senior disciple of Ranganayaki Jayaraman, her dance carried the stamp of her Guru. Padmini has established her own dance school Sri Saraswathi Natyalaya at Muscat.
The show at the Bharathiya Vidya Bhavan's Tag centre, Kilpauk was a true example of the old adage "Thiruvasagathirkku urugaathavar oru vaasagathirkkum urugadaar" – Those who remained unmoved by the verses of Thiruvasagam shall never be moved by any other. This presentation of the Thirucasagam was truly moving!
Fore more photos : http://www.sabhash.com/dance/events/7221/bhavans-naatya-utsav-2013.html

About
Sabhash
- Everything about classical music, dance, drama and a platform for inclusive entertainment
Sabhash.com is the one-stop destination for the latest news and information on the performing arts of India - classical music and dance, theatre, bhajans, discourses, folk performances, and other lesser known art forms. Institutions that revolve around the performing arts have exploded in numbers, and thanks to the Internet which has made information easily accessible, the number of rasikas has grown too. Corporate patronage has played a big part in increasing the world-wide reach of the Indian arts. Sabhash wishes to be a platform for inclusive growth giving an equal opportunity and recognition to not only the main performer but also the artistes who accompany them on stage, and the people who work backstage and play the role of unsung heroes.