TRIPADA
30 December, 2013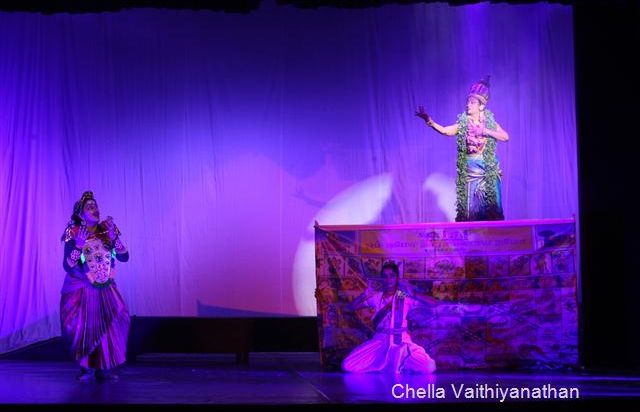 - by V.V.Ramani
K.S.R. Anirudha had made his mark as a percussionist winning accolades and awards. The active, vibrant creative spirit in him had a larger vision to express his ideas. Growing up in an atmosphere of music, dance, scriptures and stories and assimilating all that he was exposed to he took the first step to conceptualise and produce a dance theatre production called 'Mammudha' based on the story of Manmadha and shiva. This production in which he brought in varied experts as creative collaboraters was a runaway success and won him lot of accolades.
After a hiatus, Anirudha has come back with a new production called 'Tripada' which was premiered recently at the seasons festival of Kartik Fine Arts at Bharatiya Vidya Bhavan told the story of Vamanaavathara, where lord Vishnu took the avatar of Vamana to subjugate the ahankara of king Mahabali. This production too combines various genre of music, dance and theatre.
The initial stages in this production has a flurry of activity with groups of dancers in varied permutations and combinations and a kattiyankaran to narrate and lead the viewer into the story. The use of a folk art form poi kal kudhirai to herald the entry of king Mahabali, use of tai chi and kalari movements to depict snake movements and combat, a therukoothu look for the king added for mass appeal, was well received by the rasikas.
The latter half gains momentum with the arrival of Vamana [a captivating performance by Shravanti] and the interactions with Mahabali [Priya murle] and Shukracharyar [Priya Dixit]. The communicative expressions of the three dancers held the attention of the audience. Finally the dramatisation of Vamana assuming vishwaroopam, with Sudharani Raghupathy emerging decked up as mahavishnu behind a snake and ladder thiraiseelai was greeted with thunderous applause. The initial compering by Aarti lakshmi and Anirudha was appealing. Tripada though a little less ambitious than the first production has all the necessary ingrediants to hold the audience interest.
For more photos : http://www.sabhash.com/dance/events/7236/tripada.html

About
Sabhash
- Everything about classical music, dance, drama and a platform for inclusive entertainment
Sabhash.com is the one-stop destination for the latest news and information on the performing arts of India - classical music and dance, theatre, bhajans, discourses, folk performances, and other lesser known art forms. Institutions that revolve around the performing arts have exploded in numbers, and thanks to the Internet which has made information easily accessible, the number of rasikas has grown too. Corporate patronage has played a big part in increasing the world-wide reach of the Indian arts. Sabhash wishes to be a platform for inclusive growth giving an equal opportunity and recognition to not only the main performer but also the artistes who accompany them on stage, and the people who work backstage and play the role of unsung heroes.