Directory
Legends

G.Nataraj
Location: Chennai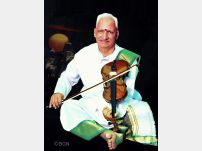 Sri G.Nataraj started learning vocal in 1953 under Vidwan Sri H.K.Venkatramana Shasthry at the age of 9. Later on started learning violin under Vidwan Sri A.Veerabhadraiah in the year 1954. Continued violin training under Vidwan Sri H.V.Krishnamurthy from 1955 spanning 8 years.
Sri G.Nataraj started performing in 1957. Since then he had been giving solo performances in prestigious sabhas all over the country. His solo performances were relayed in AIR and Doordarshan. He had accompanied many senior artists of the country. He had featured in many National Level Festivals. He was a most sort after 'violin solo artist' of the country.
In 1963, Sri G.Nataraj joined the Ramakrishna Mutt Mission as a 'Bramhachari' to know in depth the way of spiritual life. He was given the name "Bramhachari Durgachaitanya Maharaj". He stayed in the Mutt as an inmate doing spiritual practice and social service. After 9 years of spiritual education and study, he came out in 1971 to lead the life of 'Grihasthaashrama'. This aspect of spiritual enlightenment was a divine force that guided him to lead a successful career as a professional musician.
His wife Smt. N.Lakshmi is a retired employee from the Syndicate Bank.His daughter Smt.Sunitha Ramabhadran is a Project manager in SEIMENS and a qualified vocalist and violinist. His son Sri Amrit.N is a khanjira artist & percussionist of International Fame.
Sri G.Nataraj, apart from his guru's style, followed the impeccable style of 'Sangita Kalanidhi' Sri Dwaram Venkataswamy Naidu Garu. His presentation was filled with rich sound, clarity & 'Shruthi Shuddham'. He had a unique style of rendition that blended the class with mass. His style was simple yet different, attractive and experimental. He had accompanied a lot of Hindusthani concerts too. He drawed inspiration from the Carnatic, Hindustani, Western & Folk styles of Music and tried to adapt them in his playing. He had gained acclamation from critics & audiences. He attributed these as blessings of his parents, his Guru s, his elders and lord almighty for giving fruits to his 'Saadhana'.
He founded 'SRI RAMAKRISHNA SANGEETHA VIDYALAYA' in 1971. Since then he had been training several students in violin. Some of his famous disciples are Sri B.U.Ganesh Prasad, Sri Balu Raghuram (UK), Smt. Sunitha Ramabhadran & many others. Many of his students have taken up the music exams conducted by The Karnataka State Secondary Education Board and have come out with excellent results. His students are performing in concerts too. He had to his credit "Special Multi Violin" programmes where in he used to direct his disciples to perform on stage.
Sri G.Nataraj was a disciplinary. He was a very strict teacher. His main motto to his students was "Punctuality, Regularity & Sincerity". He was very much concerned about the students progress in music & otherwise. He taught several students of various caste & creed. His only aim is to serve for the cause of music and contribute in his own way.
Sri G.Nataraj was a very encouraging person. He used to encourage any upcoming artist and make him/her play with him in his concerts. Many artists who were initially encouraged him to a great extent, have made a mark in the music field today.
Some of the awards he was honoured with were "VIOLIN VAADANA CHATURA", "DHANURVEENA KESARI", "DHANURVEENA KALARATHNA", "TANTRI SWARAMANDALA VAADANA PANCHANANA", "GANA KALAA SHEKARA", "NAADA CHINTAAMANI", "PITILU VAADANA CHATURA", "KARNATAKA KALASHRI", "KALA BHOOSHANA", "TANTRIVAADYA VAADANA NIPUNA", "SAARANGI VAADANA PRAVEENA", "RANGA KALASHRI", "TANTRI VAADYA SAAMRAT", "DHANURVEENA KALA VANI", "KALA JYOTHI", "NADA KALA PARIMALA", "PITILU MAANTRIKA", "SANGITHA KALAA CHANDRIKA", "SANGITHA KALAARAVINDA" and many more.
He was honoured as the "ARTIST OF THE YEAR" by The Bangalore Gayana Samaja in their Annual Music Conference in the year 2000, Prapancha - The World Of Music in the year 2008, by Sri Rama Seva Mandali (Fort high School) Chamarajapet in the year 2008 and by The Karnataka Ganakala Parishat in their Annual Music Conference, in the year 2009.
He was awarded with "HONORARY AWARD" by the Bengaluru Maha Nagara Paalike on the occasion of Sri Kempegowda day, for the year 2005 – 2006.
He was felicitated by many oragnisations like Sri Vidya Ganapathi Seva Samithi (Dodda Ganesha Temple, Basavanagudi) in the year 1996, Sri Dattathreye Kala Samskruthika Kendra and Sri Ramachandra Sangitha Kala Shaale in the year 1998, Sri Durga Parameshwari Nritya Niketan ® (V.V.Puram, Bangalore) in the year 1999, Laya Surabhi Bangalore in the year 1999, Sri Ayyanar College of Music ® Bangalore in the year 1999, Sri Maathru Devi Vishwa Shanthi Ashram in the year 2000, Sri Thyagaraja Sangitha Sabha Charities Trust® Mysore, in the year 2000, Sri Shankara Seva Samithi Tumkur in the year 2000, Sri Rishi Cultural Educational Centre® Bangalore in the year 2001, Raaga Sannidhi Bangalore in the year 2001, Gaana Bhaarathi Mysore in the year 2001,the Syndicate Bank in the year 2002, Sri Amara Bharathi Kalaa Vrinda in the year 2007, Sri Guru Sai Samskruthika Kala Samsthe in the year 2008, Mulukanadu Mahasangha Mysore in the year 2008, Sri Rama Temple Trust (Amruthahalli) Bangalore in the year 2008 & Guru Smruthi Kala Kendra in year 2010.
He passed away on August 31st 2011 due to cardiac arrest.
TNR - Emperor Unassailable
Location: Chennai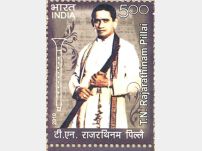 Nature and history has its own inexorable laws and custom. As we remember T N Rajarathinam Pillai (TNR) and his hitherto unsurpassed Thodi today, another loss has been inflicted on us by the snatching away of Pandit Ravishankar. Panditji will definitely be giving the Devas, the Gods and Goddesses a treat as soon as he lands in heaven.
Now………….Thirumarugal Natesapillai Rajarathinam Pillai ,TNR to all, passed away on 12th December, in the year 1956. He came to be known as Thiruvavaduthurai Rajarathinam Pillai and was hailed as the Emperor of the Nagaswaram. His name is so identified with Thodi that one often tends to forget that he could play many ragas with an amazing range and depth. We are given to understand that AIR concerts of his were not time-bound and sometimes broadcasts extended well into late night sessions. It was those days, seemingly yesteryears to some, when nagaswara vidwans played for half-a-day, non-stop. The thavil interludes were their only reprieves. But today's trend tends to use and abuse it in marriages where it is being merely sounded as a "getti melam" at the "muhurtha neram,". Will all this change?
Contrary to the prevailing norms of dress code that had been in vogue for nagaswaram players, who, as temple servants, would dress humbly, TNR often appeared in concerts wearing a shirt and trousers or, on occasions, dressed in a flamboyant manner, very much like a "Maappillai".
Rajarathnam Pillai took a number of younger nagaswaram players as his accompanists. Some of them, such as Kuzhikkarai Pichaiyappa and Karukurichi Arunachalam became highly regarded exponents of nagaswaram on their own. TNR was the first to use the violin as an accompaniment.
It is worth mentioning here that The Tamil Isai Sangam has announced that the annual Isai Perarignar Virudhu for the year 2012 would be given to renowned Nagaswaram artiste M P N Ponnuswamy of Thillana Mohanambal fame. Sangeethabhushanam Samy Dhandapani has been chosen for the Pann Isai Perarignar award.
aarvalan
(aarvalan.sabhash@gmail.com)

About
Sabhash
- Everything about classical music, dance, drama and a platform for inclusive entertainment
Sabhash.com is the one-stop destination for the latest news and information on the performing arts of India - classical music and dance, theatre, bhajans, discourses, folk performances, and other lesser known art forms. Institutions that revolve around the performing arts have exploded in numbers, and thanks to the Internet which has made information easily accessible, the number of rasikas has grown too. Corporate patronage has played a big part in increasing the world-wide reach of the Indian arts. Sabhash wishes to be a platform for inclusive growth giving an equal opportunity and recognition to not only the main performer but also the artistes who accompany them on stage, and the people who work backstage and play the role of unsung heroes.