Directory
Music and Dance Schools

Natya Sankalpaa - Urmila Sathyanarayanan
Location: Chennai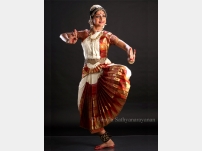 Urmila Sathyanarayanan is perhaps the brightest among the new generation of Bharatanatyam dancers. She is among the most inspired and dedicated Bharatanatyam exponents of her times with dancing experience of over three decades. Urmila has received rave reviews and international acclaim for the perfection and joy of her dance and her captivating stage presence. She is praised for her crisp and precise footwork, the spontaneity and vivaciousness of her facial expressions, her graceful poses, and her deep aramandi which is one of the hallmarks of this dance style. She has conceptualized, choreographed and presented close to a dozen of her own original thematic productions to high critical acclaim.
She has been trained under the guidance of eminent gurus 'Padmashri' K.N. Dandayauthapani Pillai, Kalaimamani Smt. K.J. Sarasa and Padmabhushan Smt. Kalanidhi Narayanan.
Since her debut in 1976, Urmila has presented dozens of recitals in India and abroad and earned excellent reviews from eminent critics. She has danced in practically every dance festival in India. She has also toured extensively in Europe, North America, the Middle East, Australia, Asia, and South Africa.
Urmila has been the recipient of many prestigious awards, including the Nritya Choodamani Award in 2001, the Indian Fine Arts Society's Best Dancer Award in 1992, and the National Eminence Award in 2003 to name only a few. In 2009 the Indian Fine Arts Society awarded her the Best Natyacharya award in recognition of her excellence in teaching, and in 2010, Natya Kalasikhamani for her contribution to the dance field. In addition to her busy performance schedule, Urmila is actively engaged in imparting training to aspiring students at her school Natya Sankalpaa, which is known for its high standards.
Website: www.urmila.in
Facebook page: https://www.facebook.com/urmila.sathyanarayanan
Natya Sankalpaa, a school of Indian classical dance and music in Chennai run by Urmila Sathyanarayanan, was started on April 21st 1996. Natya Sankalpaa, has been imparting Bharatanatyam, Music and Yoga training to students since its inception and has presently has over 120 students on its rolls.
The formal inauguration of the Trust and the first arangetram of Sonali and Mitali Parthasarathy was held in the following year. The guests of honour were Smt. M.S. Subbalakshmi, Dr.Padma Subrahmanyam, Sri. R. Krishnaswamy, and Sri T.C. Parthasarathy.
Since its inception, over 50 students have successfully completed their arangetram. Doyens of the dance and music world have graced the occasion as chief guests and have paid rich tributes to the dancers.
A number of students are now invited to perform solo in prestigious Sabhas in the city during the December season. Students have received encouraging reviews from art critics of leading newspapers who have had the opportunity to witness their programs.
Students of Natya Sankalpaa have been invited by various cultural organizations and trusts to present solo and group performances at festivals conducted in cities in South India. Some of the prestigious programs where students have presented their performances include the Mamallapuram Dance Festival, the Natyanjali Festival, the Kodai Vizha and the Konark Festival.
The institute has come to be recognised for its high quality of teaching and holistic approach which focuses on creating a complete artist. Within a short time of its inception the centre has been recognised as one of excellence for its training and methodology.
Contact:
Natya Sankalpaa,
Old No 6, New No 2, 1st Street,
Kilpauk Garden Road,
(Behind Eden / Shreshta Apartments)
Kilpauk, Chennai 600 010.
Office : 9144.4354.8028
email: natyasankalpaa@gmail.com
Thillai Fine Arts Academy
Location: Newton, USA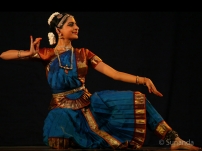 In 1996 Sunanda founded and runs a dance school Thillai Fine Arts Academy in Newton, MA (the Academy was formerly located in Cambridge, MA), where she trains talented students in this classical dance form of India. The Academy has a well-earned reputation for excellence in the Boston area. Many of her students have performed their arangetrams and won awards for dance in US competitions including the prestigious Cleveland Tyagaraja Aradhana festival. In 2011, Sunanda received an award from Lokvani, an online newsletter and resource for the Indian community in the Greater Boston area, for being a dedicated dancer and teacher.
Thillai Fine Arts Academy organized a highly successful a tour in August 1998 of several cities of USA, of the dance presentation DESH choreographed by Guru Rhadha and performed by Sunanda and her sister Sumitra. Called a Marga Darisanam (A Glimpse of the Path) of India's moral and spiritual legacy, DESH was a homage to India in celebration of the 50th year of India's Independence.
Sunanda and her students have raised funds for several Boston area non-profits through widely acclaimed performances and group presentations such as "Desh", "Natya Nandhanam", and "Ramabhirama". Sunanda strives to take her art to mainstream audiences in the US through lecture demonstrations that present the dance form in a meaningful format, and has collaborated with several museums and educational institutions on such initiatives.
Classical music is intrinsic to Bharatanatyam, and Sunanda has had a thorough training in vocal Indian classical music with Gurus Semmangudi Srinivasier, Ramachandriah, maternal grandmother Ananthalakshmi Sadagopan, and Neelakanta Iyer. A leading music company in India, Sangeetha, released a commercial recording of songs sung by sisters Sumitra and Sunanda in 1996.
Contact:
Thillai Fine Arts Academy
Newton, MA
Email: ThillaiFineArts@gmail.com
Viswa Kala Peetam - Ajay nambudiri
Location: Chennai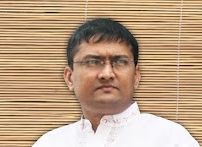 Ajay nambudiri running a dedicated Music school in the name of Viswa Kala Peetam , is in its growing heights under his efforts,guided and supported by his gruji Neyveli R Santhana Gopalan .The centre mainly aims at encouraging young talents in the music field. He take music lessons through online also ,he have students in USA and UK.
Contact:
No. 1060/68th Street. 11th Sector
West K K Nagar.
Chennai-600078
Mobile: +91.94440.22102
email : ajai_nambudiri@yahoo.com
Shivoham school of dance
Location: Milwaukee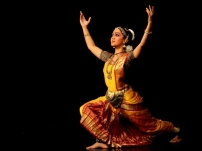 Bharatanatyam classes and BodyRaaga

DANCE . RAAGA . YOGA
Balance Mind and Body.
Enjoy a 'classical cardio' dance workout inspired by Yoga and Bharatanatyam, set to soulful Raagas.
Location:
Danceworks Studio
1661 N Water Street,
Milwaukee, WI 53201
Tuesdays, 7:30 pm
Call: 414-350-3238
Classes also available in Waukesha.Brookfield.New Berlin
Velliyambalam School of Dance
Location: Chennai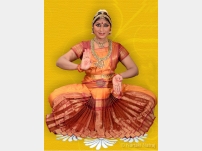 As a mark of her devotion to the Divine dance, Narthaki has named her institution The Velliyambalam School of Gharatanatyam. Here she imparts in-depth training to several talented disciples with the able assistance of her friend and associate Shakthi Bhaskar.
In a life wholly dedicated to the art of Bharatanatyam, Narthaki Nataraj credits all the honors showered on her as recognition of her unwavering spirit and faith.
Contact:
VELLIYAMBALAM
Nadana kalaikkoodam
Moon Light Flats, Old No: 27A-V.S.V. Koil Street,
Mylapore, Chennai – 600 004. INDIA
Phone: +91 44 24660413 Mobile: 94448 44420
Email: narthakiandsakthi@yahoo.com
Narthakisakthi@gmail.com
Web: www.narthakinataraj.com
www.narthakinataraj.in
Shree Padma Nrityam (SPNAPA)
Location: New Jersey, New York, Pennsylvania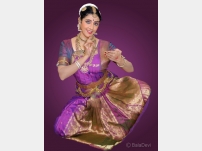 Shree Padma Nrityam Academy of performing Arts Inc. (SPNAPA) based in Princeton, NJ, serves as a facilitator for cultural preservation, presentation, and exchange of ideas for South Asian Performing Arts with a primary focus on Indian classical dance - Bharata Nrityam.
Bala serves as the Artist in Residence at the Carl A Fields Center, Princeton University. Trained under eminent Guru, the noted Bharata Nrityam exponent Dr. Padma Subrahmanyam, Bala works on developing and perfecting the style that would be seamless and fluid while yet retaining the precision, power and purity of line - typical of classical dance. Bala had the unique opportunity to learn the core components of the 108 Karanas (temple sculptures). The Karanas are governed by artistic laws of permanent value of Natya Sastra, which is the specialty of her Guru Dr. Padma Subrahmanyam - whose scholarly thesis on Karanas remains an inspiration to exponents in this field. Bala teaches the revived dance technique translating theoretical concepts into practice based on her Guru Dr. Padma Subrahmanyam's research and teaching. For her dedicated services in promoting art and culture, Bala was conferred with the title "Bharata Nritya Seva Mani" by her Guru Dr. Padma Subrahmanyam.
Bala has been a consistent performer for varied audience across the US, making a significant and discernible impact on the concert platform. She is a panel artist with the New Jersey state council on the Arts. And an active participant in some of the prestigious dance seminars and workshops. She is currently involved in developing "Performing studies" in collaboration with Theater and Dance, History, Philosophy, Linguistic anthropology and Music departments of various Universities in the United States. In addition to being a dancer and choreographer, Bala teaches, conducts workshops and master classes, and develops outreach performances and programs for schools and universities. Her work in the subject area of performing arts is recognized by some of the prestigious Ivy League colleges.
Recognition of Bala's work includes Grant Awards from the New Jersey State Arts Council, Texas commission on the Arts, Ohio Arts Council Apprenticeship Grant, and numerous other state and college awards. She was recently recognized by the National Foundation for Advancement in the Arts for coaching students in exceptional artistic achievements. Bala is recognized as a visionary and evangelist in the arts community for her passion to promote art and her willingness to take on complex and creative artistic challenges. In addition to her artistic endeavors, Bala is a management consultant. SPNAPA is currently involved in productions, which reflect a wide range of artistic expressions, ranging from traditional, modern to inter-cultural collaborations with artists of diverse cultures, countries and in the process striving to build a bridge between diverse cultures and traditions.
Contact:
Ph: +609-430-0301
New Jersey, New York, Pennsylvania
email: info@shreepadmanrityam.org
website: http://www.shreepadmanrityam.org/
Thrayee School of Bharathanatyam
Location: Chennai
Smt.Radhika Shurajit, eldest of the Trio sisters, is one of first and Senior most Disciple of Padmabhushan The Dhananjayans and Padmabhushan Smt.Kalanidhi Narayanan.
Along with her sisters Gayatri and Shobana, has performed in numerous places across India and at several International festivals at Sri Lanka, Nigeria, Germany, USSR, USA, Iraq, South America, Middle East, Europe and Australia.
Presents many Lecture Demonstrations and Art Workshops Spic- Macay / Cosmopolitan organisations and educational Institutions.
Imparting training to many students in her own Institution of Thrayee scholl of bharathanatyam.
Professional performer and teacher with over 30 years experience.
Contact:
Thrayee
School of Bharathanatyam
Plot No.2, Jayaram Avenue, Sasthri Nagar
Chennai - 600 020, India.
Phone : +91.44.2491.1544 +91.98410.84599
Email : radhisurajit@gmail.com
Web : triosisters.com
Maithri Vidya Kendram Academy
Location: Chennai & Singapore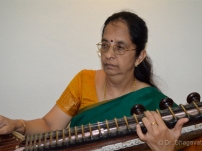 Dr. Bhagavathi Yerramilli - Founder Trustee/Principal - Maithri Vidya Kendram (Academy of Music)
She was with Singapore Indian Fine Arts Society from 1997 to 2001 and has been with the Singapore Kerala Association from 2002-2005. In 2005 she established Maithri Vidhya Kendram.

Her first love is her students with whom she spends most of her time, grooming and educating them in the Indian Fine Arts and Culture.
Maithri Vidya Kendram Academy of Music started as a school of Fine arts in order to provide quality arts education in Karnatic Music.
Sri Rajaram Shreedhar, founder trustee of Maithri educational & charitable trust Chennai, proposed to establish the School of Fine Arts to tap the talents inherent in children.
The school was registered in Singapore in the year 2005. We have recently opened a branch in Chennai, India this year.
The main aim of the music school is to develop the artistic talents of children regardless of race, religion and nationality.
As such, MVK fine arts has been successful in nurturing young artists, providing them a platform to realize and develop their potential.
The school conducts veena, vocal, and keyboard classes to give the students variety and an opportunity to explore the various Indian music portals.
To date, MVK has given many performances and being a centre of fine arts, it has indeed been able to bring out the best of our local talents included that of a Chinese Singapore National, by the name of Mr Low Kok Leon who completed his Bachelors of Music in the University of Madras under our principals guidance. This itself proves that Music has no language barrier.
In the year 2003, 2 of MVK's students Ms Anparasi Tirugyanam and Ms Rathi Radhakrishnan performed their arangetrams each being held only 1 week apart. The guest of honors for the program were none other than our principals parents and teacher Late Smt. Kalpakam Swaminathan, showing the importance of matha, pitha, guru deivam.
Many of our students had competed for the National Arts council prize and a few made it to the top finals both in vocal and veena competitions.
We are proud to say the school has a current strength of 125 students and is still growing.
We also conduct yearly exams held in September in both practical and theory, before an invited external examiner from India.
The students take part in yearly performances during Navarathri holidays as well as the school's Academy Day.

Contact:
CHENNAI, INDIA
Office:

Plot No.: 2, 4th Kulakkarai street, Lakshmi puram,
Chromepet,Chennai-600044
Ph: +91.98407.44702/+91.99402.91623
Email: mvkchennai@gmail.com
SINGAPORE
Office:
Kids IQ, Vista Point, Block 548,
02-25, Woodlands drive 44, Singapore 730548
Home:

Block 315, #11-137, Clementi,
Avenue 4, Singapore 120315
Ph: +65.6600.6626 / +65.9637.9475/+65.9673.9175
Email: mvksingapore@gmail.com
Web: http://www.mvkfinearts.com
SriPaadham Academy of Dance
Location: Chennai
Different approach to Classical Dance with Devotion
SriPaadham Academy of Dance aims to impart sound training in the technique of Bharatha Natyam and its nuanced expression. Introducing the dancer to the history of this ancient dance, our training focuses on dance as a communicative device that recreates and articulates the rich body of Indian legend and mythology. With the emphasis on dance as a visual language, we also encourage students to think and express ideas through this medium after undergoing research and accumulating lateral thorough knowledge on the subject they take as a theme for performance. Our broader goal is to impart the art with scientific reasoning and modern thoughts which has not been attempted before by anyone in the field of dance.
The academy consists of students from grades 1-12 and adults. The students are trained in "NRITTA" (Dance Movement) and Abhinaya (narrative expression) of Bharatha Natyam. Simultaneously, the students take lessons on the cultural history of India, Bharatha Natyam and its significance, the language of gestures and movements, Indian mythology, and other classical dance forms.
Syllabus provides an understanding of the broader context of Bharatha Natyam while locating it within the larger realm of Indian Performing Arts. Sri Paadham follows the Vazhuvoor style of Bharatha Natyam.
The initial period of training involves learning all of the basic steps (adavus) or movement patterns. Intermediate level students are introduced to traditional items in the Bharatha Natyam repertoire which is further expanded at the advanced level. The training gives equal importance to movement and communicative aspects of Bharatha Natyam.
The end of the academic year is marked by the annual recital where the students get to perform . During the course of the year, senior students get the opportunity to perform at various venues and dance festivals worldwide.
Sri Paadham gives opportunities to its students to do intense research on various topics which has not been attempted by others before, Guru Shri Zakir Hussain himself involves in leading the research and composing songs and converting them to soulful performances which will be remembered by one and all.
Contact:
Zakir Hussain, Founder & Director
Ph: +91.98840.97473
Mrs. Lakshmi Venkatesh, Director
Ph: +91.98841.03030
Address: 10, Pushpa Nagar Ist Street
Nungambakkam
Chennai - 600 034.
Tamil Nadu, India
E-mail:info@sripaadham.org
Website: http://www.sripaadham.org
Hamsanadam
Location: Chennai
'HAMSANADAM' a school for music, has been functioning for nearly two decades at Mandaivelipakkam, Chennai. It aims to promote and create cultural awareness and appreciation of carnatic music, especially among children. Its Founder Director is a renowned carnatic musician, Dr. Shubha Ganesan, who is the disciple of Sangeetha Kalanidhi Sri T N Seshagopalan. The school organizes students' performances, quiz programmes and concerts by eminent artists every year.
Thyagaraja Aradhana in association with TAMBRAS is being conducted every year, where students from other music schools also are given a chance to participate. Pancharathna Krithis are rendered by eminent artistes. Concerts of many top-notch senior vidwans like Padmabhushan Madurai T N Seshagopalan, 'Sangeetha Kalanidhi T.V. Sankaranarayanan, Sangitha Kalanidhi (Late) T K Govinda Rao, Sangitha Kalanidhi R Vedavalli, Vidhwan Sri, O S Thyagarajan, Lalgudi G J R Krishnan , Lalgudi Vijayalakshmi, Sangitha Kalanidhi N Ramani and others are also held as a matter of routine.
Hamsanadam's special 'Tamil Isai Vizha' that was held was presided over by Sangeetha Kalanidhi's Sikkil Sisters and Dr Sirkazhi Sivachidambaram. Special Thevaram concerts by Odhuvars were featured in the series in addition to thematic Tamil Isai concerts.
Await for news about Hamsanadam's Thyagaraja Aradhana which will be conducted in the month of August/September, 2013.
It is located at :
Flat 1, 3rd Floor, Door No. 6/11,
Norton First Street, "Mandaveli Indira Arcade",
Mandaivelipakkam, Chennai 600 028.
Contact :
Mobile : 94449 22234
Email : shubhaganesan@gmail.com

About
Sabhash
- Everything about classical music, dance, drama and a platform for inclusive entertainment
Sabhash.com is the one-stop destination for the latest news and information on the performing arts of India - classical music and dance, theatre, bhajans, discourses, folk performances, and other lesser known art forms. Institutions that revolve around the performing arts have exploded in numbers, and thanks to the Internet which has made information easily accessible, the number of rasikas has grown too. Corporate patronage has played a big part in increasing the world-wide reach of the Indian arts. Sabhash wishes to be a platform for inclusive growth giving an equal opportunity and recognition to not only the main performer but also the artistes who accompany them on stage, and the people who work backstage and play the role of unsung heroes.