Rising Star Sumithra Vasudev - by Lakshmi Venkatraman
11 July, 2012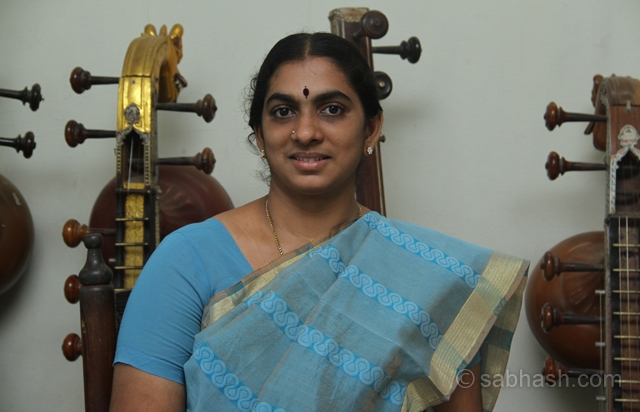 Sumithra Vasudev has been winning appreciation and admiration from discerning Rasikas for her adherence to classical values of Carnatic music, her proper pronunciation of the lyrics, clarity of voice etc. How did she achieve this distinction?
Sumitra has been steeped in Carnatic music since childhood. While her paternal grandmother Janakam Chari was teaching music, baby Sumithra used to hang around; she seemed to have learnt to sing almost unaware of it herself. Her mother Padmaja Vasudev, who had learnt vocal music and veena in Mumbai, had continued with the vocation and has been teaching since moving to Chennai after marriage.
In 1989 mother and daughter happened to meet renowned Carnatic artiste Smt. Vedavalli at a wedding, when Padmaja told her that her daughter could sing. Vedavalli had said that she was busy as there was just a couple of months for the December season to begin and she could not begin teaching her then. "We can wait; but we would like you to just listen to her sing". And so young Sumithra, all of 8, sang Muthuswami Dikshitar's Begada Raga Kriti 'Vallabhanayakasya'. Well, that did it. Vedavalli decided to start teaching her right away then and there. She started with Varnams and Kritis. Just three months later the youngster was given a chance to sing the Atana Raga Navagraha Kriti 'Brihaspate' at a programme of Navagraha Kritis presented by Smt. Vedavalli at the Indian Fine Arts Society.
"It has been my great good fortune to have become her disciple. From the beginning it has been like a Gurukulam; immediately after coming back from school I'd rush to her house and just be there while she teaches her students or sings herself", said Sumithra with a happy smile. She had her first concert in 1991 itself at the chamber music programmes conducted by S.V. Krishnan at Bheemasena Garden. Later after starting Ragasudha near Nageswara Rao Park in Mylapore also he encouraged her with quite a few concerts.
The very next year she had an opportunity to perform at the Spirit of Youth series at the Music Academy, Madras and which earned her a prize. She used to sing at her Guru's lec-dems and also help in her research work by taking down dictations etc. Much of the research has been on the practical side such as how a Raga should be sung, what are its characteristic Swaras, how to bring about the Swaroopa of the Raga and so on. Vedavalli has had strong convictions about these aspects and Sumithra has been a loyal follower. She has been rendering vocal support to her Guru in almost all her concerts since many years now.
Sumithra has not neglected her academic studies either. She has a post graduate degree in Sanskrit. Why Sanskrit? Perhaps because her mother is a Sanskrit graduate. When Sumithra had just completed her X Std. she attended Samskritabharathi's 10-day Sanskrit conversation course; she became quite good in it that she herself became adept in teaching conversational Sanskrit. She also made a number of good friends there, all of which led her take up that language after completing XII Std and join the Queen Mary's College.
She is a committee member of the Samskritaranga, established by Dr. V. Raghavan, which is at present being run by his daughter Smt. Nandini Ramani. She has been singing for all their plays. Two CDs have been released in her voice - one with the Sanskirt compositions of Dr.Raghavan and another with Slokas written by him.
What next? Ph.D. of course; "I want to combine music and Sanskrit in my research", she says. Currently she is specialising Ragam, Tanam, Pallavi singing with the guidance of Vidwan B. Krishnamurthy under Sangeeth Nataka Academy Fellowship.
She has won recognition at the annual conference of the Music Academy, Madras in 2011 by winning the Best Sub-senior musician award and the prize for the Best lec-dem, the topic for which was the 'Role of Gamakas'. The same year also saw her receive 'Sangeetha Kala Ratna' at the Cleveland Thyagaraja Aradhana festival. In 2008 Bharat Kalachar honoured her with 'Yuvakala Bharathi' award. She is an A-grade artiste of the All India Radio. Recently a CD "Tasmai Sri Gurave Namaha' has been released with Sumithra rendering Kritis on Guru by various composers.
Sumithra, her brother and her mother together have recently founded 'Jignyasa' Trust with the aim to create awareness for classical music among general public and also encourage research studies. The Trust conducted one programme with Mridanga artiste Arun Prakash demonstrating what/how to play the percussion accompaniment at different points in a concert.
Sumithra is married to Bharatha Natyam dancer Vijay Madhavan, who is a great support to her musical journey along with his parents. She has two sons; the first one learns to play the violin, while the second son is too young for it right now.
Music lovers look forward to her reaching greater heights in her career and Sabhash.com wishes her all the best.

About
Sabhash
- Everything about classical music, dance, drama and a platform for inclusive entertainment
Sabhash.com is the one-stop destination for the latest news and information on the performing arts of India - classical music and dance, theatre, bhajans, discourses, folk performances, and other lesser known art forms. Institutions that revolve around the performing arts have exploded in numbers, and thanks to the Internet which has made information easily accessible, the number of rasikas has grown too. Corporate patronage has played a big part in increasing the world-wide reach of the Indian arts. Sabhash wishes to be a platform for inclusive growth giving an equal opportunity and recognition to not only the main performer but also the artistes who accompany them on stage, and the people who work backstage and play the role of unsung heroes.