Hanuman's Ramayana and Beyond....
07 December, 2012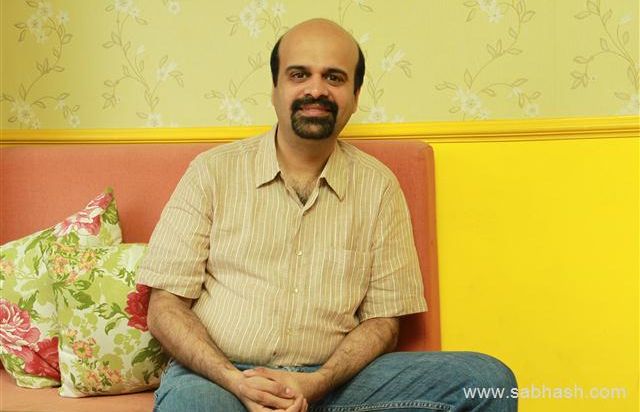 *******************************************************************
The story-teller is in town….Must come, Must see
கதை கதையாம் காரணமாம்.......கதை கேட்க வாரீர் திரண்டு…………..
*******************************************************************
Have you heard this story? It is all about the familiar Ramayana.
Anil Srinivasan, the proficient pianist, begins talking.
Pray, listen.
It is Hanuman's Ramayana. The story goes like this. Valmiki gets extremely proud on completing that magnum opus, the Ramayana. He develops within himself an unspeakable arrogance. I am the numero uno in this world. All devas are at my feet (எடுத்தெறிந்து பேசுகிறார்). A kind of obnoxious arrogance, if I may use that word, starts occupying his mind. The devas approach MahaVishnu to get this annulled. And Mahavishnu directs them to the Sage Narada, problem-solver to some and problem- creator to many. And Narada addresses Valmiki thus : Oh! Valmiki. Listen to me. There is someone else who has totally outwitted you. Valmiki blinks and blinks. Ultimately curiosity gets the better of him and he agrees to visit his competitor. It is none other than Hanuman. Hanuman is enjoying his existence among plantain trees busying himself there. Those plantain leaves carry inscriptions. Lo and Behold! That is the Ramayana. A closer view, ringside view, the closest of close shots, unlike that of Valmiki…..Now Now…..What is all this and Valmiki reads this bit and then the other. And is in tears. Hanuman walks casually and goes near Valmiki. Oh! Tears in an achiever's eyes. Why? Why? Valmiki makes a confession and admits thus: Your Ramayana is the best, and the real one, dear Hanuman. So saying he is watching Hanuman perform a destructive act: What act was that? Ha! Ha! Keep guessing. Or better go over to Narada Gana Sabha Main Hall on December 9th to know all about it. (வெள்ளித் திரையில் காண வாருங்கள்)
Come with your friends and foes!
Anil Srinivasan stops at this point and indulges in a subject-switch………….
My small aim is to enlighten the public and the participants about the sorry state of affairs prevailing today. Ramayana is only used as a metaphor here. These days all artistes in all fields are seized by an aggressive approach towards self-promotion, self-aggrandizement. Will this, then be an eye-opener? You mean the Hanuman story? Yes, it will. But only if people are willing to "open" their ears and that naughty minds of theirs. Speaking of music, I will have to remind that all musicians are brought into this world with a "karma" written on their foreheads -That of providing music. That is it. And another sorry state of affairs came to my attention when I read an article in the New York Times. A classical musician of the western world has expressed his remorse at the "state of his art" over there. It is dying, he says. Imagine our condition then. Hence this project. Of course, I should thank Kartik Fine Arts for backing me.
About the participants……………..
Anusha Pradeep happens to be the grand daughter of Musiri and a student of Brindamma (and Vegavahini Madam). Two strong streams are therefore into her. I am proud to be associated with an artiste of Brindamma's tradition during Brindamma's centenary year. You should listen to Anusha's Saakhshath (Mokshamu Galadha, Saramathi) to believe this.
Vedanth is a student of Neyveli Santhanagopalan and has been fortunate enough to be the foremost disciple of Sri Ramamurthy Rao who is known for his Hindustani Music in Chennai.
Navin Iyer is a brilliant flutist and the disciple of N Kesi.
Tablist Aditya learnt under Yogesh Shamshi who belongs to the Alla Rakka Khan Saheb tradition. Ustad Alla Rakka is the father of Ustad Zakir Hussain.
Have I therefore made my point! The average age of the participants is around 26, me excluded. I want the message to reach the younger generation through the younger generation. And my target is catch them young! Marketing Objective? - No. But a noble objective to reach the young. These youngsters have participated like anything and their friends would definitely come in large numbers. They are too young to organize something like this and I am only functioning as a good friend of theirs. After all the entire story is important: not the story teller or any one else for that matter.
A national dimension………………..
That is what I think and hope would happen. I have included the compositions of Thyagaraja, and Kabir and Mira with this in mind and have thus made it as broad-based as I could. This concept has to reach out to the whole of India.
About his other collaborations………
Collaborations- Well they are processes and deep processes at that. Gurucharan and I have put in not less than 6 years of hard work and only then have we been able to bring out something of lasting value. Collaborations are, in the ultimate analysis like a marriage. There is a lot of internal dynamics involved. What You See Is Not What Is Real! Collaborations need plenty of rehearsals. I have collaborated with Mandolin Srinivas, of course Gurucharan, Ravikiran and GJR Krishnan.
Unlike some other flimsy collaborations that are rhythm-based and noise-based, ours would be entirely different. Soothing, altogether soothing and melodious. You remember the languorous mood created by an MDR. That is what we seek to achieve. No. None of the" gajabadex" kind of breathless exercises. We want you to close your eyes, relax and forget yourself and get transported.
Your projects for children………
I am jointly functioning with Dr. Sudha Raja, a student of Sri M B Srinivasan and who was a member of his choir, on this. Our first approaches have been made to PSBB and Bhavans. They have responded very well. Even Sunshine Academy and a few school s from Perambur are into it.
The idea is to make music part of the curriculum. It could be music and maths, music and physics and so on. We want to inculcate musical ideas into the minds of children. That is at the level of LKG to 2nd standard. We will be definitely using the lovely made-for-children compositions of Sri V V Sadagopan.
Now it is like this. A triangle could be construed to mean "tha ki ta" and square could mean "tha kita thi mi" and these could then be extended to mean other tala aspects. Music could thus become brain exercises. Identification becomes easier.
And those graduating in music from these music colleges have to eke out a living. Think of them. Can't we think in terms of a decent salary for them and they are further left free to pursue their interests in the evenings? A dream run for them! A viable career! Getting back the dignity of labour associated with music and getting it the assigned value. Long-term aim? Certainly. It would further the teachers' loyalty to music. We want a strong curriculum backed by good administrative set-up that would assist in its functioning.
Other missions…………..
I have held a series of lectures at the Scotland Royal Conservatory and at Liverpool too. The topic was "Discover Indian Music". I taught the students who belonged to the graduate school and post-graduate schools ideas of "our" music and sought to approach it through "their" music which was naturally more familiar to them. A one week course it was. They were even taught to dwell on the alapanas. I chose the Raga Simhendramadhyamam. Yes. They were able to "realize" our world of music and came to know that Indian music extends much beyond Bollywood music.
I do not wish to be known as a Carnatic musician and I am not, though I talk and collaborate through that idiom. Yes. I think I am a good "musician". I do not play Carnatic concerts on the piano and the piano is ill-suited for that. Why should we put all the strain on that instrument? (அது பாவம் சார்!)
And dear youngsters – Get back to your senses.
Understand that more is not necessarily better.
Be responsible.
Listen to good and wholesome music.
Hope to see you all on December 9th at the Narada Gana Sabha Main Hall!
aarvalan
(aarvalan.sabhash@gmail.com)

About
Sabhash
- Everything about classical music, dance, drama and a platform for inclusive entertainment
Sabhash.com is the one-stop destination for the latest news and information on the performing arts of India - classical music and dance, theatre, bhajans, discourses, folk performances, and other lesser known art forms. Institutions that revolve around the performing arts have exploded in numbers, and thanks to the Internet which has made information easily accessible, the number of rasikas has grown too. Corporate patronage has played a big part in increasing the world-wide reach of the Indian arts. Sabhash wishes to be a platform for inclusive growth giving an equal opportunity and recognition to not only the main performer but also the artistes who accompany them on stage, and the people who work backstage and play the role of unsung heroes.