Kuldeep Pai.....His Views And Inner Calling
15 December, 2012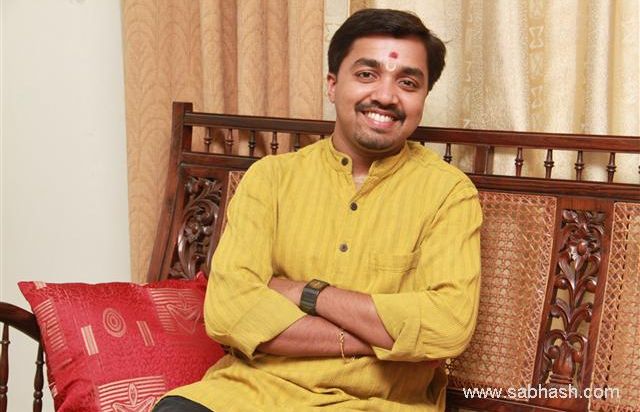 Kuldeep Pai came to Chennai as a youngster without any backing, but, with good proficiency in Carnatic Music and a lot of self confidence. After giving varied performances for almost ten years, he has his own Private Limited Company, and a recording theatre wherein he composes music and orchestrates songs for mobile phone companies. He openly talks about his inner calling and future project.
Tell me about your early life, musical background and training.
My family is from Kochi and my mother tongue is Konkani. My mother's side of the family, has absolutely no musical knowledge. In my father's side, they sing sampradaya bhajans. But they both encouraged me. When I wanted music as a career, there was a little bit of misgiving but by God's grace, it has shaped out well.
I did my schooling and Bachelor's degree in Kochi. I started learning music at the age of three, believe it or not, from Antony master and later from Shamsuddin master for about ten years.
What kind of music did you learn from them?
It is pure Carnatic vocal music, and with Shamsuddin master, I learnt lots of varnams and kritis and also up to manodharma level. Then I learnt hard core music from Cochin N P Ramaswamy Sir . After I moved to Chennai eleven years back, I learnt a little bit from Sri PSN, Sri TKG and Sri OST. I did my Master's in Music from Madras University and also took a Diploma course in Sound Engineering. Now I listen to lot of concerts of stalwarts and my heart is in sahithya oriented singing.
Did you learn to play any instrument and when did you start performing and did you enjoy it?
I learnt violin in Kochi and used to perform also. I can play the harmonium too. Initially when I came to Chennai, I accompanied singers like O S Arun, S Janaki, and Vani Jayaram on harmonium for 3 to 4 years, for about 200 concerts. I also learnt to play the Mridangam from Mannargudi Eswaran Sir, and I still go to him for some laya practices for my new venture. My singing for dance performance started with Madurai Muralidhar. For almost eight years I have sung, right from debut to top ranking dancers. There are lots of positives in that. When you sing the same line for a number of times, especially for a good dancer, for the sanchari, you are able to visualize it and bring the right mood into the sahithya with step by step improvisation, according to the body movement. The creative side in us comes out in showing different rasas while singing. Right now I have stopped it except for one commitment to a Kuchipudi dancer on 4th Jan next year. Another positive aspect is, I have travelled across the globe with dancers and I got many contacts and offers due to that. I have also composed, sung, and recorded music for Sheela UnniKrishnan's Sri Krishna Vaibhavam, a dance drama.
Why aren't you giving many vocal concerts this year? Once out of circulation won't you be forgotten?
No. When I first released my CD Adhvithiya I got offers from 12 sabhas. So I have the full confidence in myself. My view, whether right or wrong, is that there is nothing more we can do, but present the compositions of all our great composers with the same bhakti or whatever bhava they visualized them in. For example, if I want to sing Brocevaru Evarura, I first have to understand the meaning fully, and practice again and again till I get the perception the composer, which I visualize. Again that is not possible if the inner feeling is not there. In my experience it reaches 90% of the audience and has lasting impact. I am thinking in those lines now and whatever contribution is possible I want to do in that direction. For the sake of manodharma, sahithyam should not suffer and music should be suitable to the context. For example, if we understand the depth in the meaning of the kriti Nidhi Cala Sukhama we will not be singing it after accepting a lakh of rupees for a marriage concert. I want to reiterate here that this is my view.
How many songs are you ready with, in that direction?
Now after learning hundreds of songs, when this thought came to me, it is almost like undoing and redoing everything. If a particular sangathi does not suit the sahithyam, it has to be dropped. May be I have about fifty kritis in my pocket that way. I have a desire to record these kritis in my own recording theatre which I have at home. In a couple of years I will start releasing it, and even after 10 years, whoever listens to it should say that this is an authentic version and he has done justice to it. My idea is that it becomes like an audio kriti bank or library. I am confident that whatever happiness I get in this, can be transferred to others. I am also 100% sure that the trinitys' Atma will bless me. Please don't think this is arrogance, but this is my humble vision.
What sort of composing are you doing now and how packed is your time?
I am into music 24*7 and I am fortunate to have an understanding wife and parents. Composing is my forte now. However busy I am, I devote time everyday for my practice. Right now I am very busy composing music for mobile operators and it is a time bound project. There are two sections in this. One is replication of devotional songs like Harivarasanam with new orchestra. I am getting other singers to sing for these. The other is picking songs like Ni Dayarada or Ye Teeruga Nanu and do orchestration without marring the lyrical content, or drowning the sahithyam. The mobile operators will be using them for caller tunes, downloads, and also they have direct tie-up with You Tube. I am updating myself on technology, and also on the western music side for doing orchestration. I am learning from Ganapathy Sir of Raja Sir's troupe and Henry Kuruvilla of ARR's troupe. It is a blend of old and new. I have also composed and sung a song for a multilingual Swiss film, wherein the hero is a Tamilian!!
Who is your favourite artiste?
As I told you, for me Bhakti bhavam is what matters. When I sing I feel that the devotion should reach the ultimate listener. In that way I like M S Subbalakshmi amma's rendition which is very touching. Without the bhakti bahavam she could not have reached this level. Her Suprabhatam is being played even now. All that is Anugraham.
*****************************
We can conclude for sure that it is not only MSS' Suprabhatam or Annamacarya kritis, but other exclusive renderings of other artistes, like Harivarasanam, Jagadoddarana, Varugalamo etc., soaked in Bhakthi and many other kritis of the trinity, Bharatiyar songs etc. also have lasting listenership.
Uma Krishnaswamy

About
Sabhash
- Everything about classical music, dance, drama and a platform for inclusive entertainment
Sabhash.com is the one-stop destination for the latest news and information on the performing arts of India - classical music and dance, theatre, bhajans, discourses, folk performances, and other lesser known art forms. Institutions that revolve around the performing arts have exploded in numbers, and thanks to the Internet which has made information easily accessible, the number of rasikas has grown too. Corporate patronage has played a big part in increasing the world-wide reach of the Indian arts. Sabhash wishes to be a platform for inclusive growth giving an equal opportunity and recognition to not only the main performer but also the artistes who accompany them on stage, and the people who work backstage and play the role of unsung heroes.