Muthuswami Dikshithar - the subtleties, the profundity of his thought, the continuous Advaitic thread - by Dr. R. Asha (Sivasree)
08 January, 2013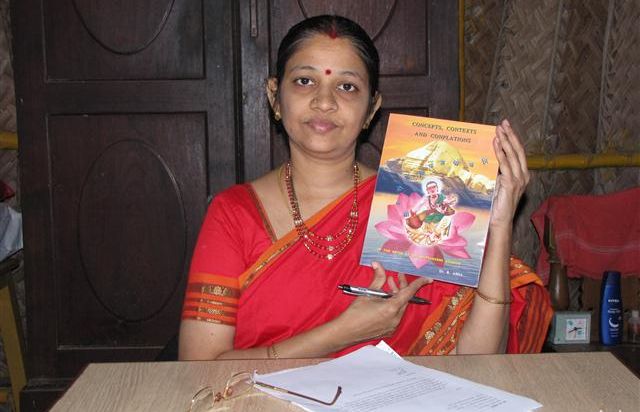 Dr. R. Asha (Sivasree) is the grand-daughter of the Vedic scholar Sri V.N. Subramanya Iyer. Born to parents who nourished her academically, culturally and spiritually, Asha was an exceptionally outstanding student from her school days. She has a B.Sc in Chemistry and an M.A. and M.Phil in Sanskrit. Musical exponent Smt. Seetha Narayanan and the veteran veena vidhushi "Dikshitarini', Smt. Kalpagam Swaminathan sowed the seeds of her musical sop¢nam (ladder). She expanded her artistic sphere by learning classical dance forms such as Bharatanatyam, Kuchipudi and Mohiniyattam. These enriched her aesthetic sensibilities and offered deep, valuable perceptions into art and the efflorescence of Indian culture.
Vedantic study during her M.A in the Department of Sanskrit, University of Madras, furthered her intuitive insights into philosophy and art. It enabled her to embark upon the study of the mystic-philosopher-musician, Nada Yogi Muthuswami Dikshithar. She was awarded the prestigious Jawaharlal Nehru scholarship for Doctoral Studies from the Jawaharlal Nehru Memorial Fund, New Delhi to pursue her doctorate on the kritis of Sri Muthuswami Dikshithar under the guidance of Dr. E.R. Ramabai, former Professor and Head of the Department of Sanskrit, University of Madras, which she completed in 1999. She is presently associated with Adi Sankara Advaita Research Centre, Chennai.
She can be reached at asharsree@ gmail.com
She talked to sabhash elaborately on her research theme.
Read on………
What prompted you into this research topic? Some event or incident or was it something routine?
Probably my exposure to Vedanta during my M.A. in Sanskrit at the Madras University. The expositions of Dr. N. Veezhinathan were absolutely stunning and at the same time understandable even to a novice like me who incidentally was not even a B.A. in Sanskrit. I was also fortunate enough to get 2 other preceptors, one Dr. E.R. Rama Bai, my supervisor and the other Smt. Seetha Narayanan, my music guru. Dr. E.R. Rama Bai with her ever enquiring mind into varied and different topics of research used to goad me to think 'differently'. Any topic, she was game, be it arts or architecture, science or philosophy, ancient or modern, in Sanskrit literature. Smt. Seetha Narayanan's love for Sanskrit, bhava purna rendering of Dikshitar kritis, all this also had a role. Ultimately, I would say a favourable and 'divinely orchestrated' concatenation of circumstances.
Did you 'know' Dikshita before taking up this topic? In what way?
As with any other student of music, I was taught Dikshitar kritis. But my understanding was only a casual one.
Research perspective – on what lines?
Once my interest in Advaita and Dikshita was kindled, I perused the available material on the subject that were by the scholars had worked on Dikshita. Somehow, I felt that the subtleties, the profundity of his thought, the continuous Advaitic thread running through his kritis had not been completely explored and exposed. So, I decided to focus on that aspect.
What has been his image after the research?
As my research progressed, respect and reverence mounted steadily culminating in amazement and awe, not only for him but also for other great mahans who had enriched and sustained our culture and its tradition. I am proud to be a part of this Great Indian Tradition and also thankful to God for showing me such glimpses of highest philosophical truths, artistic depths and cultural values that are a hallmark of our mother land.
Do you have a sense of completeness? If not what else is in your mind? Task ahead?
No, I feel my journey has only commenced. Right now, I am writing a monthly series on the Kamakshi kritis of Dikshitar titled 'In Adoration of Kamakshi' in the 'Voice of Kamakoti' published by The Adi Sankara Advaita Research Centre, Chennai. That by itself has opened up new vistas of explorations which I hope to traverse with the grace of gurus.
Who are the persons whom you have consulted and learnt from? What did they offer to help you carrying out your job? And any hindrances you have faced?
Apart from my professors at the Department of Sanskrit, University of Madras, I had occasion to consult scholars like Dr. P.K. Sundaram, Dr. M. Narasimhachary, Dr. R. Thiagarajan, late Sri T.S. Parthasarathy (musicologist), Prof. R. Sathyanarayana and others. Parthasarathy mama gave generous guidance on already available research. Dr. V. Raghavan's works on the subject were also very much helpful - especially his mahakavya on Dikshita. And my guru Sri Pinayur Narayana Sastri of Karunananda Mandali, Chennai was a constant source of unflagging encouragement. Though traditional to the core, he was very keen on my academic and professional advancement. He patiently went through all kritis especially explaining aspects of Srividya. Of course that is an esoteric subject, the depths of which cannot be explicitly mentioned. I am humbled and extremely grateful to God for having brought me into contact with such great mahans and scholars. My husband, Dr. P. Gopalakrishnan, Prof. in Sanskrit, Madras Christian College, Tambaram has been with me throughout thick and thin, ever encouraging and supportive. Persistent health problems are the only hindrances.
You have learnt music and obviously Dikshitar kritis, from Seetha Narayanan? How has it aided your research?
Seetha Mami has been much more than a teacher to me. She still is. I have always marvelled at her depth of bhava, adherence to sampradaya, respect for great men and catholicity of outlook.
I also had the good fortune to learn under veena vidushi, the Dikshitarini Smt. Kalpagam Swaminathan, albeit during her last years. She was very gracious enough to allow me to speak and sing along with her in her lec-dems on Dikshitar. That has deepened my understanding of Dikshitar sahitya, Of late, Providence has also brought me into contact with another great vidwan Prof. S.R. Janakiraman.
Could all this become overhead transmission? Mere academic interest? What is there for the ordinary but sincere rasika, say of carnatic music or of Dikshitar? Enna phalasruti by this research?
Dikshita's compositions are priceless, perennial treasures. Amidst turbulent times of bewildering change, he reinstated the eternally relevant paths to steadiness, peace and fulfilment. This work is sure to interest various categories of people.
For a layman, it creates awareness of our musical, lyrical, cultural and philosophical traditions. Especially, it draws his attention to the greatness of the sahitya of our great saints and reveals their inherent concern for the welfare of all (which is why they have taken pains to put such lofty ideas and values in a musical form, accessible to the common man).
For a rasika, it opens up and immerses him in the farthest depths of sahitya-sagara. Far from being just casually aware of Dikshitar's greatness, it exposes him to the full range of Dikshitar's thought-processes which is very essential. A rasika's aesthetic delight usually is confined to the 'sangita'. Our composers have laid equal emphasis on both 'sangita and sahitya'. A rasika is already blessed because of his inclination to music (which too is only a gift of grace, I would say). When such is the case , if only a little more widening of perspective and sahitya – appreciation is also combined, the aesthetic and spiritual delight will increase manifold as Tyagaraja said in 'Inta saukhyamani' – misramu chesi bujiyinche..........
For a singer, it is imperative that he spares no efforts to understand the lyrics of the songs. On one hand while it will enhance the quality of rendition greatly, it will also enable him to feel the bhava of the composer. Once he experiences it, it will definitely be conveyed to the audience.
For a devotee, of course, since all of Dikshita's compositions are on the form of deities, it will be really a treat to sing or listen to them. Further, the section on mystic significance of temple and deities will also be of great help.
For a culture aficionado, the kritis are a treasure trove of all that characterizes our culture. Dikshitar (perhaps in response to the turbulent times he lived in) encapsulates, embodies, elucidates (as if he intended to extensively document various facets of Indian thought like Vedanta, Srividya, temple worship, music, the language of Sanskrit).
For students, it is a veritable compendium and for scholars also the kritis offer intellectual delight
For someone interested in philosophy, it spares him the effort to trace out and study laborious texts as the first and second chapters deal with concepts related to Advaita and Srividya substantiated with authoritative texts. On a general note, it can even serve to induce, to kindle an interest in these and other subjects.
For a seasoned philosopher, it is a 'gourmet' delight to see the enunciation of abstruse concepts in musical form.
For the aesthete, it reveals the lyrical beauty from the point of view of poetics, beauty of construction, the use of literary excellences and also the expert skill in weaving various ideas through music.
For the Sanskrit lover, of course, it is self explanatory.
Ultimately paatthomna, we are all (whatever field or category we may belong to) exhorted to be seekers of Truth. Self-enquiry or Vedantic study is advocated of course preceded by karma and bhakti. The last chapter gives a summary of all these ideas. In fact Dikshitar (in one of his rare direct addresses to the listener), reiterates the eternal Indian ideal of 'Arise, awake and stop not till the goal (of realisation) is reached. WE ARE MEANT TO EVOLVE. For a seeker - all yogic and religious practices aim at cultivating sattvaguna. Every being is an admixture of the three gunas - sattva, rajas and tamas. These have to be successively transcended. There has of course been awareness of the greatness of Dikshitar kritis but the depths have not yet been explored. Embedded with mantras these kritis rendered with purity and devotion will give auspiciousness and like stotras on deities they can be effectively chanted for all purposes.
Had you been to Ettayapuram or to Varanasi and if so what had been your experience?
Yes I have been to Ettayapuram. I took along my sruti box and thankfully when we, my parents and I reached, it was silent and calm. No disturbance whatsoever. Somehow, it was like homecoming, as the Upanishad says, the jiva like the bird flies far, wide and high all day and at night returns to its nest. I closed my eyes and sang 'Meenakshi memudam.....'. His samadhi, the drone of sruti amidst calm..... a stillness, an ambience ......... what shall I say?
No, I have not been to Varanasi yet. But..... an equal and enriching experience was accorded to me, when I was learning the magnum opus 'Kashi Visvesvara' in Kambhoji under Kalpagam mami. Wow! What a kriti! More like a pallavi. Learning it itself was a veritable 'Kashi yatra'. Kashi the most holiest of the holiest, enshrining the grand Visvesvara, the majestic Lord of the Universe. And learning such a kriti, in such a raga, by such a composer and under no less than the 'Dikshitarini' herself was truly a Kashi yatra. Kashi symbolizes all that is cardinal and central to Hindu religious thought, fundamentally a quest culminating in the acme of self-discovery and universal experience. My Kashi yatra still continues...
And anything more you wish to add............
The workings of Fate are indeed mysterious. I am basically a B.Sc in Chemistry, a top ranker from Ethiraj College, Chennai. Actually, earlier, I had applied and was admitted to WCC. But since my close friend shifted to Ethiraj which offered Sanskrit as a language, I too followed suit! Though it may seem funny now, me and my friends actually applied to Oxford in London for higher studies! But Fate obviously had other ideas. I was also learning dance and somehow got this 'wild' idea of doing some dance-related research in Sanskrit.
What started off as a casual interest in Sanskrit (we had a good lecturer at Ethiraj), deepened in the University and culminated in Dikshitar! Something more than mere academic interest prompted me... that much I know... especially during my study cum spiritual tour of temples sung by Dikshitar.
(Her research work in the form of a book will be released shortly on 12th of January, 2013 at Tatvaloka Auditorium by His Holiness Pujyasri Dayananda Saraswati)
aarvalan
aarvalan.sabhash@gmail.com

About
Sabhash
- Everything about classical music, dance, drama and a platform for inclusive entertainment
Sabhash.com is the one-stop destination for the latest news and information on the performing arts of India - classical music and dance, theatre, bhajans, discourses, folk performances, and other lesser known art forms. Institutions that revolve around the performing arts have exploded in numbers, and thanks to the Internet which has made information easily accessible, the number of rasikas has grown too. Corporate patronage has played a big part in increasing the world-wide reach of the Indian arts. Sabhash wishes to be a platform for inclusive growth giving an equal opportunity and recognition to not only the main performer but also the artistes who accompany them on stage, and the people who work backstage and play the role of unsung heroes.