Sumesh Narayanan, the young Mridangist - by Uma Krishnaswamy
12 January, 2013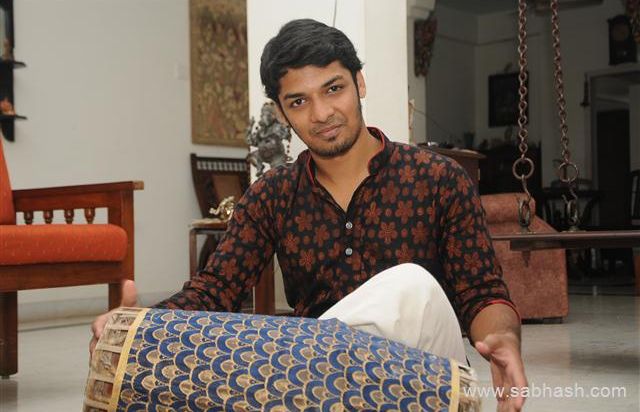 Tell me about your family background
My mother Chitra Seshadrinath is a product of Govt. Music College and took advanced training from Smt. Vedavalli. After marriage, when she moved to Mumbai, she joined a light music orchestra troupe and became a well known singer. Now, back in Chennai, she is into teaching music. My father is an ardent rasika who would not miss any concert. Though he did not learn music, he can identify ragas faster than my mother! My father is from Trissur. Maddalam Venkatesan Swamy (fondly called Vengichan) was well known in those days as one who revolutionised the Maddalam playing, and I am proud to say that we belong to that family. Ghatam Vilvadri Iyer was my fahter's grand uncle. My grandfather, though not a performer was well respected in the music industry.
When did you start learning music?
When I was a child we lived in Bombay for about 6 to7 years and I learnt vocal music from my mother. Whenever she was taking music classes, I used to run here and there and picked up some music. Then I learnt a number of varnams with sincerity. My parents used to say that even as a child, when my father took me to my mother's performances, among all the instruments in the back stage, only Tabla fascinated me and I used to play it. The Tabla Pandit also advised my mother to put me in Tabla classes.
What about Mridangam, and how did you choose your guru and how long have you been learning?
After we moved to Chennai we lived in Kotturpuram. Through Mrs Ramani Dharmaraja of Nayaki Sabha and Mrs Geetha Rajasekar, the vocalist, my mother tried to fix Mridangam classes for me. In the meanwhile we attended T V Sankaranarayanan Sir's concert in Nayaki Sabha, for which Tiruvarur Bhaktavatsalam Sir played mridangam. I always enjoyed his playing and I wanted to sit in the front row but my mother thought I would be a nuisance!! But Ramani aunty came to the rescue. I was putting the talam and was engrossed in the tani avartanam. Bhaktavatsalam Sir had noticed this and asked me later whether I am learning mridangam. When I said no and said that I can sing, he called my mother and asked her to bring me to his house the next day. Simultaneously Geetha aunty had also spoken to the same person regarding my classes, about which we were not aware. That is how my mridangam classes started with Tiruvarur Bhaktavatsalam Sir as my Guru and I was 9 yrs old then.
I am crazy after mridangam and also about my guru's playing. He is more like a father figure to me. I have learnt for almost 11 years now and I am still learning.
When did you have your arangetram?
When my guru told my father, that arangetram can be done; my father still had his own doubts. He assured my father that along with learning, side by side, I could play for concerts and only then I would get a holistic view and also can learn from my own mistakes. My arangetram, of course was for Geetha aunty's concert, at Bharatiya Vidya Bhavan, (21/1/2005 and I was thirteen) since my Guru refers to her as my godmother. After all she bought my first mridangam!
Kunnakkudi Sir was the chief guest for that concert, with Sertalai Sivakumar on the violin, Adambakkam Shankar on the ghatam and Mayavaram somu on the Kanjira. All of them encouraged me. Mayavaram Somu especially encouraged me by saying "sabhash" when I played, and it sent a positive signal to the the audience. "Make all the mistakes now and be done with it; later on you cannot afford to make any mistakes" was his advice.
Kunnakkudi Sir in his speech said that, everyone knows that today Sumesh had his arangetram, and his guru is Bhaktavatsalam. Those facts are redundant right now. The most important fact and the biggest blessing is that he has Mayavaram Somu sitting along with him on the dais. Even Sumesh would not have realized how fortunate he is.
In fact Somu Sir had played for all the students of Bhaktavatsalam Sir and I am the sixth.
How many concerts have you played so far and who are the artistes and which one gave you lot of contentment?
I have played for more than 600 concerts. My first official kutchrei was for Ramani aunty's Gottuvadyam (with Seetha Chidambaram playing the veena) concert – a private concert during an exhibition! Ramani aunty is very close to us. I learnt some rare kritis from her too. My Guru always wants me to keep both Geetha aunty and Ramani aunty informed about my concerts, progress etc. That is how he wants me to remember, that without them I would be nowhere.
I have played for lots of temple concerts. First I started playing for a number of sub juniors and juniors. Now I am playing for many up and coming artistes like, Bharath Sundar, Sandeep narayanan, Bharati Ramasubban, Aishwarya Shankar(about 25 concerts), Jayanth(flute) etc. to name a few. In the senior level, I have played for Maharajapuram Srinivasan, and Mysore Brothers (double mridangam with my senior Sairam) at BVB auditorium which gave me a lot of 'thrupthi'. It was a dream come true for me. The next memorable ones are those I played for Bombay Jaishree, especially the first one I played for her in Kapaleeswarar temple. I played for her jugalbhandi with Ronu Majumdar in the Nov Fest Friday Review concert this year in four Indian cities, and Kuwait, which was a breakthrough for me, and I also played for her several other concerts. Last year in the same Friday Review concert series, in the junior level, I played for her students.
Have you taken part in any competitions?
In 2008 I won 16 First prizes in Chennai. The first one was a competition at P S Senior Sec School in which I took part, since my father insisted that it would help me gain confidence. Winning a prize there made me take part in other competitions as well. The toughest was the YACM competition where there was a test in every aspect, with knowledgeable judges and also atleast 25 musicians among the audience! I feel that these competitions help you to know where you stand, to get rid of your fear, and also to gain confidence which helps you in your growth.
What is your next step and how are you going to achieve it?
Practice!! It is very essential. We are asked to pIay the same "sollu" for hours together. But I need to practice for more than 5 hrs a day. I want to make myself eligible to play for all the top artistes of today. I want to learn a lot and reach a level wherein I become a sought after accompanist. I feel sorry that I have not heard live concerts of Palghat Mani Iyer. I listen to the tapes of the stalwarts and try to imbibe from that and of course I attend concerts of the present day greats also.
What is your educational qualification and what other instruments can you play?
I finished plus two from St. Johns School and B.Com. from Vivekananda College. I have to enroll for CA or CS as per my mother's wish.
I can play the guitar and the keyboard and several other instruments as well, and I used to be a part of a rockband (metal band) which was started as a joke, when I was in school. I compose music for ad films, documentaries and jingles. I have a set up at home where I do the composing. Right now I have composed for a project called Magical Madurai which is going to be screened in Brazilian Film Festival. It is a very good learning process.
I love Latin music and listen to a lot of Western classical and, Jazz which I think is as complicated as Carnatic music. And some day I want to relate mridangam to their language.
********
Tail piece: Vilvadri Iyer used to play the Bronze Ghatam!!! Just imagine the plight of the fingers!!! Sometimes to delight the audience, the instrument was thrown up in the air and caught, mainly during laya vinyasas.

About
Sabhash
- Everything about classical music, dance, drama and a platform for inclusive entertainment
Sabhash.com is the one-stop destination for the latest news and information on the performing arts of India - classical music and dance, theatre, bhajans, discourses, folk performances, and other lesser known art forms. Institutions that revolve around the performing arts have exploded in numbers, and thanks to the Internet which has made information easily accessible, the number of rasikas has grown too. Corporate patronage has played a big part in increasing the world-wide reach of the Indian arts. Sabhash wishes to be a platform for inclusive growth giving an equal opportunity and recognition to not only the main performer but also the artistes who accompany them on stage, and the people who work backstage and play the role of unsung heroes.