The Triumphant Akshayam Choir
03 August, 2012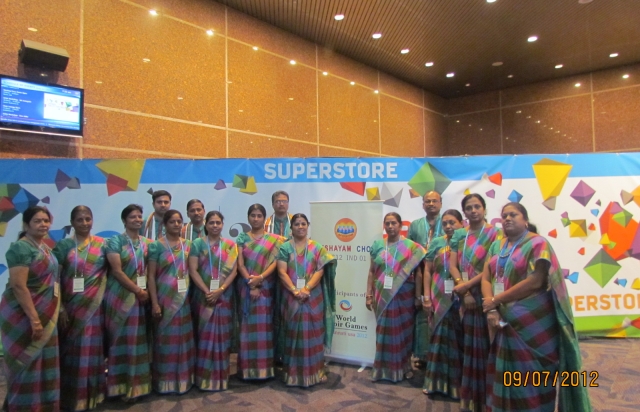 Chennai based Expert, Dr Sudha Raja's 15 members strong Choir Group – Akshayam, took part in the World Choir Games 2012, finished third and won the Bronze Medal for India in the Folklore category. One bit of Newspaper info had inspired this choir group and set them packing up to participate in a massive event in Cincinnati, USA. It has been a success story and it is a matter of pride that Akshayam has brought laurels to our country.
The first ever attempt made by this adult group, the only one from India this year to compete in an international level contest of such a magnitude, sadly received no support so far. The lack of sponsors and monetary support did not deter them though. The team owes the credit to Dr Sudha! She has been training the group for eight years now. Dr Sudha Raja, who holds a Doctorate in choral music, trained under the illustrious choir Guru, M B Srinivasan, and is part of the Madras Youth Choir, which she also conducts and trains.
The Akshayam members who sang in Cincinnati are: N V Nirmal Kumar, S A Murali, Latha Krishnakumar, Padma V, V G Lakshmi, Seethalakshmi R, Akhila Jagannathan, Mala Venkatakrishnan, S Sankarapandian, P Sharad, Vijayshri Raman, Shanthi Parameshwaran, Amudha Anandh and Indra Ramanathan.
Back in Chennai, they had carried loads of pleasant memories, pride, and above all immense confidence. The group is euphoric about its achievement and is full of sweet memories and stories to share. The bubbly members have never ending bits of interesting incidents on the side lights to narrate as well! Let's hear what they have to say!
How did it all start?
Well, we read about a Nagaland Choir group that won in the last year's event; this gave us a lot of enthusiasm. Then we got all inputs and help through a friend, Mr. Kannikeswaran at Cincinnati, who trains people there for choral music. We registered paying $250 in October 2011 for open competition under "Folk Lore" Category.
Some words about Cincinnati?
Cincinnati is known as the singing city and we could see the mascot - a pig in various singing postures kept everywhere. The mood was so relevant for us to take on the challenge.
How stiff was the contest?
There were about 15000 artistes in 400 groups from across 90 countries, participating in 23 categories. That appeared a pretty tough scene.
Why did you choose the folklore category?
The norms for this particular folklore category suited us and our needs so well, that we did not give it a second thought. We were to be given amplification facilities and the option to choose an array of languages, and most important of all was the fact that playback facility could be used. We carried a recorded track of background music, and of course we had harmonium and Tabla live played by our members. A little choreography was on the cards too. And we exploited all these, in the form of kummi and more, to our benefit.
Your efforts towards the preparations for the contest?
It was a marathon preparation for more than 8 months, since the time we filed the entry.
All the members are professionals who have day long work and have households to take care of. You can imagine the time constraint. We practised in tight schedules and the members were put on a strict regimen.
Their families understood the challenges and were supportive, yet it was a tough phase. After all choral music is about a coordinated presentation by the wholesome efforts of every member, and there can be no compromise.
Being the first time in the foreign land for a contest, what were the kinds of challenges that you had to face?
To synchronise our 20 minute long performance with the playback track in an entirely different and new setup gave us a big scare after the rehearsal. We stood strong on our point to get the monitors positioned the way we wanted and emerged successful too.
How had you rated your performance yourselves once it was over?
After the not so satisfactory stage rehearsal on the penultimate day, it was with great apprehension, that we got ready on the day of the competition. After all the effort, if our playback was faulty, or did not work as planned, everything would be lost.
But due to all our prayers and God's grace, it worked perfectly, and the singing was exemplary, much better than what I imagined. In fact there was a thunderous applause after our second piece, and we had to proceed with the third song, as the playback had started...this is unheard of, as the audience there generally waits till the entire performance is over, before they applaud!! This is an unforgettable accolade and experience.
Can you tell us about any innovative preparations/ things you carried from here?
We were allowed to choreograph some simple movements, and as we ended with Bharathiyaar's "Penn Viduthalai Kummi", we carried a pot from India.
This was a traditional one, and as we cannot risk carrying a fragile mud pot, we decorated it to simulate an overflowing pot of Milk or pongal, to symbolise our culture and prosperity. We also made a stand-up banner to position alongside on stage during our friendly concerts, though we were not going to use it during the competition.
We also made t-shirts, in grey colour for all of us, with our AKSHAYAM logo in the front and back, with our country and city name also embroidered underneath. We entered Chicago with this on, and I think it was our way of publicising what we stood for, and our purpose of visit to that country. It was also instrumental in garnering a smooth entry through immigration for all of us.
Now, can you give the song list? It should have been interesting!
We showcased four songs, a good mix. Tagore's Aanandaloke in Bengali, P Baskaran's Katralarunnu in Malayalam, Mahakavi Bharathiyar's Vazhgendru in Tamil. Apart from these, Muthiah Bhagavathar's Suddha Dhanyasi varnam with intricate swara patterns enthralled the listeners and ended in deafening claps.
The pictures hint that you had planned a lot about the costumes!
We sported a folksy style in traditional "kottadi" sarees with rural kind of patterns, with some trinkets on - like anklets, nethichutti, jimiki, maattal, maalai and rainbow coloured bangles in the colour of our sari. The menfolk too had bright kurthas, with zari work, and wore a dhoti and angavasthram along with it.
What were your observations about the other groups' performances you could
listen to?
Choral groups from all the countries had their own unique styles of presentation. For example, there was this group from China, which sung very well and had twenty members each in male and female voices. A group from Zambia had brought loads of their rhythm instruments too. A Hungarian choir also danced as they sang. There was this Choir group from Brazil, who had just come to perform a "showcase" performance for half an hour which meant that their performance was not part of the competition and they did not want to be evaluated. There tremendous individuality in every group's performance, each trying to outdo the other.
What were the factors that you think won the prize for Akshayam group?
Our USP, if you can call it, is our vast repertoire in terms of variety in the melody and rhythm. Not one was repetitive or even remotely resembling the other piece. Next, were the various languages that we used, namely Bengali, Malayalam, Tamizh and Carnatic Swarams-each one, radically different and unique.
I had also chosen pieces with lots of parts and harmony, which was missing in many of the other groups. Of course, our playback had more than twenty instruments in it, and with the two live ones, the supporting music sounded rich and resonant and also reminiscent of our country and its culture. With all this in place, we had to clinch it!!!
It looks like a big expenditure was incurred for the trip. How did you manage?
The trip was totally self-financing. We paid for our accommodation and food at Rs.27500/- per head and then the flight tickets. Though the hospitality at US was good, neither nation could fund any portion of our expenses. We approached ICCR, Iyal isai Nataka Mandram, Department of art and culture and a few MNCs and the response was not favourable. We proceeded with our own funds and have now brought glory to our nation. The expenses came to Rs.1,50,000/- per head. We hope at least now the Government or other bodies shall reimburse at least a portion of our expenses.
Can you narrate some interesting experiences!
On the request of some music lovers, we sang in informal locations. The day before the contest we sang Aanandaloke on the pavement for a senior woman. We were moved to see tears in her eyes. We gave friendly recitals in places like seniors' homes and others in Maple Knol village. All these gave us immense satisfaction and pride. As Indians, we were given utmost respect and affection by all the other nationals.
Can you see immediate impact/recognition back home on your achievement?
Sure. Upon our return, the 15 of us have been invited and honoured in a function
celebrating 82nd birthday of Dr. M. Balamuralikrishna on 29.07.2012.
Any positive signs on the Choral Music Scene at large?
Well, we had always looked forward to support from sabhas. Fluid responses we had hitherto are getting firmed up slowly.
I am happy to tell you that, in order to reach Indian Choral Music to all strata of Society, Bharatiya Vidya Bhavan, Mylapore, has come forward offering me their premises to conduct Choral Music Classes, three Sundays every month between 10 am and 12 noon. In this way, all children and adults, wanting to join AKSHAYAM, or SARGAM, both Choral groups powered and trained by me, can do so by taking these classes which is in their neighbourhood.
Where do you see yourselves next?
We have set our eyes on 2013 Asian Choir Games to be held at Bali!
For more photos : http://www.sabhash.com/music/events/532/the-triumphant-akshayam-choir.html

About
Sabhash
- Everything about classical music, dance, drama and a platform for inclusive entertainment
Sabhash.com is the one-stop destination for the latest news and information on the performing arts of India - classical music and dance, theatre, bhajans, discourses, folk performances, and other lesser known art forms. Institutions that revolve around the performing arts have exploded in numbers, and thanks to the Internet which has made information easily accessible, the number of rasikas has grown too. Corporate patronage has played a big part in increasing the world-wide reach of the Indian arts. Sabhash wishes to be a platform for inclusive growth giving an equal opportunity and recognition to not only the main performer but also the artistes who accompany them on stage, and the people who work backstage and play the role of unsung heroes.