The Music Lover from Sweden - Uma Krishnaswamy
15 January, 2013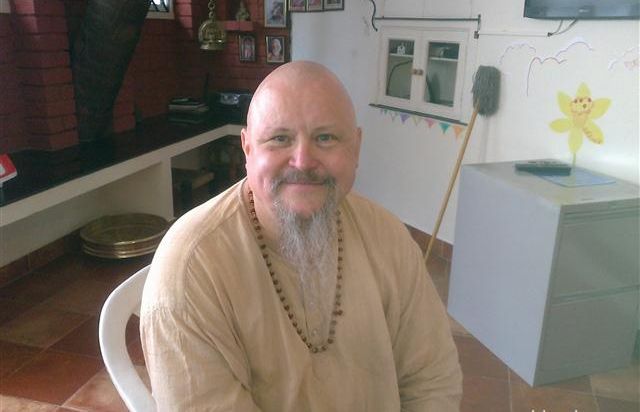 Lars Fredriksson – From Stockholm to Chennai
Lars Fredrikson is from Sweden. He has been coming to Chennai for several years now during the music season. He is now very familiar with the city and moves around by foot, by our famous autos, buses, to different sabhas and, he also goes to Trivandrum to attend the Swathi Tirunal Music festival. He knows quite a lot of Tamil words pertaining to food and music!!
When and where did you first listen to carnatic music?
It is a sheer coincidence. In the sixties, back home, some records were ordered by a shop and they got the wrong ones. No one bought them and they were lying there for a long time. When I happened to see, I was very much interested in one, because of the photo and the musicians and I pestered my mother to buy it. I was only 15 then and it was quite expensive. Finally I bought it and it happened to be M S Subbulakshmi's recording, and nobody in Sweden had any clue as to who that person was. After listening to that I never listened to any other record!
Are you a musician by profession?
I am a western musician but not a professional. I played jazz for some time and I also art music. I also play a number of instruments.
I am a research librarian now, for the last 25 years, paid by the Swedish Government to be the rector of The Asian Research Library, specializing in China. In this period my interest in Indian music grew.
What kind of Indian music are you interested in and what do you think about the music season?
I have been coming here for several years now. I am interested in both Carnatic and Hindustani music, and also popular music, devotional music like Tevaram, etc. In the last few years my record collection has grown to several hundreds and lots of it is carnatic music.
This music festival here is fantastic and unique in the world. This is what everyone says and I want to repeat it.
Who are your favourite musicians and do you enjoy instrumental music as well?
My favourites are MDR, Madurai Somu and many others. I prefer the old timers preferably male vocalists. The voice carries the expression, especially when the older artistes sing, like this concert of Suguna Purushothaman I attended just now. I heard Vedavalli also and last year I listened to Parassala Ponnamma. I enjoy those concerts. I am not looking for technical brilliance but I look for "bhava". It strikes me in the heart.
I love rhythm. Instrumentalists are fantastic but the tani goes for too long. I feel a full bench of mridangam, ghatam, kanjira and morsingh is good but should be sensitive. It would be wonderful if it is used delicately without overtaking, but being supportive.
I love nadaswaram. I always attend the Nadaswaram festival during pongal. I go to Krishna Gana Sabha and Brahma Gana sabha to listen to them. I wonder, (and must also stress) why other musicians are not attending theses concerts? There are excellent Nadaswaram players and may be they should stay in the temple where people should be more respectful and not talk, like in a social function. The tavil vidwan far exceeds the mridangist. It is an amazing tradition. Of course theses are all a foreigner's view.
Where do you stay and are you comfortable with the food and what are your favourites?
I stay in Pichupillai Street, Mylapore, renting top floor of an apartment, overlooking Kapaleeswarar temple, the Ramakrishna Mission and and Santhome. The food is lovely and it is one of my biggest problems because I eat too much. I am happy to be on the 5th floor without an elevator and I walk around the temple tank to compensate for my intake. I like "rasam" made at home by someone's "patti," pongal, idly, kichadi, "upma" and the afternoon bajji and ,bonda. I enjoy the excellent strong filter "kapi" without "sakkarai". I fill my bottles with coconut water in the morning, and, hill bananas are my favourite. Music is for the soul and, to maintain the body and soul you need food!! Here, I do much better than I do in my country.
Any problems you face here?
Small problems - as a foreign guest I hesitate to be too critical but I would like a cleaner city. We may have a cleaner city in Stockhom, but when it comes to culture also, it is too sterile that there is no culture at all!!! You have a rich culture that you can be proud of.
*****************************
Lars Fredriksson – Fredriksson means "son rich in peace". When he went to Thennangur near Vandavasi, the Swamiji there gave him a new name, Chokkamela after the 13th Century Dalit saint. It seems Lord Vittal visited his home every day to take the food he offered. Lars says that it is a great name since he is also from a simple background. He remarked casually that it is very essential and important to be rooted to the base when one tastes success

About
Sabhash
- Everything about classical music, dance, drama and a platform for inclusive entertainment
Sabhash.com is the one-stop destination for the latest news and information on the performing arts of India - classical music and dance, theatre, bhajans, discourses, folk performances, and other lesser known art forms. Institutions that revolve around the performing arts have exploded in numbers, and thanks to the Internet which has made information easily accessible, the number of rasikas has grown too. Corporate patronage has played a big part in increasing the world-wide reach of the Indian arts. Sabhash wishes to be a platform for inclusive growth giving an equal opportunity and recognition to not only the main performer but also the artistes who accompany them on stage, and the people who work backstage and play the role of unsung heroes.