Ms Usha Balachandran and Dr. Balachandran - by Lakshmi Venkatraman
24 January, 2013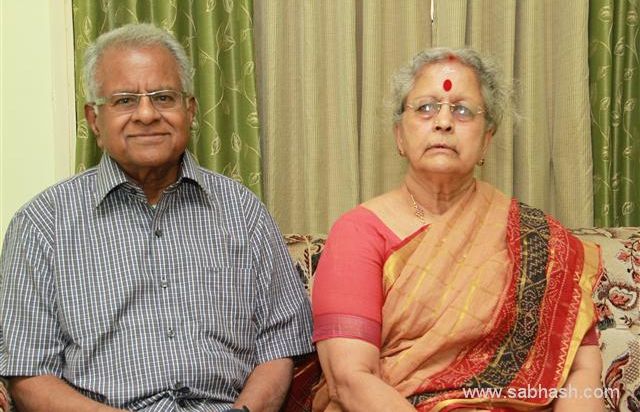 Ms Usha and Dr. Balachandran have had a long innings in the field of music and dance and it continues. Wherever they lived, be it India, England, New Zealand, Canada or the United States of America, they have been engaged in the promotion of Carnatic music and Bharathanatyam. Since the last few years they have become regular visitors for the December music season.
As a young girl from 5-9 years Usha had learnt Bharathanatyam under Lakshmikantham, daughter of Thanjavur Kittappa Pillai's sister, descendants of the famous Thanjavur Quartet, whose contribution to classical dance and music is legendary.
When her father was posted – his was a transferable job – in Vellore, where she had her schooling for some years, she had won prizes for dance and music; she recalls with pride the occasion when President Rajendra Prasad handed her the prize. She had learnt vocal music in Vellore as well as in Calcutta (Kolkata). Usha also went to school in Madras, now Chennai, and to college in Kolkata. After she got married to Balachandran and went to London, she not only taught dance, she had also taken part in dance programmes along with beauty queen Suryakumari.
Dr. Balachandran grew up in Kumbakonam and went to Govt. Arts College; he did his Masters in Physics at the Annamalai University; his Ph.D. was at the Indian Institute of Science, Bangalore and he submitted his thesis at the University of Madras. His specialization was in acoustics and he has always been employed till he retired recently in research institutes. Incidentally he was the person who handled the acoustics for the Raja Annamalai Manram, Chennai when it was built. Later in Canada he specialized in architectural acoustics.
Balachandran learnt to play the Mridangam in Kumbakonam from Chellappa Pillai, disciple of Azhaganambia Pillai for 4 years; Pillai used to run a school for teaching Mridangam. As a 10 year old boy he had played Mridangam accompaniment a number of times for P.S. Narayanaswami. He had lived in Bangalore at two different periods – 1952-56 doing his Ph.D. and 1967-71 as Professor at the Indian Institute of Science. At that time he had accompanied many leading Vidwans on the Mridangam such as R.K. Ramanathan (brother of R.K. Srikantan), Flute Mali, Veena Chittibabu, K.V. Narayanaswami and M.D. Ramanathan; for the last one especially a number of times.
In Bangalore Usha used to run 'Ushalaya' for teaching dance. Again when they were in Wellington, New Zealand, for 10 years (1971-80) she continued her passion of teaching Bharathanatyam as well as in Canada where they lived in Calgary (1981-88). Similarly Balachandran also continued teaching Mridangam in all these countries during their sojourns there. Even now in New York he has 10 students. During 1960-80 he had accompanied T.N. Seshagopalan, T.R. Subramaniam, Sudha Raghunathan etc. when they performed in the USA, as in those days accompanists were not invited to go there. But these days they also go along with the vocalists. Even now occasionally he is called upon to accompany visiting artistes.
During 1973 in New Zealand the Queen Elizebeth Arts Council gave Usha a grant to organize music and dance as part of their Art Studies. In fact their own children – daughter Ramaa and son Murali - did their schooling there. Dr. Balachandran taught Indian Music in the Victoria University.
In Calgary, Canada, the couple did a TV programme on India in 1984; Ashish Khan, son of Sarod Maestro Ali Akbar Khan composed the thematic music; it used to appear on Fridays 7 – 8 p.m. under "Sounds of India". While the Government funded part of it, Usha did a programme with dancer Padmini Ramachandran and Kathakali group from Kalamandalam to raise funds for the TV programme.
Their children too are into music and dance. Son Murali, who is a lawyer by profession, gives Mridangam support for Bharathanatyam performances, for which he travels all around the USA. For some years he was attached to Padmini's dance school. His wife Gowri is also a dancer and presents recitals and their young daughter too is learning the art. Murali conducts Mridangam classes also; the same Mridangam artistes do not play for music and dance. Usha's daughter Ramaa learnt from her mother, Ms Kamala Lakshminarayanan and since the last 10 years with Ms Gayathri Venkatraman, a product of Kalakshetra, Chennai; whenever she comes to Chennai she also learns with the Dhananjayans. Her 18 months old son is already showing an inclination to play the Mridangam! She also conducts dance classes, though she too is a practising lawyer. She had also learnt to play the piano while her husband plays kettle drum. Usha herself along with her daughter sings and does Nattuvangam for dance programmes even now. A few years ago she took retirement from her job in an Indian bank.
For over 20 years the Balachandrans have been living in New York. They feel that the music scene there is going through a change. Almost all Indian children try to learn music or dance. The main reason for it is purely for entering it in their Bio-data; it helps for admission in colleges after which it would be forgotten. "But now the youngsters are more serious about it, particularly after the advent of competitions like Carnatic Music Idol of US", think Usha and her husband . They often perform as judges for competitions held by organizations like the Telugu Cultural Association, Telugu Literary and Cultural Association.
"In the tri States of New York, New Jersey and Connecticut alone there are 38 teachers for dance and music. Besides this they also learn through Skype; for vocal it is ok; but I feel it is not for instrument" says Balachandran. "Teachers are of different standards; any one, who has learnt some music or dance in India, want to start teaching when they come there, irrespective their own standards. The current standard of the students in the US is not comparable to what prevails in India; so when they come to India for competitions they find it difficult; the standard is better in California than in the east coast". Sri Lankans are more interested in Mridangam and dance than vocal music.
According to them there are no organizations to promote local talent in the US on a regular basis; they are not able to get any concert practice. Organisations are more keen to bring artistes from India. Quite a number of senior musicians from India visit the US/Canada every year for a specific number of months and run classes. Sri Lankans in Toronto are keen learners. There are also very good Carnatic musicians who have settled down in the US but come to Chennai for the December season without fail and perform in the various Sabhas. Students who learn under them or the visiting musicians fare better and many of them are also regulars in December and have started to get opportunities to perform. Some of the youngsters have decided to stay back in Chennai itself and visit their parents in the US now and then.

About
Sabhash
- Everything about classical music, dance, drama and a platform for inclusive entertainment
Sabhash.com is the one-stop destination for the latest news and information on the performing arts of India - classical music and dance, theatre, bhajans, discourses, folk performances, and other lesser known art forms. Institutions that revolve around the performing arts have exploded in numbers, and thanks to the Internet which has made information easily accessible, the number of rasikas has grown too. Corporate patronage has played a big part in increasing the world-wide reach of the Indian arts. Sabhash wishes to be a platform for inclusive growth giving an equal opportunity and recognition to not only the main performer but also the artistes who accompany them on stage, and the people who work backstage and play the role of unsung heroes.