Rising Star - Priyanka C. Prakash - Lakshmi Venkatraman
09 February, 2013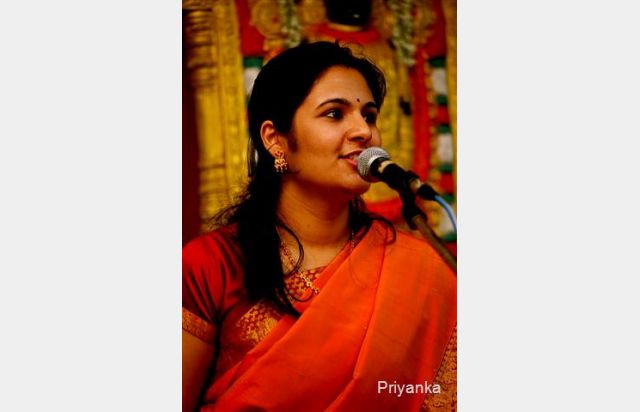 She is about to complete her C.A. and how she plans to pursue her profession is not quite clear now, though she wants to do it; but what she is very firm about is continuing her journey in Carnatic music. That is her passion; every free moment is spent in activities connected with her music; "she is not like other young women of her age, who want to enjoy themselves, may be go to cinema, restaurant etc." says her mother, who though claims to be her first critic, every word she utters about her daughter is oozing with pride. She has been bringing her daughter to Chennai during the December music season since she was a child.
Priyanka's maternal grandmother was a connoisseur of music and had a very good collection of recordings. Her mother was a student of Ramakrishna Bhagavatar, who was a disciple of G.N. Balasubramaniam, aka GNB. Priyanka herself started learning to sing when she was just 6 from her mother. Then she learnt from Smt Rajalakshmi, a disciple of Dr. S. Ramanathan, when she became quite serious about music. Priyanka, now 21, went to Sangeetha Kala Acharya Smt. Neela Ramgopal, when she was 14. Neela was a student of Vidwan T.K. Rangachari. "Mami (Neela) is much more than just a Guru; she has taught me not just music, but a lot about life itself; she has been a great influence and has taught me a positive approach, a sense of values and honesty", claims Priyanka, who almost worships the ground her Guru walks on. She has a collection of recordings of each and every concert of her Guru. "The moment she is back home from school/college/office she goes to her Guru", declares her mother.
Many musicians come and stay with Priyanka's family and chat about music in general which helps her widen her knowledge; she also gets tips from them. Her voice has a good reach in the lower octaves too and she likes singing at a slow pace; some people even criticize her about it. This is perhaps an influence of listening to (late) Smt. T. Brinda's recordings, whose ardent fan she is. She also likes the music of K.V. Narayanaswsami, Semmangudi Srinivasa Iyer, Smt D.K. Pattammal, Smt M.L.Vasanthakumari and Ramnad Krishnan. Violinist Sriram Kumar used to describe to her the music of Brinda, KVN and Alathoor Brothers. Her leisure activity is listening to the music of such stalwarts. Their music would help any student of music to understand in depth the nuances of Carnatic music.
Smt Neela is quite uncompromising and strict about classical and traditional Carnatic music. Priyanka has imbibed some of those qualities from her. "Mami's style of neraval (improvising at length a particular line from a song) is very unique even when it is extempore; her neraval at the lower speed brings out the essence of the Raga". She advises her students not to practice for a concert but to explore the Ragas. For Priyanka a concert becomes enjoyable when she gets understanding accompanists.
Priyanka also likes to do research on music and has been involved in 'Dikshitar Kanda Thiruvarur', a day-long presentation on Muthuswami Dikshitar's compositions onThiruvarurThyagarajaTemple. She contributes articles to magazines such as 'Shruthi', 'Ananya Abhivyakti', 'Nadasurabhi' etc. She does not consider a career in music as a competitive one; she has the courage to experiment and has been inspired by Chitraveena artiste Ravikiran in this aspect. If she were to consider music as a career, "may be I wouldn't love music so much then". Would she get married and go abroad? "No way! I don't want to leave my Sangeetham and go away", she declares.
Several awards have reached Priyanka – the first ever Yuvanirman Purasker 2012, Bengaluru; T.R. Venkatarama Sastry Prize and Rangaswamy Iyer Prize from the Music Academy, Madras; First prize in Pallavi singing from the Gayana Samaj, Bengaluru, 2010, 'Ananya Pratibha' from Malleswaram Sangeetha Sabha, Bengaluru and the M.S. Subbalakshmi Award from Bhramara Trust, Mysore – the last one is very tough to get through; the judges comprising senior Vidwans grind the participants with very difficult questions.
Priyanka has performed in Bengaluru, Chennai, Mumbai, Thiruvananthapuram and Guruvayoor; the last one was a very inspiring one for her as she performed in front of the Lord in the temple in the presence of senior artistes. She takes pride in spreading awareness of Carnatic music to audiences who are not familiar with it.

About
Sabhash
- Everything about classical music, dance, drama and a platform for inclusive entertainment
Sabhash.com is the one-stop destination for the latest news and information on the performing arts of India - classical music and dance, theatre, bhajans, discourses, folk performances, and other lesser known art forms. Institutions that revolve around the performing arts have exploded in numbers, and thanks to the Internet which has made information easily accessible, the number of rasikas has grown too. Corporate patronage has played a big part in increasing the world-wide reach of the Indian arts. Sabhash wishes to be a platform for inclusive growth giving an equal opportunity and recognition to not only the main performer but also the artistes who accompany them on stage, and the people who work backstage and play the role of unsung heroes.