Rising Star Ram Kumar - by Lakshmi Venkatraman
22 April, 2013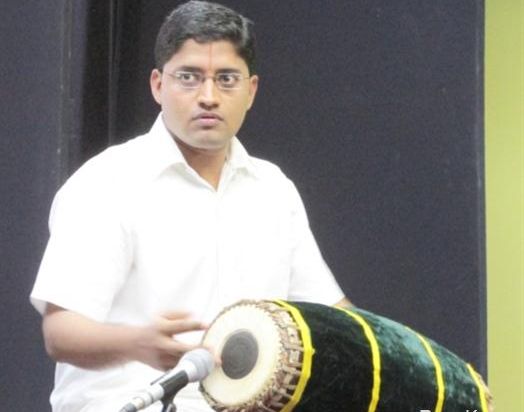 An engineering graduate from Delhi College of Engineering,Delhiwith three gold medals to his credit, Ram Kumar has also obtained MBA fromIndianSchoolof Business,Hyderabadwhere he was awarded both the Young Leader and the Torchbearer awards. At present he is a vice president in the senior management team of a multinational company. After completing his MBA 2005-06, he was for a while in Bengaluru before coming to Chennai in 2006. So, what is he doing in the "Rising Star" column?
Well, Ram Kumar is an emerging star in the Carnatic music firmament as a Mrudangam artiste. Even from his school days he liked to listen to Carnatic music; his family had a good collection of cassettes, which gave him the opportunity. But he was more interested in learning to play the Mrudangam. His paternal grand mother, mother and wife have all learnt to sing and are connoisseurs of music, while his father has a good understanding of music, particularly the theory. His younger brother Sridhar is vocal musician and is a disciple of Smt. Vedavalli.
Though as any middle class South Indian family, the stress was more on academic studies, his parents allowed him to have his way when they realized how passionate he was about it. He began to learn from Shri T.R. Dhandapany, who was a disciple of Vidwan Harihara Sarma (T.H. Vinayakartam's father) and K.M. Vaidyanathan inDelhiin 1993; says Ram Kumar "Sir is much more than a guru. He is one of the simplest musicians you can ever meet. He treats students as family and has even taught so many needy/ interested students for free".
When he moved to Chennai in 2006, Ram Kumar could fulfill his dream of learning from Padma Vibhushan Sangeeta Kalanidhi Dr. Umayalpuram K. Sivaraman and take up a career in music seriously. Of course, he did not give up employment as it is essential to have economic stability. "I was always fascinated by the way Sivaraman sir played the mrudangam and brought out the fact that it is a harmonic drum. The aesthetics would always be top class. The impeccable clarity with which he would play, whatever be the speed, would be unmatched. He has been and will always continue to be a great inspiration for me".
Though he had played in concerts in Delhi, Ram Kumar's first opportunity in Chennai came in 2007 courtesy Ms Jayalakshmi Balakrishnan of Nada Inbam of Ragasudha Hall. From then on it has been a chain reaction and he has been gaining recognition steadily and has played for many of the up and coming musicians, both and female and in almost all the major Sabhas and Carnatic music organizations. "Sivaraman Sir's style helps playing for songs and follow the sangatis".
Which is the right age to start learning Mrudangam according to Ram Kumar? "7 would be ideal, though I began much later". He likes melody as much as rhythm and listens to vocal music of many different artistes, both Carnatic and Hindusthani. Strangely enough he has been listening to Hindusthani a lot after coming to Chennai, in spite of growing up in Delhi. He runs kutcheris.com, the performing arts portal, along with Vikram Raghavan who started it. Quite a few honours have reached him such as the recent Kumbakonam Sri Rajappa Iyer award from Sri Krishna Gana Sabha, Chennai, Best mrudangam artist award from Sri Parthasarathy Swami Sabha, Chennai and Hindu Raghunatha Iyer award for mrudangam from Laya Laavanyaa Fine Arts Foundation and the scholarship from Centre for Cultural Resources and Training (CCRT), Govt. of India.

About
Sabhash
- Everything about classical music, dance, drama and a platform for inclusive entertainment
Sabhash.com is the one-stop destination for the latest news and information on the performing arts of India - classical music and dance, theatre, bhajans, discourses, folk performances, and other lesser known art forms. Institutions that revolve around the performing arts have exploded in numbers, and thanks to the Internet which has made information easily accessible, the number of rasikas has grown too. Corporate patronage has played a big part in increasing the world-wide reach of the Indian arts. Sabhash wishes to be a platform for inclusive growth giving an equal opportunity and recognition to not only the main performer but also the artistes who accompany them on stage, and the people who work backstage and play the role of unsung heroes.