Jayalakshmi Balakrishnan of Raga Sudha Hall
29 November, 2013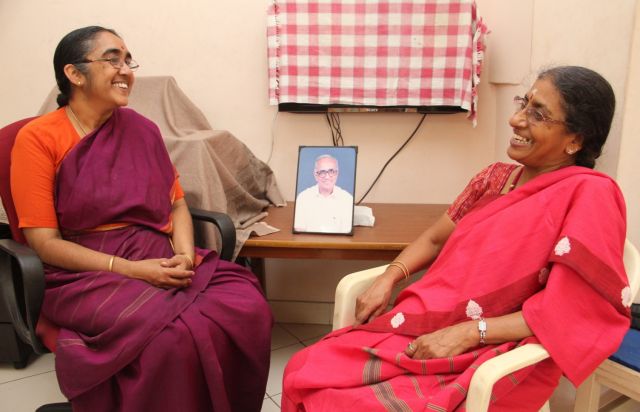 "Jaya is an organiser with a difference. She is in organising because of the love for music, that has been handed down to her by her father, Late S V Krishnan, along with the running of the Sabha. That is why she is there for every concert conducted right from the beginning to the end, not only ensuring that the concert atmosphere is good, but also the artistes and the rasikas feel at home. With her beaming smile, she makes it a point to welcome each and everybody who enters the hall spending a little while with each of them. No wonder that Raga Sudha Hall is a preferred spot for Carnatic music lovers and musicians. Jaya epitomises the importance of a feel good factor and makes the world a better place." This is what Varalakshmi Anathkumar, the vocalist, has to say about Jaya.
When S V Krishnan passed away, the transition of the mantle was so smooth that there was not even an iota of change or difference felt by the artistes or rasikas except that his ever smiling physical presence was missing. Jayalakshmi Balakrishnan, or rather Jaya, as she is known to everyone, is a perfectionist, with conviction, and dedication, as much as her father was. Always with a pleasant demeanour, talking and walking softly, like a "Kudathu Vilakku" she makes her presence felt in the hall, and the way in which she runs the Raga Sudha Hall and their Sabha, Naada Inbam speaks volumes about her capability. She has to her credit, B.A. Degree in Music and has had the opportunity to learn from several gurus including Kovai Brothers, Delhi Gopalakrishnan, Semmangudi,Vidya Shankar, and T K Govinda Rao, and also around a hundred Thyagaraja kritis from Ranganayaki Parthasarathy. Jaya is very shy of publicity, and somehow we got her to talk!!
Did you have any prior experience of working with your father ?
I just used to assist in some of my father's activities like, making copies of the concerts, of artistes whom I liked, like Semmangudi, TKG, KVN, DKJ etc., from spool to tapes in those days. When recording was done in cassette tapes, I would sometimes assist him. As long as he was alive, it was literally a one man show. He had his own systematic way in everything, including the way in which the cable wire was rolled!! He was very choosy and cautious about the acoustic system which he himself selected and procured from USA. The ideal system for our music was selected.
How did you feel when the mantle fell on your lap, and did you really want to continue?
Our family was very particular that this Raga Sudha Hall is meant only for Carnatic Music, and had no second opinion about that. Since no one else in the family was in a position to take charge, the responsibility fell on me. The employees were also willing to continue. For me, the feeling was like "Kannai katti Kaattil vital Pola". But then, the whole thing was left in such an organised way that one just had to sit in the driver's seat and move forward. The hall was already booked for the next six months for outside concerts and small functions. Our Naada Inbam concert schedule had been fixed for the next several months. Could anyone expect more than this?
How do you choose the artistes? Any favourites?
The artistes with whom my father was attached are also my favourites like, the late DKJ, MDR, Semmangudi, TKG, Chingleput Ranganathan etc. It was always TKG 's concert for his birthday!! Their conviction, commitment, and the uncompromising values commanded a deep respect in my father. They were like heroes for me too. The Anubhavam and Bhaavam transmitted by the stalwarts singing "Prachina Sangeetham" were important to my father. Having the same taste for music, I still field his favourites like Vedavalli, T N Krishnan, Rama Ravi, Suguna V, Seetha Rajan, to name a few. As long as they are willing to perform, I have no intention of changing.
This Sabha was never run for entertainment, meaning, as soon as the performance is over, nothing lingers in your mind. A real concert should leave an impact on you and should get etched or imprinted in your mind, and that is what we look for. The Aatmaanubhavam of the artiste, when transmitted to the audience, touches their heart. As rasikas we have to search for such music and encourage it.
How do you go about choosing artistes and how do you manage challenges , for instance, cancellations?
I listen to radio concerts etc. I look for traditional classicism in music and I encourage and promote youngsters who impress me. Since this is not run as a Sabha with membership fees or by selling tickets, I have the flexibility to choose the artistes. I am not in a position where I have to fix programmes to satisfy the members.
Handling cancellation is not an issue at all since the Sabha is in Mylapore, Chennai, where there is plenty of talent. There are many artistes who are more than willing to come and perform. They perform here out of sheer enjoyment and it is my Bhagyam. I have to thank my father here, because everything is in order and I do not have to face any major challenges.
Do you have programmes other than Carnatic Music?
Carnatic Music is more than entertainment, it uplifts you to a higher level. That is how we see it. We have vocal and some instrumental concerts. But this hall is not suited for Nadaswaram/Thavil etc. Nor is it suited for orchestral music where a lot of feed back is necessary. Except for Aniruddha Knight, (out of respect for Bala Saraswathi) we have had no dance performances, since I do not have any knowledge in that field. As it is we have five to six concerts every month and during the season in December we have about sixty concerts. With outside bookings, by other Sabhas and for small functions, the hall is almost always full. People who are interested in such music always come unfailingly.
***********
No wonder some rasikas like Airmarshall Venkatramani, Mr Bharadwaj, Mr Kalidas, Mr Nick Hayne, Mr Ramabhadran of SAFE, to name a few, frequent the hall for the concerts. Mr Ramakrishnan is also one among the regulars and he is all praise for the great service done by Jaya to classical music. He says that aspiring youngsters, also from other states, get a chance here. At the same time senior artistes are not forgotten. Being a one woman show run with the help of one audio technician, it is pretty good, with the hall always kept clean, and the concerts start on time. He adds that Jaya is a very courteous person, and she runs it in a sensible, professional way.
Mr Subramanyam, Managing Director of Nadopasana, says that Late S V Krishnan was a very principled man who encouraged talent. Jaya is continuing in his footsteps, and whatever money she gets from this, she puts back into it. The hall has the best acoustics and it is very well managed.
- Uma Krishnaswamy

About
Sabhash
- Everything about classical music, dance, drama and a platform for inclusive entertainment
Sabhash.com is the one-stop destination for the latest news and information on the performing arts of India - classical music and dance, theatre, bhajans, discourses, folk performances, and other lesser known art forms. Institutions that revolve around the performing arts have exploded in numbers, and thanks to the Internet which has made information easily accessible, the number of rasikas has grown too. Corporate patronage has played a big part in increasing the world-wide reach of the Indian arts. Sabhash wishes to be a platform for inclusive growth giving an equal opportunity and recognition to not only the main performer but also the artistes who accompany them on stage, and the people who work backstage and play the role of unsung heroes.